The other day, my mother brought me a bag of yarn, leftovers from a friend's afghan. Now, I'm constitutionally incapable of turning down free yarn. It's just a matter of
finding the right project for it
. Not to mention that I find some of the most fun and creative ideas come about when I'm working around a constraint.
So I accepted with thanks and started thinking about what to make with it. A lot of odds and ends of gift yarn wind up in mittens, but this was enough heavier than regular worsted to require some annoying adjustments in most of my 'standard' patterns. So I looked at the yarn and thought about it. What it said to me (not surprisingly) was 'afghan'. Now, you may remember that a month or so ago, I tried knitting a baby blanket- and that turned out to be Not What I Wanted to Knit. So I was a little leery of trying another blanket-type project.
Instead, I swatched for a hat. And it just wasn't right. I didn't want to do a hat in the flat, and the dpns and circs I have aren't the right size (I really need to bite the bullet and spring for circs and dpns in size 7 and 8). Plus, it's heavy solid-colored stuff. I tried a couple of cables half-heartedly to liven it up, but no. This wasn't it.
So, how about heavy house socks? I make short knitted slippers, but my brother-in-law, he of the red socks, likes knitted slippers that cover his ankles. And he's probably due for a new pair this year. *And* sock-slipper things often work well in very dense fabric. So my size 6 dpns should be just about right. Shouldn't they? I got a few rounds in, but the yarn wasn't having any.
I gave up and swatched some bamboo I got on sale for a summer top, but I couldn't stop looking at the worsted yarn.
It looked back.
Afghan.
"I don't want to knit another blanket," I said.
Crocheted afghan.
"But I don't crochet."
The yarn looked at me.
"And I don't talk to yarn."
A long pause.
"Oh, all right." I got out one of the crochet hooks that I inherited from my grandmother. Ungraciously, I chained a dozen stitches and then crocheted a swatch in the only stitch I know, single crochet. It was stiff, boardy and unappealing. "See? Doesn't work."
The yarn didn't accept that.
Try again.
"I don't anthropomorphize yarn either," I said firmly.
That was Sunday.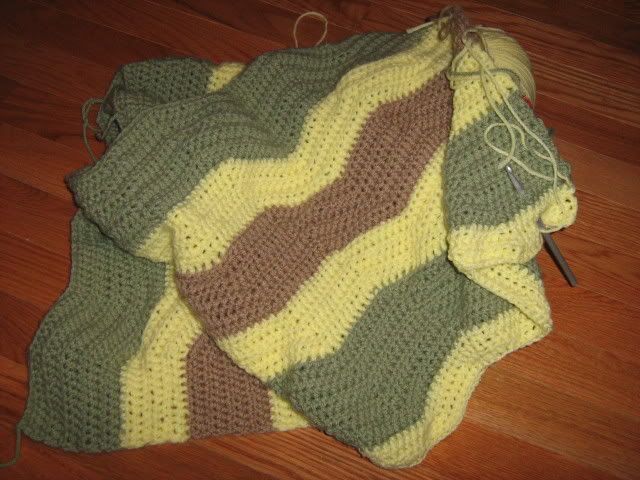 I hate it when yarn is smug.