Not surprisingly, I couldn't stick with the two existing projects without casting on something new. In a moment of inspiration, I stealthily crept up the stairs, extracted yarn from stash, and managed to wind not one, but two skeins without furry help.
I was quite pleased with myself, because really, doing anything without feline supervision around here can be a tricky proposition. (If you've ever been sitting on the Throne of Thought in the bathroom with a cat pawing the door and meowing, you understand what I'm talking about. Okay, the furry help makes for cute photos...but really, it's not efficient.)
My plan for this yarn is a cowl, and I'd previously looked on Ravelry at patterns, not finding anything that really grabbed me. So I pulled out a stitch dictionary and found a suitable stitch. I swatched- my favorite kind of swatch actually, as I just wanted to be sure I liked the tension of the fabric and then figure gauge so I could calculate how many stitches I needed (as opposed to trying to match the gauge for a pattern).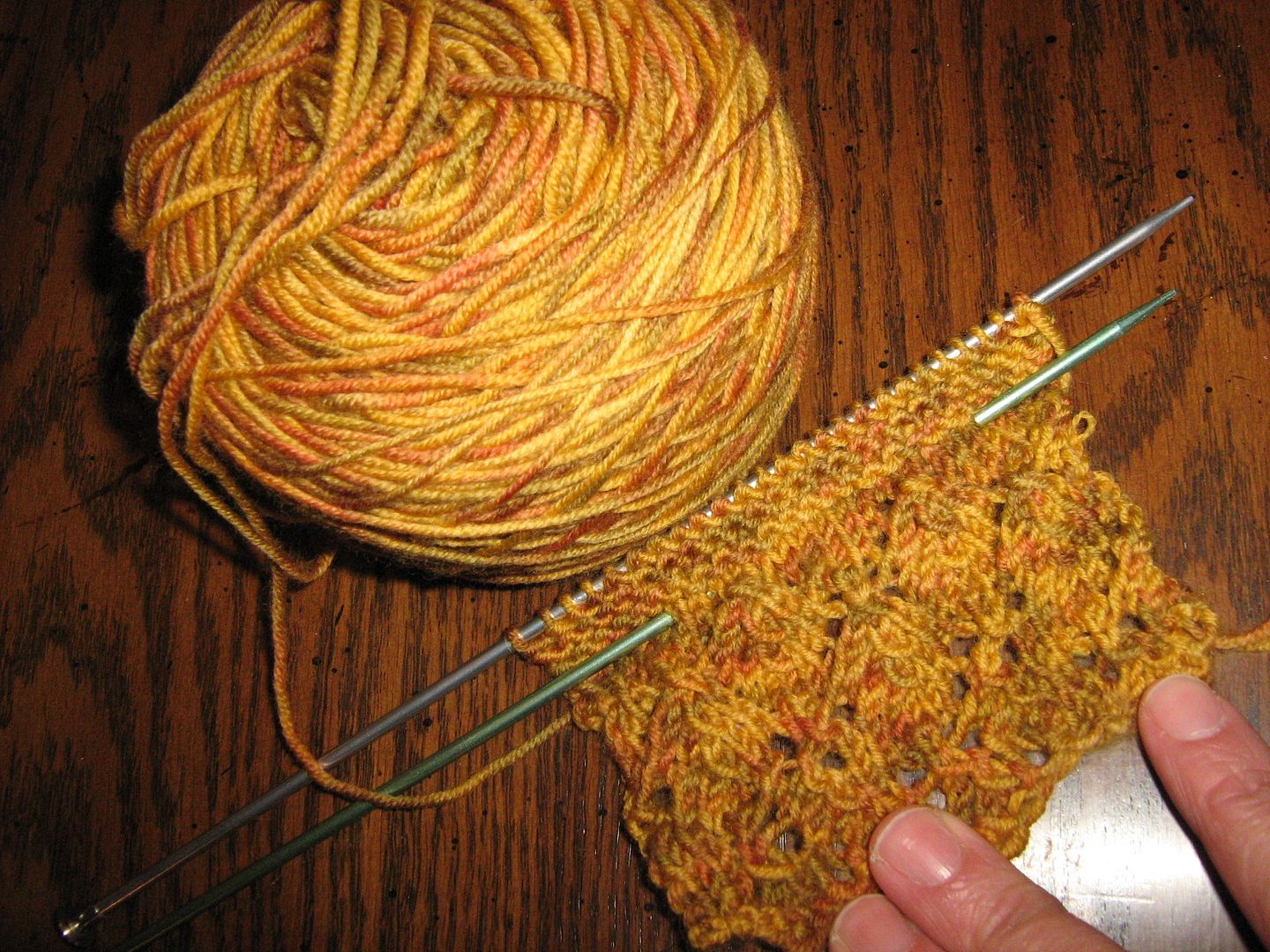 I even sat down and charted the pattern, wrote down my planned cast on number, stitch gauge, and even figured out how much yardage to reserve for the border before I cast off. I know what cast on and cast off I plan to use. If I like the results (and anyone is interested) I'll have enough info to write up the pattern without having to knit an entire other cowl.
Finally, I was ready to cast on. All I needed was a size 3 circular needle. I looked in my circular needle case...and the size 3 packet is empty. My interchangeable needle set goes down to only size 4 (and that size is in use for the top-down cardigan). I looked in the backpack I use for knitting. I looked in my other project bags. I looked in every bag, tin, basket and tub of yarn. Finally I pulled up my project list in Ravelry, trying to figure out what was the last project I'd have used it on. I found project after project on size 3 needles- but socks are all on dpn, mittens on dpns or straights, hats were all on size 4 or larger needles...I kept going back.
In 2010 I knit a baby sweater in the round on size 3 needles. That's it. These needles have almost certainly been AWOL for around 4 years. I don't tend to have a lot of duplicate needles. I have the same sizes in different formats- dpn, 16" straight, 9" straight, circular fixed, circular interchangeable. It's one of the ways I keep myself honest- if I want to do something with needles that are in use, I finish or frog the project already using them. So now I'm stuck. These needles are probably in my house
somewhere.
But where? When I got the interchangeable needle set, I started storing all my circular needles in the case with it- it's been a long time since I came across any out of place. I'm pretty good about not leaving needles stuck randomly in bags of yarn. The last set I missed had been stuck in a ball of yarn while I wove in ends, and a cat batted off the end table and behind the couch (thank you, Biscuit!) before they were put away, but they turned up within days.
"Look into my eyes...you want to get up and feed me."
I had to go out and get another set. I'm not going to do a circular cowl on 8 dpns. And I didn't want to put the project on hold for this. Eventually the missing needles will turn up. And it will be somewhere I didn't think of, or have already looked but missed seeing them. And I'll whack myself upside the head, and say,
why didn't you think of there, you idiot?
But the worst part? Now that I know they're missing, it's going to bug me constantly, and I'm going to drop what I'm doing at random intervals to rummage through another bag or drawer as I try to come up with places I haven't looked yet. Because once I've activated the
find thing
neurons, I can't turn them off until the thing is found. It's part of being
completely anal
a mildly obsessive personality. If you don't hear from me for a bit, it's because I still haven't found the needles, and my sanity has gone AWOL to join them.