Over the weekend I was in Dallas for the
North Texas Irish Festival
. It's the second largest Irish music festival in the country (after Milwaukee), and this it the tenth year I've gone. On the first weekend in March, the weather isn't guaranteed to be nice, but the odds are better than average, and we certainly lucked out this time. The daytime highs were over 70 degrees F (around 21 C), and it was mostly sunny. The music was outstanding-
Altan
and
The Battlefield Band
topped the distinguished list of headliners, and a favorite Boston-based group headed by
Matt and Shannon Heaton
were guests this year as well.
Naturally the biggest question of the weekend was, what knitting to bring. (Okay, it was the second biggest question, but we'd already picked restaurants in advance.) A check of the
TSA rules
for knitting items shows that they're currently recommending that needles be wood or plastic. I was quite tempted to take the cardigan, which is already on all wood needles thanks to its previous travels to our 50th state, but the bulk finally dissuaded me. Socks, I thought. Nice and small, that's the ticket. But all my sock needles are metal, so I traipsed off to my LYS the day before I left and bought the smallest wooden needles they had- which turned out to be a size too big for the fan lace socks. What was I to do? Clearly, I was fated to dig out the ball of sock yarn I'd picked up at Webs, and start a new pair: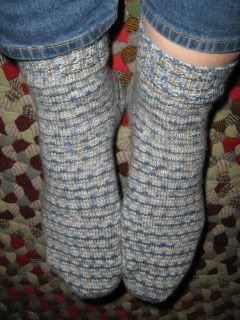 And here they are, in all their finished glory. Toe up, short-row heel, and plain stockinette all around. I cast on as we taxied for takeoff Friday afternoon, and had just reached the second heel when we pulled back into the driveway Monday.
I'm just as glad I opted to keep them plain. The self-patterning properties of the yarn made them interesting enough, and a plain sock was perfectly suited to knitting in frequently bad light. Not to mention that it made it easy to find my place again when a group played a tune so infectious I had to drop the sock to clap along. One should beware groups with dancers, though. I discovered during a particularly compelling performance that I'd managed to scatter short-row wraps more or less at random through the sock. I fixed this, although I did briefly consider trying to reverse them to discover just what new foot geometry I'd invented. (I resisted the urge- I don't know any tentacled creatures who need wool socks.)
The yarn is Online Supersocke 100, Indian-Color, 75% wool/25% nylon.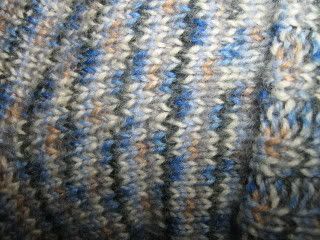 Pretty, eh? I was finishing the first sock before it occurred to me that this was the self-patterning property, which I'd read about, but never knitted before. At the festival I met another knitter, a relatively new one, but she seems destined to addiction- she told me she had started three scarves, but was so enthralled with my yarn she needed to learn to knit socks right away. It attracted attention from others as well, including one of the flight attendants, who admired it and wanted to know where I'd gotten it.
These are the first socks that I've finished for myself...so of course the weather has warmed up into the fifties, and it's rather warm for these socks (particularly at work, where my office hit 82 F today before I gave in and turned on the AC). I may have to save them for the weekend- we're due for more freezing on Sunday. But whenever I wear them, I'll think about a marvelous weekend in sunny springtime Dallas listening to fantastic music. Festive festival socks indeed!