I don't usually think of myself as a whimsical traveler, but sometimes, a friend calls you up on a Thursday evening and says, 'Hey, I'm going to New York City on Saturday. Want to come?' And I look at plans for the weekend- some work for my job I hadn't been able to get to during the week, cleaning the pool, laundry-- and realize that I'd really rather hit the road with a sock and some good company. I live north of Boston, so doing this as a day trip was going to take a certain amount of stamina. We were up at five-thirty, on the road at six, picked up our friend at six-thirty, arrived in Stamford CT in time for the 8:50 train and were walking out of Grand Central at a quarter to ten.
I should perhaps clarify that the stamina wasn't actually mine, since I got in the car and promptly fell asleep for another couple of hours...
We spent a lot of time looking for books at the Strand (we found them), and walking around looking at architecture. The afternoon found us at the Brooklyn Art Museum, and we walked some more before heading back into Greenwich Village for dinner. I liked this street in Brooklyn.
Notes for the frugal- We shipped a boxful of books back to (beautiful tax-free) NH- and it cost less than the NY state sales tax. Yes, shipping cost less than carrying them out with us. (Because when you ship to an out of state location, any tax is paid to the destination state, if applicable.) Whee! And two orders of excellent Chinese dumplings with two drinks, an order of steamed pork buns and a vast sesame pancake cost us $5.75 -that was lunch for two. Who says there aren't any bargains in the big city?!
The sock: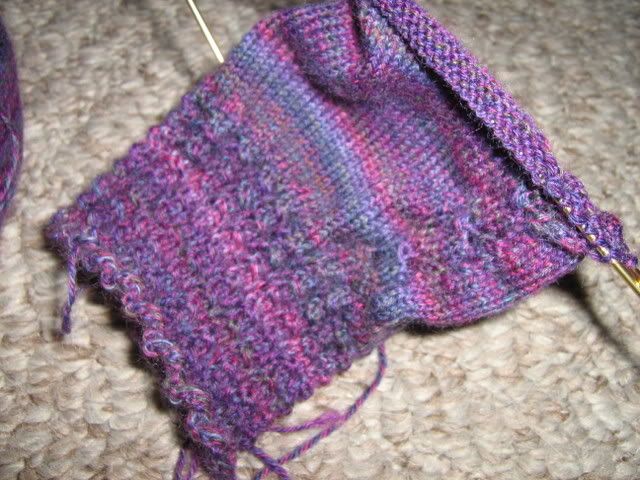 The
Fools Rush Sock
by
Cassiana
- a lovely design, just enough complexity to be interesting yet simple enough to show off the yarn well. You might remember that I recently used the lace ribbing from this pattern for the fan lace socks. The yarn is Trekking XXL. I'm quite charmed by the colorway- I had no idea what this was going to look like knitted. Clearly, I've been underestimating the potential of these seemingly odd-looking plies.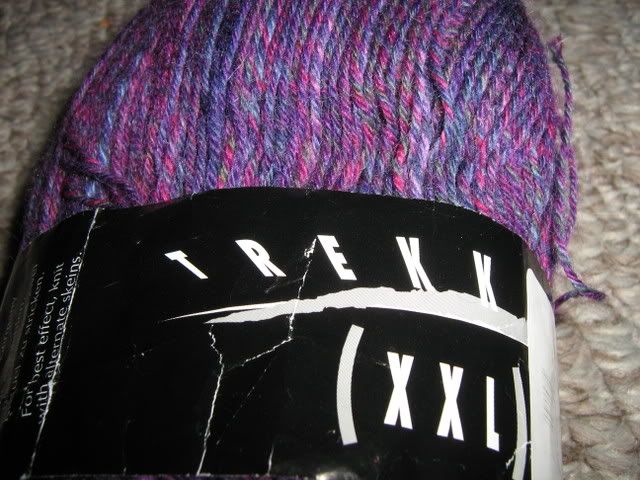 Sunday, not surprisingly, was a day of sleeping late, staggering around in a daze and knitting something uncomplicated. It rained off and on all day, so I didn't even feel badly about not doing anything. (Okay, the pool still needs cleaning. I feel a little badly about that.) Less complex knitting means the Log Cabin Moderne, now up to about 18 inches on a side. When I can get the cat away from it.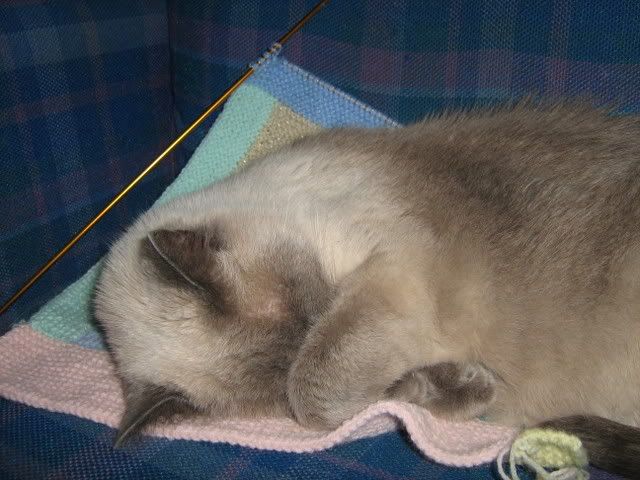 Also cooking- I keep thinking one of these days we need to declare a 'clear out the freezer month', and not getting around to it. But we made a good start yesterday- some cooked chicken, mashed potatoes, a random can of chicken broth and some ancient frozen corn got turned into *vastly* more attractive chicken pot pies... (there were some intermediate steps involving grilled onions and making gravy, but the end result was lovely). And of course this let us avoid anything as strenuous as grocery shopping (something which should definitely be considered when we run out of pot pie). Although-- what I mainly need is fruit, and I *do* still have that bag of rhubarb in the freezer ready to be made into sauce....generally motivating myself to do something isn't a problem if I can convince myself that it's an alternative to shopping!
-