It rained all day Saturday and much of Sunday this weekend. While this was a tad depressing, it was also an excellent excuse to put off dismantling and storing the pool hardware. (This task involves crawling around under the deck with tools, and swearing a lot--a filter with two hundred pounds of wet sand in it? Nobody's idea of a good time.)
So, that left me only procrastinating on indoor chores this weekend. So in between saying things like, "I really ought to--" I started a sweater: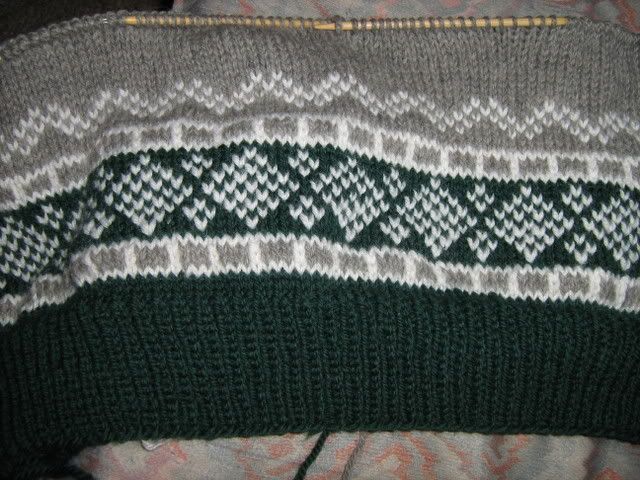 This is based on the one-piece knit-in-the-round sweater from EZ's
Knitting Without Tears
. Much of the yarn is some very nice merino given to me by a friend. The design is being driven in part by yarn quantities-- the gray is the only yarn I can get more of. So I'm reserving a lot of the green for the sleeve cuffs and yoke. The white shouldn't be a problem- I seem to have plenty and also, from what I've read I'll have to be a little sparing with the decoration on the yoke, to avoid it pulling in. As is not unusual, I'm making it up as I go along.
In other news, I finally shot a picture of the shelves I put up in the garage a couple of weeks ago.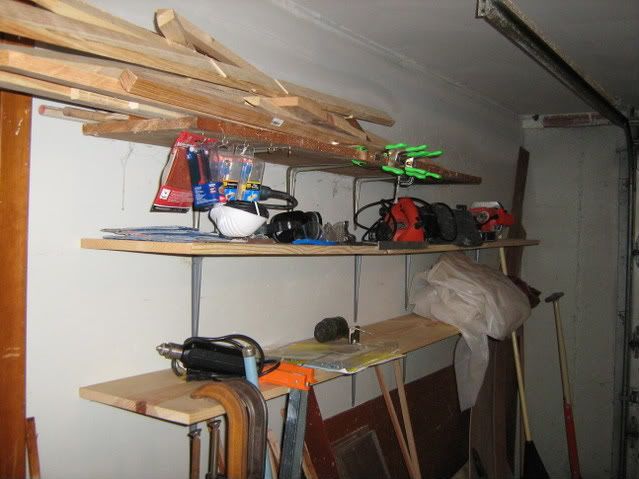 My husband says this will result only in having shelves full of stuff with every available surface remaining covered. My theory is that a judicious combination of getting rid of things we don't use, combined with putting thing the things we do use away when we're done with them, will eventually result in a semblance of order. I have a dreadful premonition that he may be right, though--entropy is on his side.
I finally blocked the Optic Waves scarf. I'll give a FO photo shoot when it's dry.
And I found the mistake that was making the heel of the Trekking Fools sock look weird, ripped back to fix it, and re-knit what I'd ripped. (No picture, it doesn't look a lot different from the last time you saw it.)
So, not unproductive. But I'm still ready for the sun to come out.