So, here's the mitten I cast on in my despondency over the (as it turns out) momentary setback of the Fools Rush socks: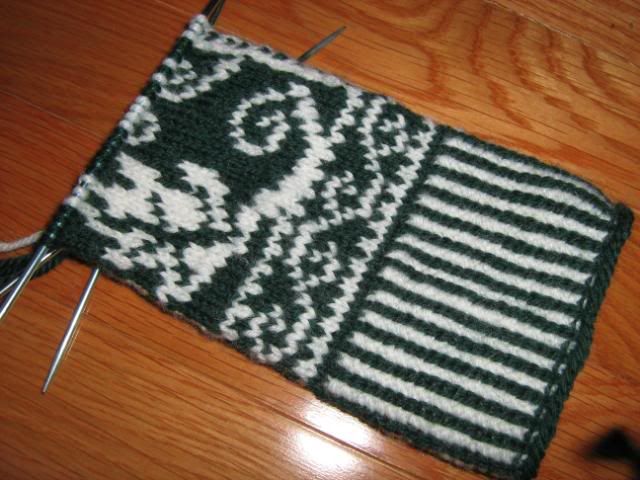 The
Icewine Mittens by Aemmeleia
. This is my first really heavily charted pattern, and while I'm enjoying the pattern, I've reached the dismal conclusion that these are not going to fit me, despite making gauge. This is the first time I've made this style of mitten, and I had some concerns going in about whether there would be space for the thumb. And I was right to be concerned- I'm probably going to have to rip this back a ways and improvise a thumb gusset. My hands are very broad at the base of the thumb, and I really rely on that gusset for a comfortable fit. The plain pattern I usually use for mittens for myself is a man's size, which fits my rather large hands pretty well.
And in other news- more socks:
These are the moss cable from Charlene's Schurch's trusty book Sensational Knitted Socks. A charming pattern suitable for even the fussiest male. I think the yarn is more Trekking, but I'll have to find the ball band, which seems to have disappeared.
Woolly sock weather has definitely arrived in New England- yesterday it was below freezing with a stiff wind- perfect weather for a seven mile walk (I'm joking- it wasn't perfect weather, though I really did take the walk). I saw rimes of ice on the edges of the stream as I walked by. Definitely the kind of weather that makes me want to be covered in knitting!