So when last we left our footgear, we were most of a foot short of a full sock. And silly me, I thought my biggest issue was going to be what other yarn to choose to make up a full order. The first skein of Trekking came from Webs, you see, and their sliding discount (not to mention shipping charges) is powerful incentive to buy more than just one ball of yarn.
But I'm currently already six or seven projects ahead of myself, which I know makes me a piker. But I really was really having trouble thinking what additional projects I wanted to do. So I went online to look and found...Webs was out of my colorway. Back-ordered. Hope to have more in several weeks. (Let me say here, that Webs' customer service is quite excellent, and it's not their fault they were unable to help in this instance.)
I was crushed. Despondent. Had to cast on a pair of mittens to take my mind off it. (We'll get into the issue of why, when you have a Christmas list full of stuff with deadlines, one feels the need to start something completely new in another post.)
So I idly googled Trekking, wondering if by any chance anyone else had it. Preferably someone else who wouldn't charge me an arm and a leg in shipping. I knew that my local yarn store doesn't carry Trekking. I looked at sites for several other stores in the area, noted one possible to call. And then. Up pops the name of a store a few towns over that I'd never heard of. That I
drive right by
every week on my way to karate. "Nah," I said. "That would be just too convenient. Still, I should check it out."
They had one skein left in the right colorway.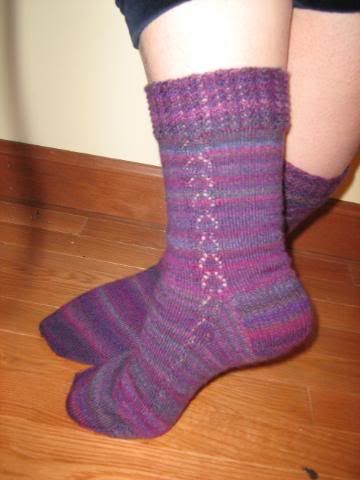 And here they are- the
Fools Rush sock
by
Cassiana
. Very charming pattern, clearly written. I had to size it up considerably, between the 00(!!) needles, the fine yarn, and the large feet, but I quite like the results.
Now maybe I should knit something on the Christmas list, eh?