I'm very lucky in my family, not only because they're lovely people, but because they are, one and all, practitioners of some kind of handcraft- woodworking, sewing, knitting, leatherwork, jewelry...and that's only a few. And not surprisingly, this makes us all very appreciative recipients of handcrafted gifts.
My sister Kate took possession of the
Fools Rush socks
for her birthday (earlier in the month), and told me she'd worn them through large parts of the big power outage, for their woolly warmth.
My husband was suitably surprised by his sweater...though it wasn't until we got home that he gave me a puzzled look and asked, "When did you find time to knit this, anyway?" Personally, I was thrilled to find that it fit perfectly. Whew!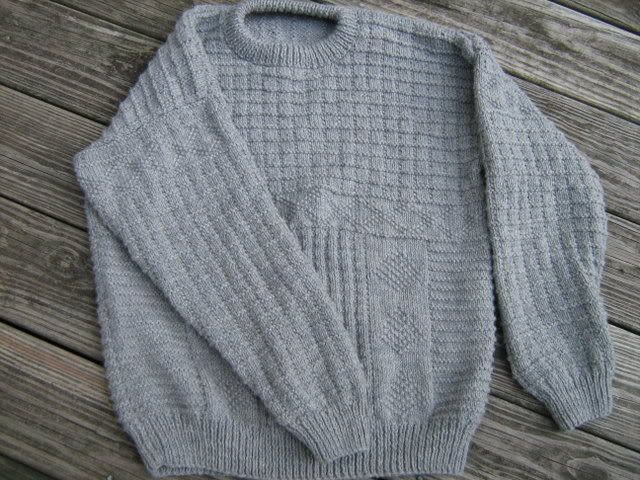 My dad cuddled his cabled socks possessively- not that he's in any danger of losing them- no one else in the family could wear a men's size 11 wide sock...! (Those socks? More stitches than the sweater above. Same goes for the Fools Rush socks.) These are the Moss Cable pattern from Charlene Schurch's Sensational Knitted Socks. I knit them toe up in a sort of consensus version of all my favorite sock techniques.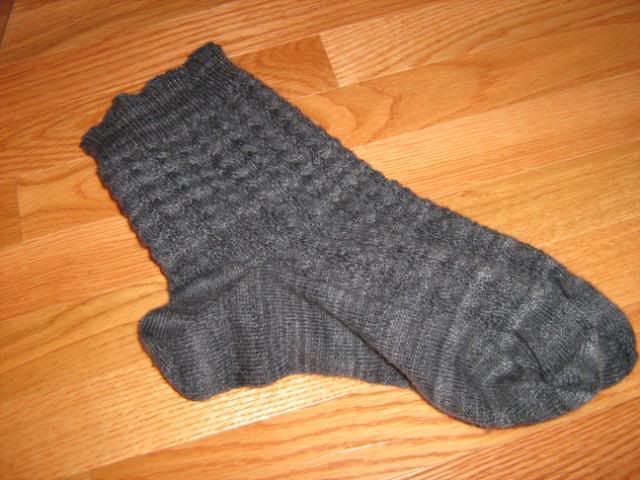 And the subject of my last post, a pair of heavily modified
Endpaper Mitts
also for my sister. These are the mitts that I started, found that I could not get gauge on, and decided to knit anyway, by re-figuring all the stitch counts and just knitting at a much tighter gauge on size 0 needles. I'm still not sure whether the problem was entirely the yarn, or simply that I really prefer a very tight fabric for mitts and socks. At any rate, I was pleased with the result.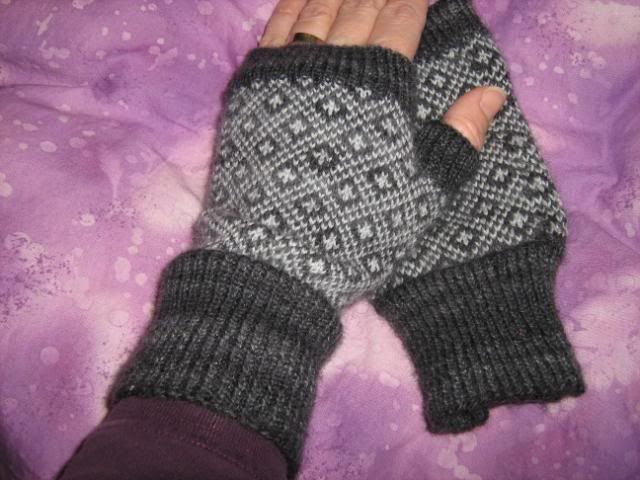 And now that this set of deadlines has passed, I can knit anything I want! The colorwork mittens, perhaps, or I can use a hat. Then there's that yarn I bought on sale for a summer top. Except- what's that whooshing sound coming from up ahead? A baby? Well, of course his blanket will be done by February. I'm right on schedule, I've already bought the yarn!