When I was a kid, waking up in the morning to some kind of fearsome weather, it was an exciting moment. My sister and I would huddle next to the radio, listening for our town in the alphabetical list of school closings- and let out a whoop at the delightful moment when we heard our school name. Snow day!
As an adult, snow days are pretty rare- nothing short of a real disaster causes my work to close. The day last year when we were let out early because we'd had 30 inches of snow (over 3/4 of a meter) in eight hours? Involved a three hour commute home followed by several more hours of shoveling. Kind of sucks the fun out of it, really.
So when I got up yesterday in the dark, powerless deluge of freezing rain and showered by candlelight I wasn't thinking about much except whether I could score a doughnut and coffee on my way to work in lieu of breakfast. (I could- double chocolate and cinnamon coffee- it was the highlight of the morning.) I headed out into a dim landscape of bleached trees and white-limned branches. When I turned into the street my job is on, I saw this: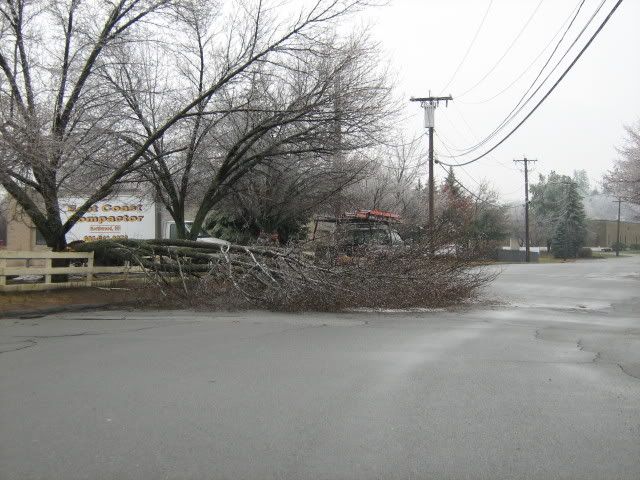 Moments later, I found that my work was dark and empty. A lone employee keeping station by the light of a fork-truck headlamp told me we were down, they'd call if we got power back, but they weren't expecting it until Sunday.
So I turned around and headed home. By this time we had some actual daylight and I could see more clearly what we were up against.
The news reports had by this time enlightened me to the scope of the thing.
Back in my chilly living room by 8 am, I contemplated my options. At some point I needed to build a fire in the woodstove. But the really important question- what to knit? I had started swatching for the last remaining Christmas project, but I needed needles in a size I didn't have. But that would be for later. Right now, I needed a simple project, something that I could work in variable light. What I had was sock yarn. So:
Garter rib in Panda Soy (soy/bamboo blend), colorway Fudge Brownie). Soft and lovely stuff, and it's giving me a wicked sweet craving. I've christened these the Fudge Brownie Sundae socks.
Just about the time I was thinking about calling my LYS and seeing if they were open, my work called. Power's back, come on down. When I got home in the evening, I knit brownie sundae socks by the light of an oil lamp beside the wood stove. If it weren't for the many many people still struggling without power, I'd call it a pleasant diversion.
We got power back early this morning, my LYS has supplied needles to continue swatching the Christmas project, and I'm back on track. Now I just need to figure out how to put the socks down...