Today I finished the Fudge Brownie Sundae socks.
My parents came up for lunch and we had a nice visit. And I confessed to my mom that these socks had originally been intended for her. See, she told me before Christmas that she'd like to try knitting some of her own, so she got sock yarn for Christmas instead. She didn't seem offended by this and from certain subtle clues (like saying, 'boy, those look like they'd fit me') I gathered that she wouldn't mind getting them now. So they're off to a good home.
I also got to show off my latest sock yarn find- Joann's has just started carrying several varieties. I picked up these:
Not that I actually needed more sock yarn right now, but I do feel that carrying reasonably priced sock yarn should be encouraged. This is 50% wool, 25% bamboo, 25% nylon- it's self-patterning, so I'll likely do plain stockinette socks with it.
We went for a walk to enjoy the lovely weather (50 degrees and sunny is balmy for New Hampshire in February), and came home to find Woats having a nap in the sun to recover from all the socializing.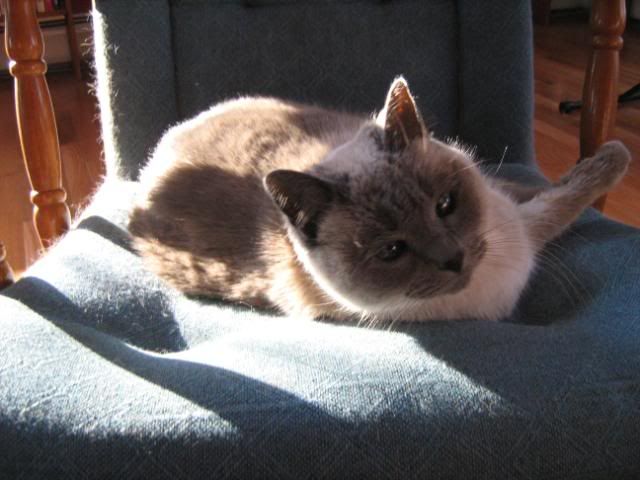 Pretty much a perfect Sunday.