So, last weekend I spent recovering from the weekend before. Which my husband and I spent in Dallas, at the
North Texas Irish Festival
. The festival was lovely- great music, warm, sunny. We walked around saying, 'ooh, look, it's got leaves!' (We got back to reality fast, though- when we got home we had to shovel six inches of 'normal spring weather in New England' out of the driveway before we could park.) Any trip by plane means a lot of quality knitting time, and the weekend spent listening to music (and knitting) just added more. I packed extra sock yarn. Not that I was in any real danger of running out, but a knitter likes to be sure about that kind of thing.
It's funny what associations a piece of knitwear picks up along the way. Gift knitting I usually associate with the recipient. Last year, my socks simply reminded me of the festival. This year- possibly because I'm not quite so newly-minted a sock knitter- they actually remind me more of a book I was reading on the trip.
The book is
Dry Storeroom No. 1: The Secret Life of the Natural History Museum
by Richard Fortey. It's a long rambling and immensely fond account of what happens behind the scenes of the British Museum of Natural History in London. It's a loving memoir, and rather like the museum it celebrates, it roams around to all sorts of odd corners of the natural world. Some of those are tropical and oceanic, and that's where the socks come in- they remind me of the water over a coral reef and the waves of the pattern strengthen the impression of water. (I didn't say this made a lot of sense, okay?)
Anyway- these are made from Deborah Norville Serenity Sock Weight, Wool/Bamboo/Nylon, colorway Indigo. The pattern is Welt Fantastic, from the trusty
Sensational Knitted Socks
. Many of the other projects on Ravelry for this pattern omitted the 'welt' rows- making it more than a little like the Chevron pattern from the same book. Like the Chevron socks, I found that these do not stretch much on the diameter- I wound up increasing enough stitches to add a whole pattern repeat for the legs, which worked well to accommodate my rather sturdy ankles and calves. Half of those went in before the heel (increasing the depth of the heel and providing additional ease at the arch) while the others were picked up after the heel.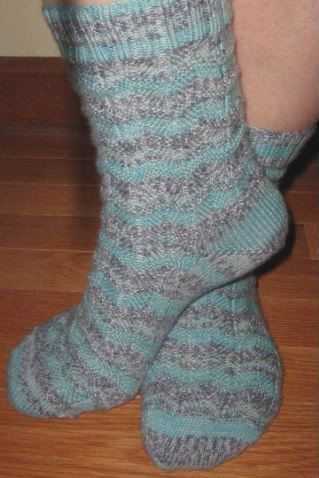 I wasn't so sure about the welts myself at first, but these have rather grown on me. I wouldn't care to have tried them on anything heavier than a fingering weight yarn though- they're fairly prominent as it is.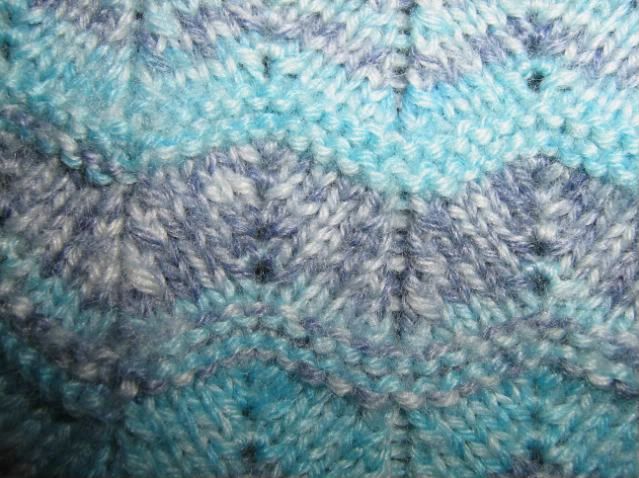 Next up, more red socks for the Christmas basket, and a project to be named later....