I was leaving for work yesterday, and thought with pleasure as I walked out of the house,
"Isn't this great? It's so warm, it feels like summer!"
Then I stopped. It's June. It's
supposed
to feel like summer. Okay, technically summer doesn't start for a couple of weeks, and the pool is still darned chilly. But. It's June. I looked around the yard. Rhodedendrons blooming. That's summery. Irises, check.
And there's a flowerbed beside the retaining wall we replaced last year that's starting to look pretty colorful. There's a bit of a story there...when I bought the house in 2002, the retaining wall was concrete, and had a slight but definite tilt. The house inspector pointed it out to me and said sooner or later, it would need to be replaced. In subsequent years, the wall leaned a little more each year, until last fall it hit about 7 degrees off vertical, and a few small chunks fell out. We decided that its time had come and had the wall replaced last year. It left a big area dug up and rather then reseed with grass, my husband suggested planting wildflowers.
He's a big fan of wildflowers, in large part because he keeps hoping they'll completely take over and we'll no longer have to mow. (I haven't the heart to disillusion him. Besides, I like flowers.) So last year on vacation in Colorado, I found interesting-looking packets of Colorado wildflower seeds in a Gifte Shoppe. We planted them as soon as the ground thawed in the spring, and they're doing pretty well. We also put in a flat of violas from the farm stand, already in bloom. (I wanted the area to look more like a flowerbed in progress, and less like a bed of weeds until the wildflowers started blooming.) The violas turned out to be an outstanding choice--they've been blooming for about six weeks and are putting up new buds. And now we're seeing the wildflowers start to come in, and I'm entirely charmed.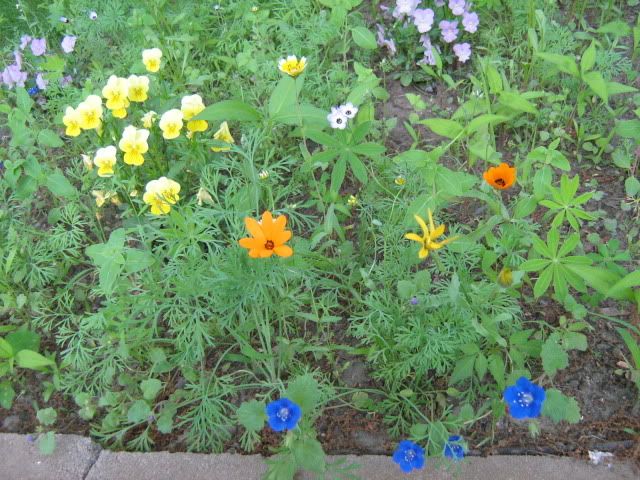 The bright blue ones are probably my favorite, but I like the cheery orange and yellow-whites as well. There are tiny white flowers so delicate you have to look closely to see them. The big clumps of color are the violas, but the pale lavender blooms with a tinge of darker purple at the centers are wildflowers. And there are a couple of varieties that haven't started to bud yet- we're curious to see what those will look like. (Now I'm wishing I'd written down what seeds were supposed to be in the packet!) But they definitely look summery.
In fiber news, I've just finished a pair of Checkerboard Mittens, from
Fox and Geese and Fences
by Robin Hansen. One feature I thought was very clever--a frequent problem with square colorwork patterns is they tend to contract into vertical ridges. But this pattern takes that characteristic and makes it a design feature. The inside of the mitten has a smooth surface of short floats, which trap a layer of air between the vertical ridges of the checkerboard. I expect it to add substantially to the insulating power of the mitten.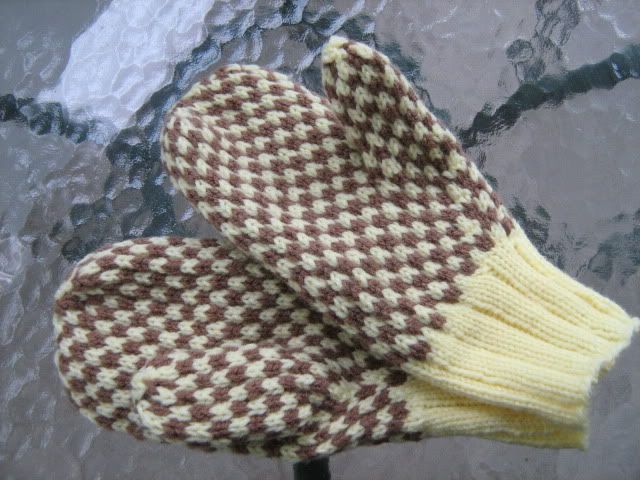 And here's the inside, which I though looked kind of cool.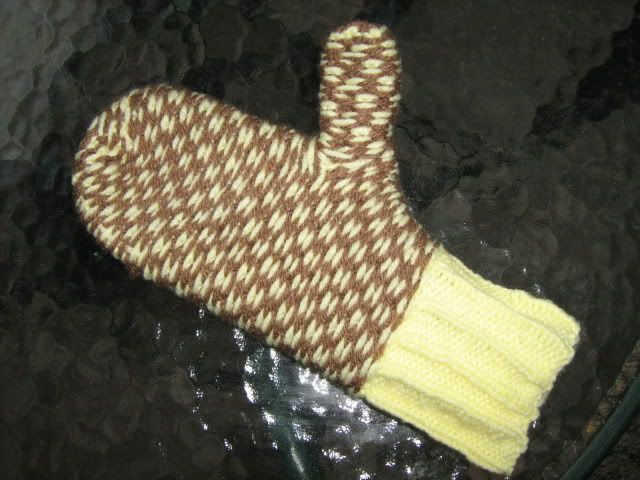 So now I'm debating whether to make a hat to go with the blue Spruce mittens, or to go for the trifecta and make a pair of Sawtooth mittens from the Hanson book. Because nothing says 'summer' like mittens....