While I got a few things done the week between Christmas and New Year's, it wasn't the all-projects-all-the-time push that I had kind of been hoping for. What I did do was catch up on sleep. Ordinarily I see-saw between my night-person inclinations and my morning-centric job, and wind up seriously slort of sheep a lot of the time. A week at home, and I was actually full up. Rested. And while I would certainly have liked more vacation, I found that I wasn't quite as grumpy rolling out of bed at oh-dark-hundred as before. What a difference!
Among the things that did get done, and actually, the first FO of 2010--the extraneous sweater: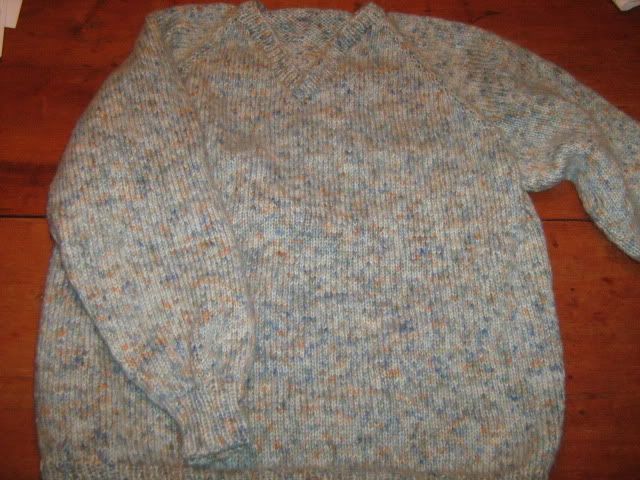 And the neck detail shot (which also shows off the yarn a little better):
This is a top down raglan, seamless, made using the
Incredible Custom Fit Raglan pattern
.
(Note to self- the raglan dimensions on the pattern chart are seriously scrod. Next time stop the raglan increases when you reach the chest diameter. Or at least at some point before it would make a cozy for a cement mixer, necessitating lots of ripping back.)
The fluffy yarn didn't lend itself to a lot of texturing, so it's quite a plain sweater, but I thought the yarn was just so pretty knit up that it didn't need a lot of ornamentation.
The yarn was a gift from a friend of my mother's, who has very kindly destashed quite a lot of yarn in my direction over the last year. My mom confessed to a grave temptation to keep it, despite not really wanting to knit a sweater. Hey, I can take a hint! I promptly decided that I'd really like to knit the yarn into a sweater for her--for Christmas. There was only one teensy little issue. I got the yarn at the end of October.
Now my Christmas knitting list was really quite modest, well thought-out and under control. Until I added the sweater. And decided to write a novel draft in November. Not even big needles could save me, I just plumb ran out of time. And the time I spent on the sweater was directly responsible for the last minute sock-and-mitt drama that had me knitting right down to the wire and beyond.
However, all that is now behind me. And I can return to my sorely neglected green Aran sweater...with maybe one or two teensy little side projects. After all, mitts hardly count:
Ladies Cable Cuff Mitts, from Dark Horse Fantasy and FO #2 of 2010
The sweater I just cast on for my sister, on the other hand....well, faint heart ne'er knit a lot of sweaters.