With Toni zipping through her 30th FO and me stuck back at #23, I've been feeling a little pressured to get something done.
However, despite temptation- and my mother's gift of a giant bag of mitten-and-hat acrylic, I've been standing fast, and trying to finish a couple of things before casting on something new. And it took knitting in snatches all of last week, plus a couple of lengthy drives and a full day of socializing Saturday, but I finally have FOs to show you: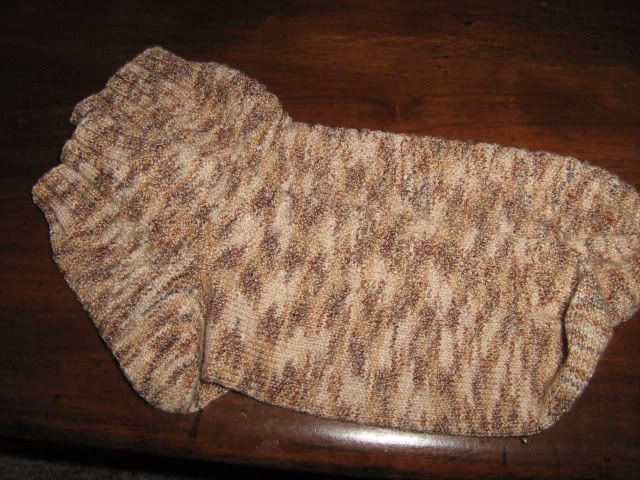 FO#24 Stretchy Basket Weave Socks
These were stretchy all right. I suspect that I could fit a second foot in each one if I really wanted to. Yet they do fit me, barely stretched. Definitely it would be a good yarn to use if you were trying to make socks for someone whose foot size you didn't know exactly. I haven't worn them yet (the weekend was definitely wool-sock weather- cold and rainy), so time will tell if these stretch during wearing the way Toni's did.
Next up: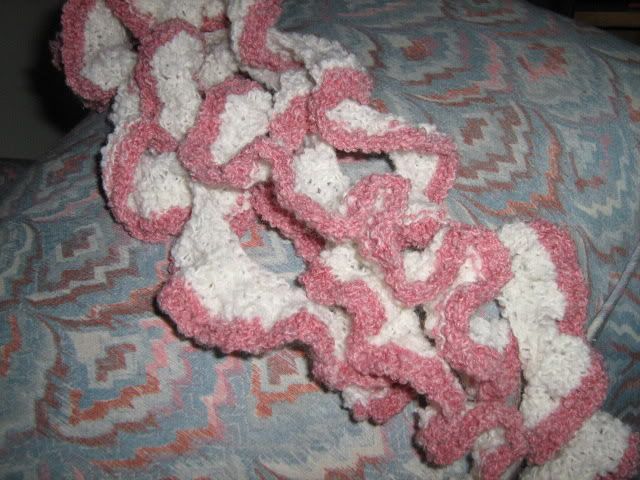 FO#25 Pink and White Ruffled Scarf
This was sort of experimental. I had these two odd skeins of funky cotton/acrylic. I thought they might make a good light 'accessory' kind of scarf. However the patterns I found for the 'potato-chip scarf' and the like were for bulky weight yarn. Which this certainly was not- sport weight would be closer. Still, I figured I'd see how it went adapting the pattern for a lighter yarn. Answer- not totally satisfactorily. The way the pattern works is by doubling the number of stitches every few rows and this quickly got to an excruciating number of stitches. I had originally considered whether to try adding the last two skeins of this yarn (which are sort of country blue), but quickly decided that casting off over a thousand stitches on a silly little scarf would drive me right round the bend. So I quit while I was ahead.
Still, having cast off *two* projects that were on the needles, I decided that I deserved a chance to play with the new yarn. Hence, the
All-Day Beret
in Random Pink Acrylic:
Cute, eh? The pattern claims it 'fits most women'. Not so much. It may fit most women who take a small in hats. It has 104 stitches on #5 needles for the cast on (the main part of the hat is on #8s), which in most worsted weights is going to make a small hat. But no matter- since it's destined for the donation bin, I can easily make more in different sizes and colors! Or possibly the same colors...my new bag of yarn had approximately 8 skeins of pink, all different shades. It will be interesting to see just how many different hats or other things I can make with them!