For the last couple of weeks I've hardly been home long enough to read blog posts, let alone write them. This does not mean a pause in the rate of crafting, however. Has yarn, will travel, that's me. The itinerary, with yarn highlights:
1. After the stress of the whole car/fuel tank/furnace drama, I snapped. I was getting close to the end of my red sock yarn, and realized that I had only three skeins of sock yarn left. One of which I was going to need a contrast color in order to use (since there's not quite enough to do a pair of socks for feet my size). I did try to convince myself that at two weeks per pair of socks minimum I was very unlikely to actually run out without enough warning to get more. But, there was no quelling the irrational anxiety. So, I went by the craft store, intending only to look for another 50g skein I could use with the skein that was too small, and found they had a whole bunch of new colors in Paton's Kroy that I hadn't seen before. I wound up restocking my sock supply. Rather a lot.
And then another shopper handed me a coupon they weren't going to be able to use, and I found myself standing beside the discount bin. I was charmed by the honesty and utter uselessness of the label: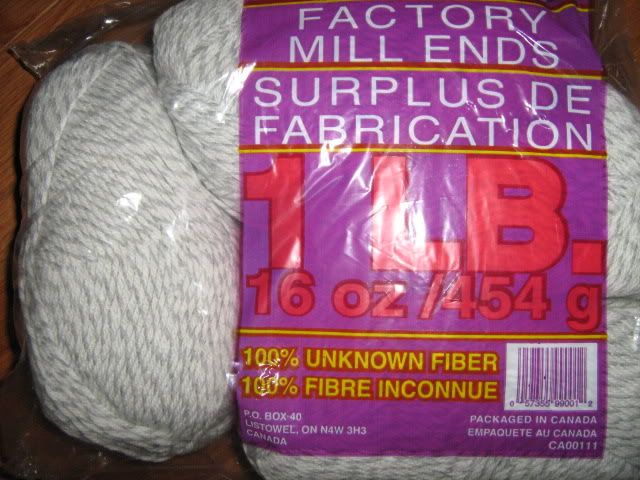 100% unknown fiber.
It feels like cotton/acrylic blend to me. I'll wash a swatch to be sure it's machine washable, but I suspect it is. This may wind up as a sweater, but it's more likely destined to be another small afghan.
2. On evening trip to Cambridge for dinner later that week, I
arranged
found myself with enough slack in the schedule to visit Mind's Eye Yarns (in Porter Square), which I'd never been to before, as well as stopping at the very fine bookstore across from them. A small shop, but extremely friendly and well-stocked. They also had some wonderful hand-dyed yarns and I took home this delightful skein of merino/Tencel sock yarn. Because I didn't have enough, clearly!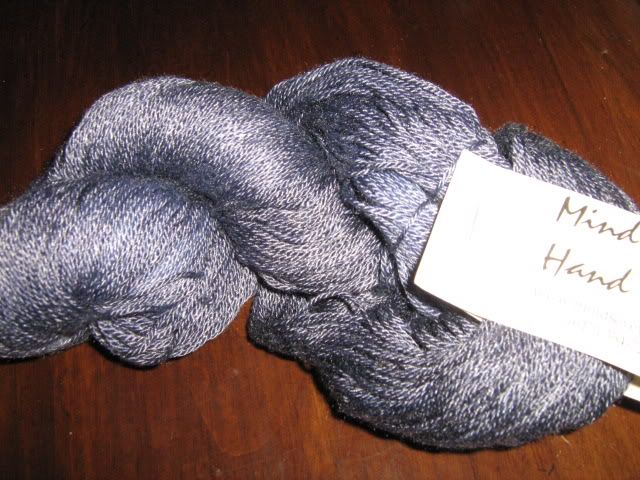 3. The weekend before last my husband and I went down to Washington DC. We wanted to see the Terracotta Warriors exhibition at the National Geographic Museum before it closed (on March 31st). Amazing! The artistry of the figures, their expressions, the level of detail in the sculpture, were all incredible. The rest of the stay was pleasant as well--we visited the National Building Museum and the new Smithsonian Museum of the American Indian. And we walked (about 17 miles during the weekend), enjoyed looking at architecture, gardens full of flowers and cherry trees blooming like crazy. Gorgeous! However I left my camera at home, so the only part of it I can share is this little sprig:
It was given to me by a man on the street, and for lack of anything better to do with it, I tucked it into my hair. I wondered for the rest of the weekend if I'd get stopped by a police officer to be reminded that picking the cherry blossoms is strictly forbidden. (Though I'm not altogether sure it's cherry- could be any one of a number of flowering trees.) Fortunately, I wasn't. It was pretty badly wilted by the time I got home but it perked right up when I put it in water, and it was cheerful to see it for the several days of pouring rain that greeted us on our return
I started a new pair of socks on the trip- not because the red ones were done, but because I didn't have a pair of wooden needles in their size (which the airlines prefer). So these are the new socks...basket weave pattern in Patons Kroy Stretch Sock:
I like the look of them fine, but I can't really say the same for the yarn. These are cotton, wool and elastic and I'm finding the yarn way too stretchy to be enjoyable to work with. At the start my tension was all over the place. I think I've gotten to the point of handling the yarn lightly enough not to have weird puckers in the fabric, and I think the finished socks will be fine to wear, but unless I change my mind as I get more used to it, I'm probably not getting any more of this. A pity, as I want to knit more summer weight socks, and was hoping this would be a good reasonably-priced option. (I've liked the other summer weight yarns I've tried, but they've been more expensive.)
And what about the red socks, you ask? Perhaps you're picturing them languishing in the knitting basket, cruelly abandoned for something newer and shinier? Not so: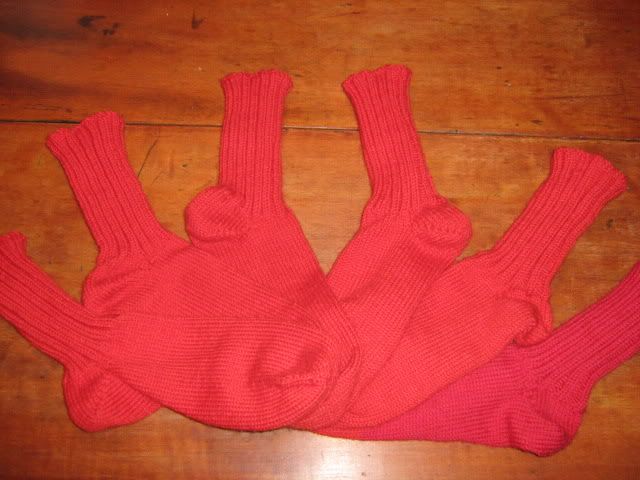 A sextet of socks, all ready to be tied up in bows and slipped under the Christmas tree. (Don't worry...getting an early start on the Christmas knitting only makes me overconfident and leads to ridiculously ambitious knitting plans for the fall. You can laugh at me then.)
4. Last weekend we headed out to New York and visited friends in Troy who were throwing a musical party. We stayed up way too late playing music and singing. Our friends have five cats, so in addition to their commodious guest room, we were provided a guest cat. Or the cat provided herself. Her name was Cyrene, and after ascertaining that we were indeed people who knew how to pat a cat and scratch her on the neck, she joined us for the duration. Periodically we were awoken by a large cat head-butting us and purring to let us know it was time to pat her some more, but it was still very nice.
5. Saturday we went for a walk in Albany. It's a city that I've visited many times, and never seen. Which is to say, we quite frequently visited friends of the family who lived there when I was younger, but I'd never been to the downtown. Like a lot of places, the downtown had empty streets and a lot of empty storefronts, but the generally good state of repair of the place did lead me to think that it would probably be livelier on a weekday. We went down to the riverfront and walked on the Mohawk-Hudson bike path, and enjoyed the unusually warm and sunny weather.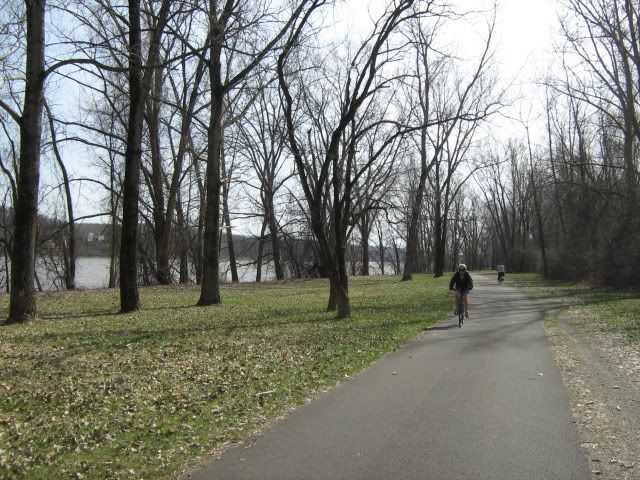 We walked a total of about ten miles (part of our mildly ambitious plan to be in better shape by the summer) and on our return, found it remarkably difficult to locate even a single open business that could sell us a cold drink. We eventually resorted to throwing ourselves on the mercy of the clerk at the Hampton Inn and Suites, a very nice man who sold us some water and sodas out of the hotel's snack bar.
6. Sunday being Easter, we drove up to Maine to have dinner with my parents. We took a detour along the coast and stopped for a stroll at Odiorne Point, one of my favorite state parks on the short NH coastline.
Another beautifully warm and sunny day, followed by a delicious meal with family. And my mother gave me a large bag of yarn...
mitten
yarn. (And it isn't beige! 100 projects list, watch out!)
Easter weekend travel knitting mostly alternated between the basketweave sock and the long fluffy yellow sweater for my sister, which is progressing slowly. I had a chance to check the fit on my sister Sunday, and gratifyingly, it seems to be coming along more or less the way I intended. I'm on the second half of the front, and I think once I'm done, I'm going to sew the back and fronts together and pick up stitches around the arm to knit the sleeves. Given that I am totally winging this, it will make fitting a lot easier. And I've got an idea to incorporate short rows into a bit of sleeve cap that I'd like to try...we'll see how that goes. At the very least, it should make for more interesting pictures!