I was back on the road again this weekend. Care to guess where? Here's a clue (don't look at the photo tags, that would be cheating!):
No? How about this one?
Or maybe this one?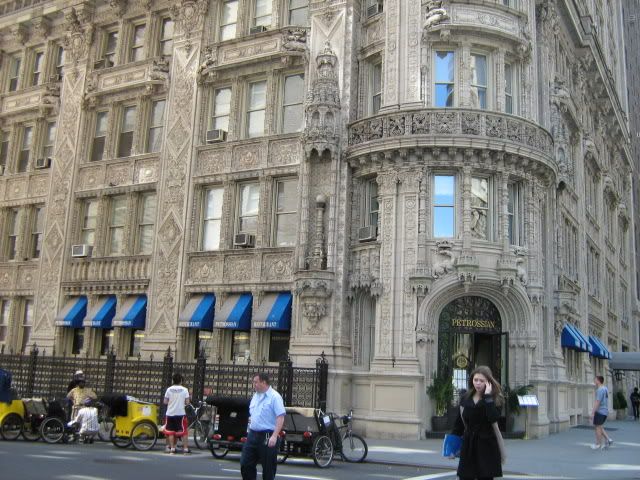 Deceptive aren't they? It's a city of cities, with something for everyone. How about one more:
If you guessed New York City, you were right on the money. We had been looking for an opportunity, and found a great last-minute hotel deal, so we drove down to Connecticutt and caught a commuter train into the city. There was knitting- mittens (actually finished last week when I was between hats)- and another pink hat. (I don't have photos of them yet, so that's for another post.)
The weather Saturday was gorgeous, so we spent nearly the whole day walking. Central Park was full of people, biking, jogging, playing music or just playing.
The Kwanzan cherry trees were in bloom. Wouldn't this photo make a really evil jigsaw puzzle?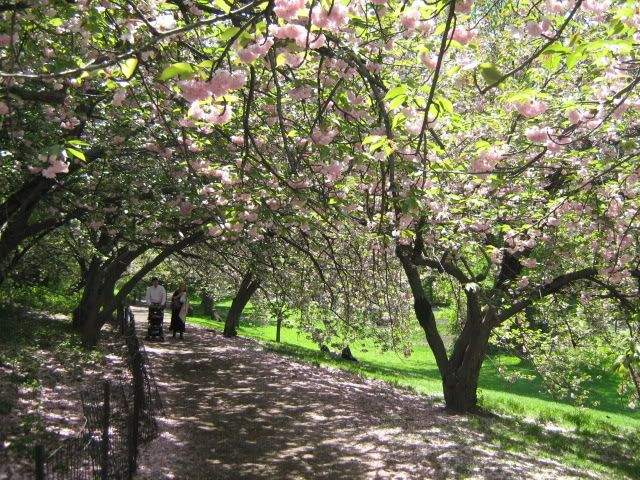 We walked from around 10th Street all the way up to 115th before taking the subway the rest of the way to the north end of Manhattan and walking through the park there. We probably covered around 15 miles, more than meeting our ten-mile-walk-once-a-week goal. I kept finding cool pictures- more than is sensible for a blog post. You can
check out the whole set if you're interested
.
We finished the day by seeing the live Prairie Home Companion show, which was taping just off Times Square. Excellent show- Sara Watkins and Garrison Keillor did an outstanding duet- and it was extremely amusing to watch the radio sound effects being made in front of us.
Sunday morning, it was pouring, so we slept in a bit, and I finished reading
The Lost City of Z
, a true story about obsessed explorers of the Amazon. (Suburbancorrespondent, you
must not
read this book. If bugs bother you now, this book will fill your dreams with creepy-crawlies for weeks. Though it's a fascinating and well-written book.)
We then stopped for
amazing hot chocolate
, visited our favorite New York bookstore,
the Strand
(someday I want to collect the trifecta- I've been to the Strand in NYC and The Tattered Cover in Denver, but I need to visit Powell's in Oregon to complete the set.) We then took ourselves off to Chelsea Market where our lunch was created (cooked is too mundane a word) for us by a crepe artiste. And then we spent the afternoon at the Museum of Natural History. A delightful weekend all around.