I've kind of fallen down on the blogging front lately. Partly it's that I haven't had FOs to show off. And the other reason is the same issue that's caused the lack of FOs- I've had a serious attack of books. I should have known this was coming- I almost stopped reading altogether for two months in February and March, between cat care and the aftermath. But I picked back up to something closer to a normal reading level in April, so I figured that was it. Um, not so much. I've read 23 books since the beginning of May. I'm not sure the obsession has passed yet, though I did read only one over the weekend, so I do seem to be slowing down. (I love to read, but 7-10 books a month is more normal for me.) Maybe that's why I dreamt the other morning that I had a whole pile of finished knitted projects that I had forgotten about and I was writing a blog entry about them when I woke up. Well, there *isn't* a whole pile, but I do have these socks, which got knit on the road the last couple of weeks: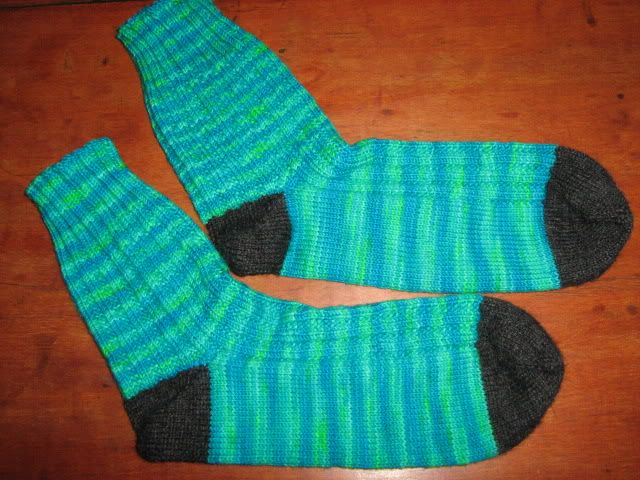 I really need to try and get a better photo of these in daylight- the colors are actually highly saturated greens and blues and turquoise, with hints of fluorescent green. The yarn was so pretty I kept finding myself knitting more slowly so they wouldn't be over so soon. I've misplaced the ball band, but it's a yarn I've looked at in the store a number of times and not bought because it comes in short skeins- with my large feet, I had to do the toes and heels in a contrast color to be sure of having enough yarn.
It hasn't helped my crafting output that the weather has been gorgeous. The pool is moving along (which is to say, it's leaking only about as much as usual), and the wildflower bed has put out a few blossoms. Mainly clover, but hey, it's wild and a flower, right? The less-than-ten-mile hike Memorial Day weekend was up in Hanover, NH. Hanover's a pretty town, made even more attractive by having the downtown inextricably entangled with the Dartmouth college campus.
We took a short hike up onto a section of the Appalachian trail, which goes right through Hanover. And then we walked out to lovely Pine Park, which runs along the back side of the golf course and out along the shore of the Connecticut River.
It was hot and sticky, and the whole area was overlain by thick haze. My husband swore it smelled smoky. I didn't believe him, but I should have- when I got home I found out the haze was smoke from the Quebec wildfires, which blanketed the region that Monday.
This past weekend we went down to Newport, RI to walk and tour some of the mansions for which the area is rightly famous. And forgot the camera. Not that they allow photos inside the mansions anyway. And outdoors it was hazy or downright foggy most of the day. Wherever we went, we could hear the foghorns calling on the coast. The overcast was actually kind of welcome- it was unbelievably sticky, if the sun had been out as well it would have been too hot to walk. As it was, I spend most of the day sodden with sweat. I indulged in a caramel sundae with chocolate brownie ice cream at the end of it. Oh, and I finished a hat.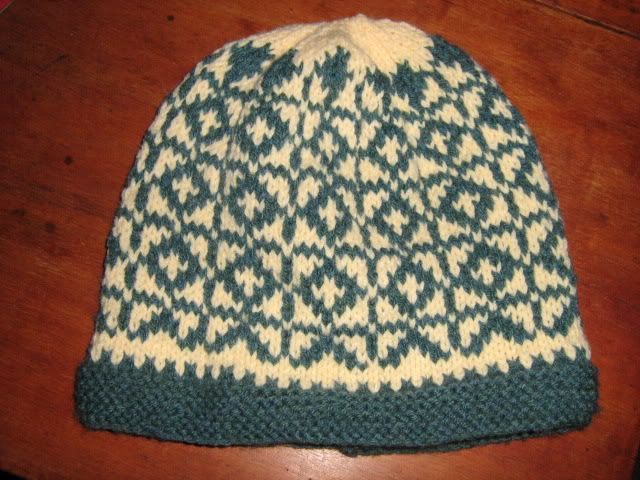 I really need to do a few more hats- I've got a lot of yarn that's well suited to them, and not so good for other projects. Or I could cast on a baby project- I'm going to be an aunt again in the fall, courtesy of my sister-in-law and her husband. So, what am I knitting now?
More socks.
No, I don't understand it either. If you figure it out, please, let me know.