It's been busy in the knit department. At the end of last week, I once again woke up to realize that I was going to be seeing my mother-in-law Saturday, and would have a chance to give her her scarf, if only it were done. So I hustled through the last few repeats, despite determined feline 'assistance'. Biscuit's turning out to be a wonderful little helper. For example, here he is, helping me brush my teeth: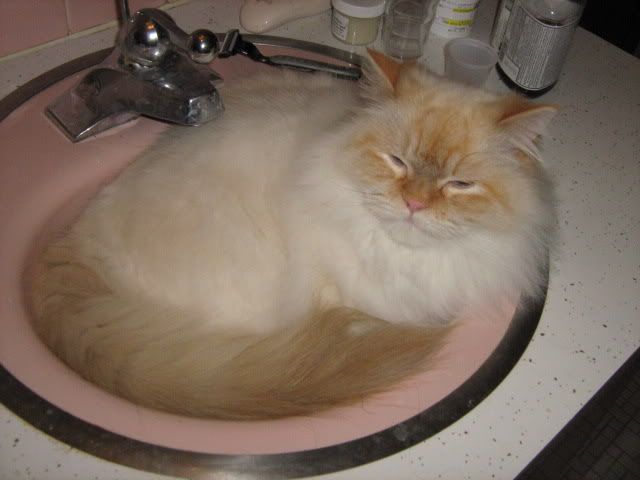 I finished the last blessed row of tulips late Friday evening, but was determined to block it before I went to bed. Under the circumstances, I figured that soaking the scarf in a bowl in the kitchen was the best plan (or at least more likely to let me defend the project from curious paws) . Biscuit and Cookie both watched me block it, since anything happening in the sewing room is Keenly Interesting.
It blocked beautifully:
And it dried overnight (okay, it was a bit damp at the edges, but it dried completely in the car) and I wove in the ends on our way west. My mother-in-law was gratifyingly pleased with it.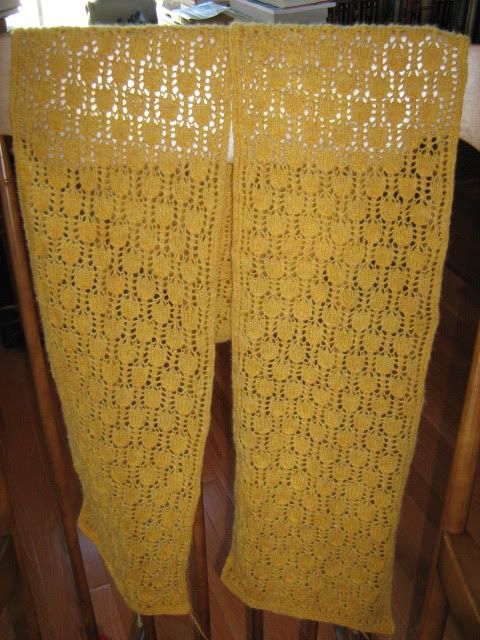 We had a delightful day in western MA- in addition to visiting, there was a large maple-drenched brunch at the South Hadley Sugar Shack, a stroll around Northampton enjoying the sunshine, and a superfluous but pleasurable browse through Webs (I was very restrained, out of consideration for the amount of yarn currently occupying my living room). And we finished the day with Mexican food before undertaking the long drive home.
With the scarf finally off the needles, I had some leisure to finish up both the cabled mitts and the latest hat. Biscuit likes the hat even more than the scarf- so much so that I had some difficulty in getting a picture: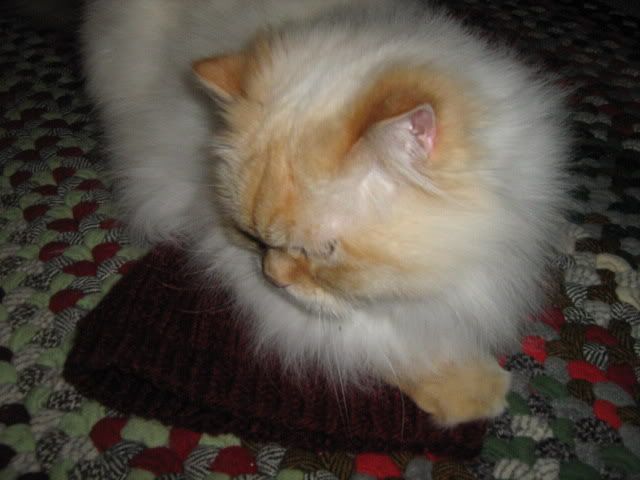 But human guile prevailed in the end: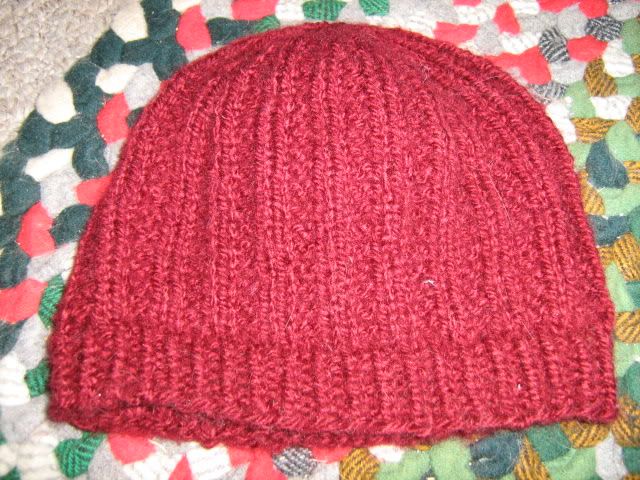 Garter rib hat with twisted rib border.
I'm now wallowing in my new yarn knitting up a few more hats and mittens before I cast on another big project. Not least because the cold I thought I had shaken before the Texas trip has wrapped another tentacle around my lungs, like the unkillable Creature from the Black Lagoon. The coughing- and resulting poor sleep- is not conducive to concentration on anything complicated. And the next streak of even moderate ambition I experience is going to be dedicated to sorting out tax paperwork. (Don't worry, I won't be posting pictures of that. Unless it has a cat sitting on it in a cute pose.)