It's been the kind of week when I'm perpetually a day behind, thinking it's Tuesday when it's really Wednesday, and Wednesday when it's really Thursday. This led me to work late as there were a couple of deadlines that hadn't so much rushed toward me as crept around to my back and were preparing to cosh me from behind.
Having hacked my way through thickets of paperwork, I figured it might be time to blog about the craft stuff, before I forget all the stories that go with these photos!
This is the project formerly known as 'secret', now revealed as a scarf. Technically, it's the
Reversible Herringbone Scarf by Sammie Carraher
, though I did substitute a seed stitch edging for her perfectly charming garter and rib edging. I'm not sure why, actually, except that it's the sort of thing I do, abusing perfectly good patterns in the name of individuality.
The yarn was Rowan Tapestry, which is very pretty and soft. I've been referring to the scarf as 'ocean ripples' for the delicious shading of blue into lavendar and back. I quite liked the yarn, though I did find 4 knots in 3 skeins, which was a bit more than I would have expected, especially since they're not overly large skeins.
The scarf was for my mother, whom I saw this week and who loaded me down with goodies. There was a present for Cookie and Biscuit. (They were fascinated.)
I need a long pole to put up the bird feeder, but I predict it will be popular. This was what happens when there is just
one
bird in the bush outside the window:
I think that a constant stream of birds will make for excellent cat entertainment.
There was catnip, which Biscuit had off the top of the refrigerator less than ten minutes after I put it up there. Fortunately I caught him before he managed to tear the bag open and scatter it all over the kitchen. (He reports that it's very good stuff, and not too old as my mother had feared.)
There was yarn for me, and some needles and notions and a book of patterns, generously passed on to me by friends of my mom's who are destashing: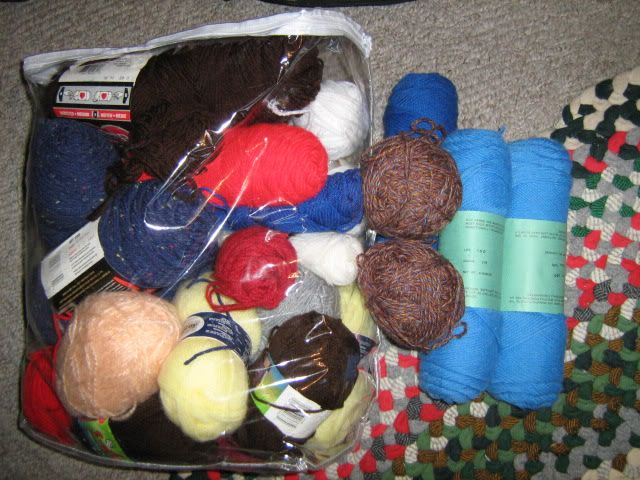 I'm quite delighted- I'd slacked off in the mitten and hat department, because most of the yarn I had left was light colors, and I needed more that were bright, or at least darker. And now I have them. The blue and brown sitting on the floor are wool. So I've been distracted from casting on a new sweater by the need to cast on bright hats and mittens and sample the new yarn. Also distracted from housework (not that it takes much with me) and various other worthy projects.
I'd take some photos and blog more about it, but I have to go knit mittens now.