This is the latest entry in a series of posts on my vacation trip last month. The prior posts were:
Prologue: To Sleep, Perchance to Dream
Day One: The City of Dreaming Spires
Saturday, May 21:
The morning started with English breakfast; eggs, lovely English bacon, grilled tomato, beans, grilled mushrooms, toast and tea. After breakfast we took another stroll, this time along the canal while waiting for things to open. The day was fair, with plenty of sun and only a few clouds. The walks along the water are one of the most delightful things about Oxford—between the Thames and Cherwell rivers and the canals, they are quite numerous, and everything is wonderfully green. Wild irises and other flowers line the banks, and trees shade the paths.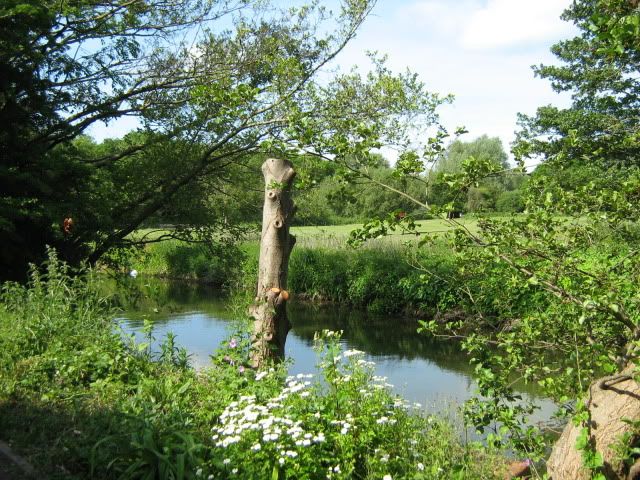 Some paths border fields or greenspace, while others run behind rows of houses, each with its own tiny patch of garden. Many of these have been filled with colorful flowers and lovingly maintained:
and the even ordinary streets are often picturesque and charming.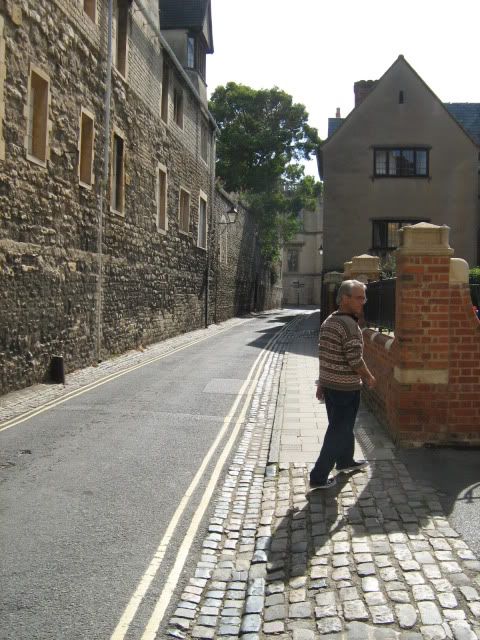 At ten, the
Oxford History of Science Museum
opened. It might more properly be called the museum of scientific instruments—they had on display a staggering array of astrolabes, surveying and drawing tools, maps and globes, microscopes and telescopes, orreries and artillery aids. There were instruments for drawing sundials and instruments for navigation. Many of these were donated over the years to the Royal Society. The precision and beauty of these has to be seen to be appreciated—some were brass, stone, wood or ivory; others were made of precious metals, and all crafted with as keen an eye to grace and beauty as to function.
The theme of the special exhibition was 'Eccentricity'. It was designed to allow the museum to put on exhibit some of the odder pieces in their collections. So they chose articles that were either themselves oddities in the museum, or items belonging to eccentric individuals or both. Thus we got to see Chinese typewriters (with thousands of characters), the hat and sword Guglielmo Marconi wore to a coronation, a very early transceiver that was intended for use in a lifeboat, examples of ornamental turnings made by notable gardener and wood-turner Ellen Ann Wilmott, and other odd items.
We went back to the covered market to have lunch, and enjoyed meat pies (one of those ideal quick meals you just don't readily find in the US), and then strolled out back through town toward Christchurch.
It had not escaped our notice that this was May 21, the day prophesied to be the end of the world by unscrupulous and or deluded religious whackos. We kept a sharp eye out for any signs, but aside from a student we observed laying out a full set of clothes including shoes on the grass and photographing it, with clearly satirical intent, there was no evidence of imminent catastrophe.
The Christchurch meadow is a large park, with paths leading around it in various directions. We took yet another canal path, lined with strollers observing the ducks and scenic punters. (The punters all seemed to be of at least moderate skill, which made them scenic rather than hilarious. Just as well, as I imagine the water is still rather chilly. I didn't check.)
The were also several species of ducks, geese and swans, and other wild birds. The path leisurely followed the curve of the canal, then looped back around the pasture, where we saw some of the college's Longhorn cattle, (an antique English breed, not the Texan-style steer).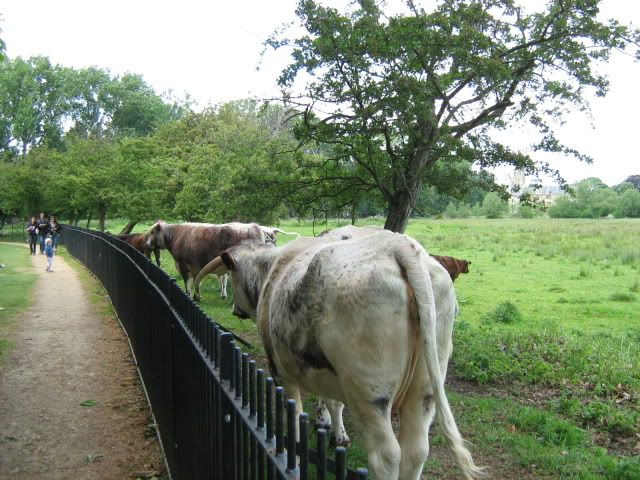 Back outside the tourist information booth, we met our guide for the Inspector Morse tour. For those who haven't encountered him, Inspector Morse was the protagonist of a series of thirteen mystery novels by Colin Dexter, and later adapted into a series of thirty-three films starring John Thaw as Inspector Morse. It also inspired a spinoff series, Inspector Lewis, starring Kevin Whately who played Morse's sidekick Lewis in the original series. Most of the Morse episodes feature wonderful views of Oxford landmarks (though much of the series was actually shot closer to London) but all the Inspector Lewis series is filmed in Oxford.
Our guide turned out to be very interesting- a retired television journalist, who had visited NH in the freezing months covering one of our presidential elections, a tremendous fan of the Morse books, naturally, and an Oxford resident who lives in the same neighborhood as Colin Dexter. He told us that Dexter, while retired from writing, is still active locally, and is currently working to protest library closures in Oxfordshire (the British having some of the same budget difficulties as everyone else). Also that Dexter shared Morse's fondness for real ale. It was an excellent tour, with many locations from the television episodes and much Morse trivia discussed. We walked back through Queen's College again, and also Lincoln College:
and the Oxford Union: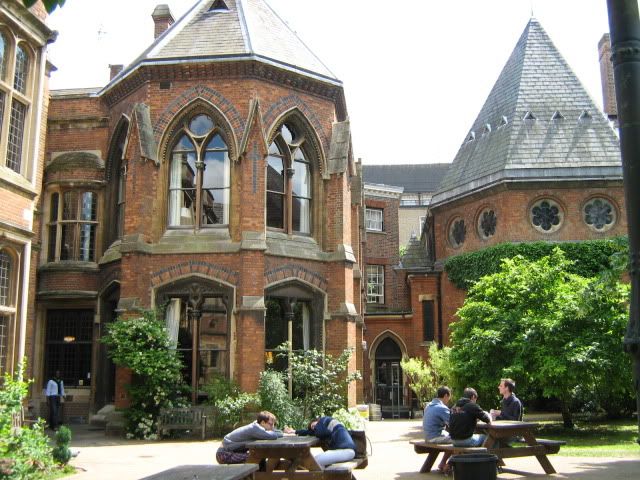 After the tour, we walked up St. Giles street and circled around through the neighborhoods to the north of the city. We returned through Jericho, and chose an Indian restaurant more or less at random. (
Jamal's
, I think), which was excellent, though we underestimated the portion sizes and wound up quite thoroughly stuffed.
The evening being so pleasant, we decided to continue walking, and went south, crossing the Thames, and up Binsey Lane which parallels the river. We went as far as The Perch, another haunt of Inspector Morse in fiction, and a favorite pub in real life of C.S. Lewis, J.R.R. Tolkien and their friends.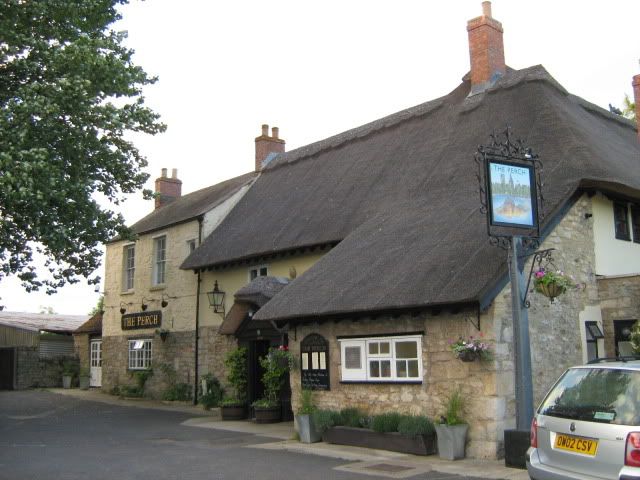 Then we picked up the Thames path and walked back along the river to our lodgings as the sun finally retired for the day, enjoying the quiet and lovely scenery.