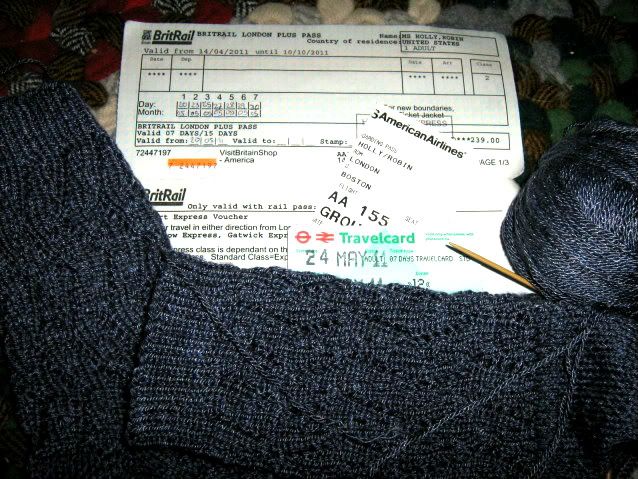 Late Monday night we flew back from our vacation trip to England. A lovely time was had, cream teas were consumed, miles of footpaths were hiked, many photographs were taken. I'll be posting more about that (lots more!) later this week.
I took yarn for two pairs of socks, which was wildly optimistic when the first pair was lace, but hey, we could have been stranded by an Icelandic volcano! (That would have been terrible, but we would have managed to cope somehow. Possibly by visiting Cornwall.)
These are the ribbed lace socks from Sensational Knitted socks. Which I thought were kind of 'eh', until I saw
Toni's yellow pair
. At which point I realized they'd be perfect for the merino-tencel I had in the sock yarn stash. And so they are. The yarn is hand-dyed from
Minds Eye Yarns in Cambridge
, colorway New Jeans.
We arrived home to find that warm weather had finally arrived, my nasturtiums are growing like weeds, the weeds are growing faster, and the lawn was nearly up to our knees. The cats were well-cared for by our friend Sarah, and were largely indifferent to our return. Their reaction can be summed up as, 'Hey, it's you...how about some food? And where did the nice girl with the toys go?' Sarah apparently twitched, whirled and dragged cat toys until her arms about fell off.
So yesterday I fed cats, swept, mowed, cleaned, did laundry, cursed the weeds, restocked groceries, and we started the pool opening. We have a zillion people coming on Saturday and it would be nice if the pool were some other color than brown (note- after liberal application of dangerous chemicals, it's now more like cloudy- a vast improvement). A working pump would be nice too. I haven't decided whether to try taking it apart or just apply money to the problem. In view of the age of the pump, I suspect that replacing it is going to be plan A.
But first I have to go back to work and see how deep the piles are there. If I haven't come back by Saturday, send rescue parties. With yarn. I'll need it.