This is the latest entry in a series of posts on my vacation trip in May. The prior posts were:
Prologue: To Sleep, Perchance to Dream
Day One: The City of Dreaming Spires
Day Two: Eccentric Ramblings
Day Three: A Funny Thing Happened On the Way to the Palace
Day Four: A Day in Alfred's City
Day Five: Déjà Vu - In a Good Way

Wednesday May 25
Wednesday started with an unfortunate repeat of the day before's digestive incident. We dropped off laundry at a local laundromat, and I went back to the hotel for a bit, while JT went out to walk around and took a few photos: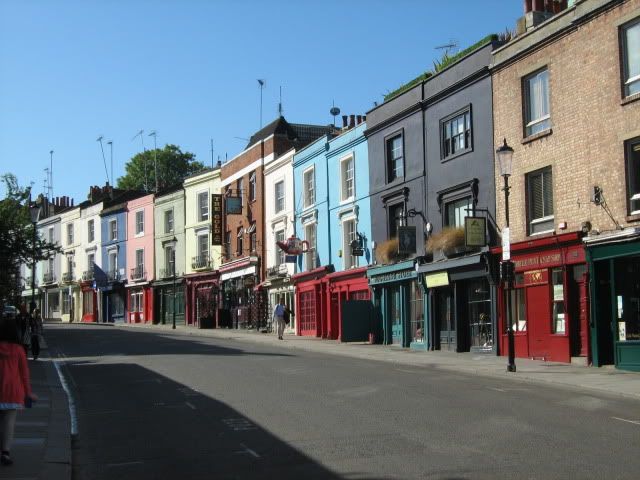 I arranged to meet him later at our first planned 'sight' of the day, the
Frederic Leighton House Museum
.
Leighton was a 19th century painter and sculptor. JT and I felt a certain kinship with him almost immediately, because he designed a house to entirely suit his own peculiar requirements, much as we did during our own house remodel. Though admittedly on a much larger scale. The outside looks ordinary enough, but going inside is like stepping into a fantasy. The main downstairs room was designed expressly to showcase Leighton's collection of spectacular tiles, many of them collected in the middle east. The ceiling has elaborate paintwork and gilding and a fountain occupies the center of the chamber. There is a
virtual tour
here- do at least peek at the magnificent Arab hall.
We watched a fascinating video on the just-completed conservation and renewal of the house (the same one advertised on the website)--we were particularly intrigued with the video on how they re-gilded the elaborately decorated dome.
Other rooms contained magnificent furniture and of course many paintings, both Leighton's own works and those of his numerous artistic friends. Up the stairs in the upstairs chambers were many more artworks, and whole back of the second floor was Leighton's studio, filled with light and with an enormous door a foot wide and 20 or so feet high- intended to allow immense canvases to enter and leave the studio.
From the studio we went into Leighton's adjoining winter studio- a greenhouse-type affair intended to let him make the most of the daylight during the winter without freezing his paints on the brush. The space has been converted for exhibitions- the special exhibition while we were there was of the work of George Aitchison, the architect who designed Leighton's interiors. We greatly admired the drawings of Aitchison's work, many of which were works of art in their own right. Many of the depicted interiors have long since been renovated out of existence.
From there we checked out another of the ubiquitous gourmet burger places—a trend we heartily approve of—and then traveled by tube and train to Twickenham, where we continued our architectural theme by visiting
Strawberry Hill
. Strawberry Hill is the gothic castle built by Horace Walpole, who is credited with writing the first gothic novel,
The Castle of Otranto
. He was also a collector on a vast scale- everything from furniture to art to stained glass, and he built his pocket castle to house his enormous collections and give him a place to entertain his legions of friends.
After Walpole's death, the estate was broken up, and most of the furnishings sold off at an auction that lasted three days. The house passed to relatives until it was sold in the 1920s to a Catholic college. They used the building for decades until in 2004, a local group called the Friends of Strawberry Hill launched a major fund-raising effort which eventually funneled over $14 million dollars into the Strawberry Hill Trust. St. Mary's University College then leased the building back to the Strawberry Hill Trust, who has spent the last nine years in restoring the building as closely as possible to Walpole's original vision. And what a vision! This is the Gallery, the main space Walpole used for entertaining.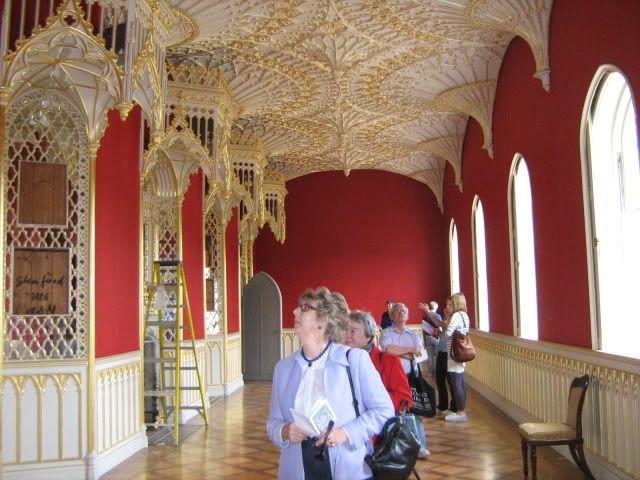 They just opened to visitors this spring, and many rooms are still under reconstruction. There's very little furniture- they're trying to arrange for the return of as many pieces that belonged to Walpole as possible, and are arranging to make replicas of others based on drawings and existing pieces that are currently in other museums. The Great Sale held by his heirs however has dispersed Walpole's possessions all over the world. Much of the charm of the house has survived however, including the windows which Walpole pieced together to make use of his immense collection of stained glass: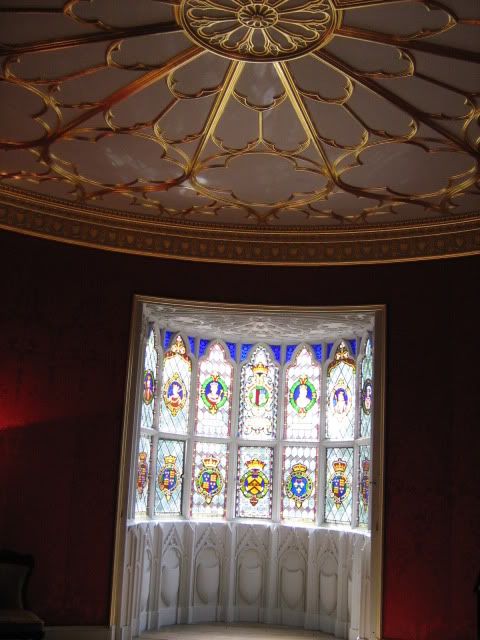 This marvelous fireplace has been fully restored: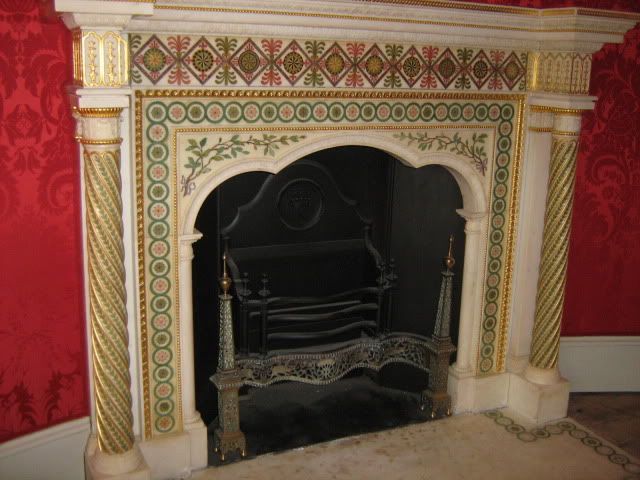 And I was much taken with the blue bedroom, one of the guest chambers:
The gothic library is a work in progress, but will be quite charming when it's done: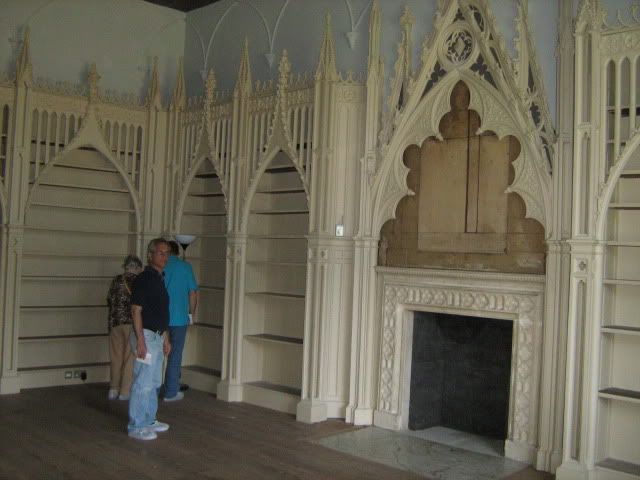 A really delightful place, and one I'm eager to return to in a few years when they've got more of the restoration completed. Especially cool was the exhibit with photos and interviews with the craftsmen doing the restoration. During the restoration, one of them found a tool in a wall, which belonged to one of the original craftsmen who built Strawberry Hill- what a fantastic connection, for him to hold in his hands one of the tools of those long-forgotten artisans.
We discussed train options as we left, but decided it was too nice out and too early for us to need to return immediately to London, so from Strawberry Hill we walked into the center of Twickenham and picked up the Thames Path along the south bank. We weren't the only ones out for a promenade along the river: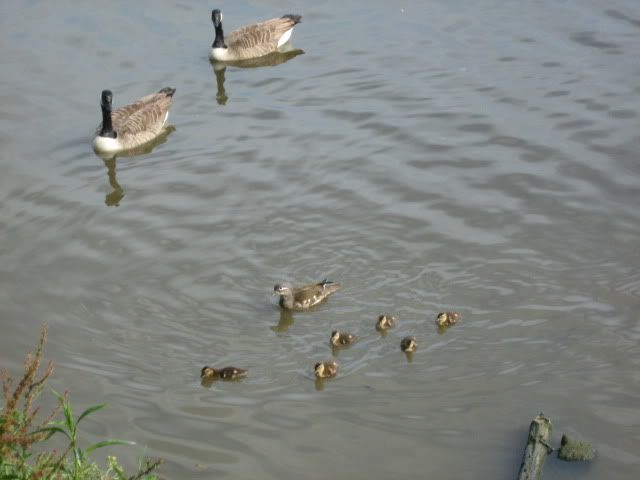 And I know I'm repeating myself, but England is just a fantastic place to walk and look at scenery. We admired the magnificent trees (I don't think I've ever seen a willow that large before):
Looked at the river:
Saw other stately homes in the area we didn't have time to stop and visit:
Spotted someone's ingenious solution for finding garden space:
Admired the river some more:
And finally spotted our goal, the bridge across the river to Richmond, where we could pick up a train back to London: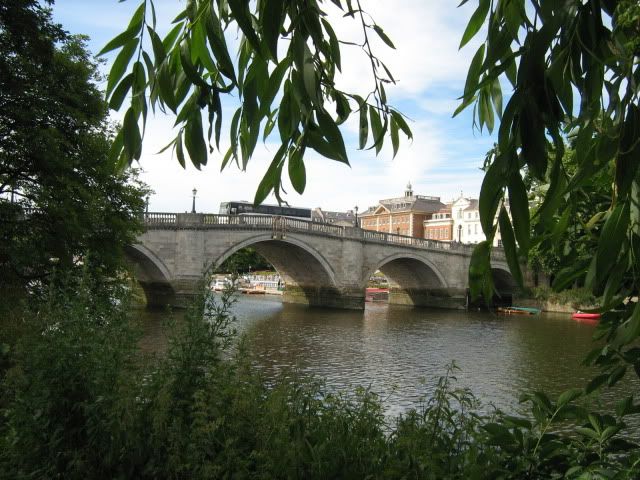 We returned to London and walked to
Chimes
, which is in all the tourist guides for a reason- that's excellent traditional English food and a wide selection of ciders. We've been back several times and the food is always excellent. On this particular occasion, it was busier than we'd ever seen it at the unfashionably early hour we like to eat. Possibly due to extra traffic from the famous
Chelsea Flower Show
, which was going on then. The service, which is generally unhurried there, was rather overwhelmed. We chatted for a bit with the people at the next table (in town for the flower show, as they explained) and they were quite incensed by the slow service. I expect under some circumstances we might have been irritated ourselves but we were in no hurry and even glad to sit for a while. And the food, when it came was outstanding as always.
We walked back to our hotel, picking up laundry— (Love those wash and fold services! A great boon to vacationers.)— and called it a night.
Our last photo of the day, taken on our way to dinner, was conventionally touristy—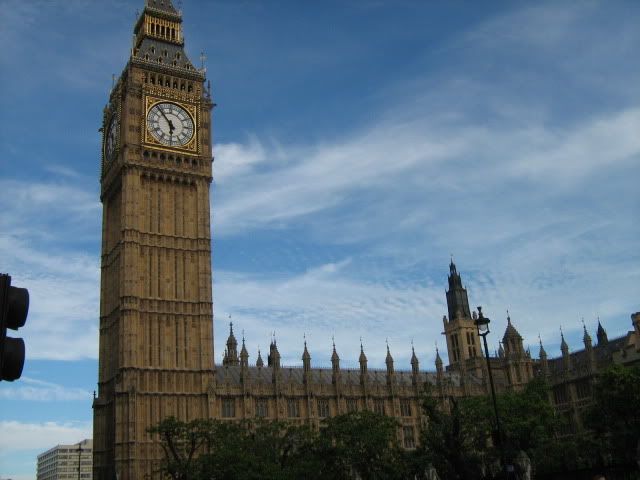 —but how could I resist the evening light on big Ben?