A lovely first couple of days to 2012- even the cats are being unusually friendly.
They've shared the castle before, but this is the first time I've seen them cuddled together to sleep, as opposed to being riveted to the sight of birds on the feeder outside the window.
On New Year's Day, we had some friends over for our annual board gaming party. Loads of fun, but I am going to need to do some walking- not only did I make
my infamous Maple Baklava
...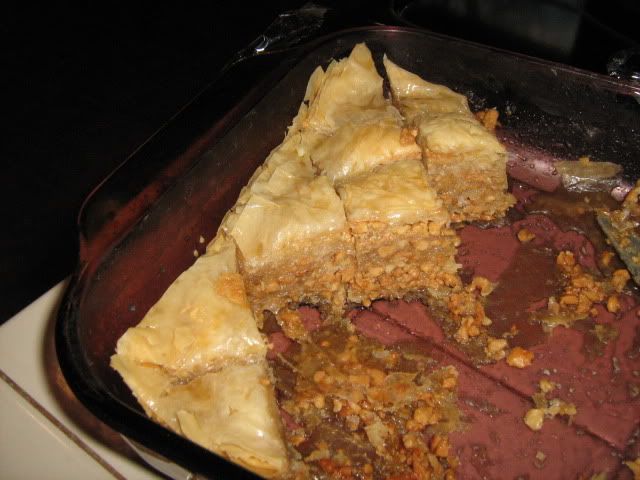 ...but nearly everyone else also brought some kind of sweet- fudge, several varieties of chocolate-dipped pretzels, gingerbread zombies (it's a long story), and our friend John's irresistible macaroons. Delicious, but ooh, the calories!
I gave a friend a knitting lesson- she's a natural, she was zipping along on a garter stitch scarf by the time she left- and a big bundle of surplus knitting needles have been passed on to enable her new hobby. (And seriously- anyone who can concentrate on a knitting lesson while her three-year-old twins use her as a jungle gym? Serious aptitude, there.)
And speaking of paying attention to knitting, heaven knows what those gauge notes were for...judging by the size my sweater back was coming out, it certainly wasn't for this yarn. I got one pattern repeat into the back when I became certain that there were Issues. These were, in addition to the size, the fact that I'm using a pattern of a Certain Age (it has asked to be referred to as Classic, rather than giving out any details of its date of origin, and I'm respecting that). Anyway, some of the details of the styling are a little out of fashion, so I'm making some adjustments. And also a couple of tweaks to the pattern, to better suit my own taste. So we've been making negative progress on that one today, but the ribbing has now been cast on again in a more congenial size, and I'm busy re-knitting.
In looking back over 2011, I am chagrined to note that my final tally was 74 FOs, rather than the 75 on the list (there's a number missing in the 50s). The distribution was interesting. 69 knits, 5 crochet- no carpentry or sewing at all. That will change in 2012, for sure. Possibly the deck rehab project ought to be on the list--it certainly took enough time! But I have historically reserved the project list for new things, not home maintenance. Possibly I should keep a home repair/maintenance project list for 2012--it might motivate me to work on house projects more!
There were two sweaters I had meant to make but didn't get to (the one I just cast on being one of them), and two afghans I hadn't anticipated that that happened anyway. In terms of type of project they were distributed as follows:
23 hats
30 pairs of mitts/mittens
8 pairs of socks
9 scarves (two of which were fine gauge)
2 sweaters (one quite large in sport weight yarn)
2 afghans of fair size
As I suspected back at the beginning of the year, there were more than the usual number of scarves (which I usually don't do that many of). Socks were down to 8 pairs, from more than twice that many last year. I managed to blow through a whole bunch of yarn- all my bulky weight, and a lot of pastels. All those scarves and hats, not to mention the afghans, busted a lot of stash.
Project Goals for the coming year (draft):
-Finish my oldest WIP, the fine gauge bamboo top.
-A sweater for my husband (that's the one I just cast on).
-Teal variegated sweater for myself (the other one I had in mind for last year)
-The third afghan (already started).
-Colorwork wool mittens for myself- those I'll start soon, as have brilliantly managed to misplace all but one pair of mittens I own.
-The second pair of socks from Deep Water Dye Works' yarn, which is too delicious to leave in stash any longer.
-Two more bookcases for the library- (scheduled for next summer).
-At least a start to the next big quilt, and I want to make several more for charity.
-Two other sewing projects I have materials on hand for.
And....more, TBD.
On the books front- well. I haven't had a lot of book related goals, but my reading was up quite a bit this year anyway-
I finished with 154 books
, which was about 50% more than last year. Possibly I should have some goals- like wading through the rest of the eternal to-be-read pile and getting rid of the things I'm never going to read. Yeah, let's start there. If I manage to nail that one, I'll think about others. I'll call it a home maintenance goal.
Altogether it was a pretty satisfying year- steady progress on several fronts, a couple of big house projects down, a lot of knitting and crafting.
Here's hoping for more to come in 2012.
How about you guys? Goals for the new year?