So, I've been dropping in hints about sewing for a few posts now, and finally I have an FO to show you. Now, admit it, in your wildest imagination, I bet you never thought I was sewing....a dapper frog!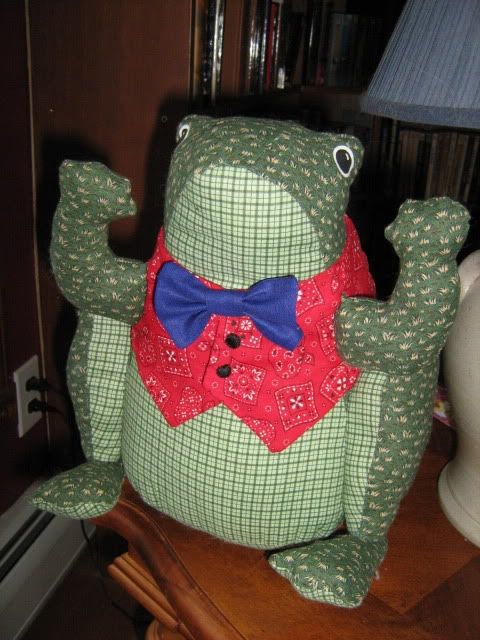 He came from a..I'm not sure whether to call it a kit or a pattern...it was a length of fabric printed with all the pieces and also the assembly directions. It came in one of the boxes of free fabric, and as soon as I saw it, I knew who it was intended for. The only mod I made was to embroider buttons on the vest instead of using real buttons (the intended recipient is too young to be trusted with anything he can swallow yet). I'm rather pleased- it was a fussy little piece of sewing, but it came out well- and as a bonus, I finally used up most of the bag of poly-fill craft stuffing which I bought in (I think) 1982.
In other project news, I'm moving right along with the new sweater. When I realized I was going to have enough yarn left from my husband's sweater for another entire sweater, I decided there was no point in waiting. One of my goals this year is to empty all the bags containing sweater quantities of yarn that are lurking in the upstairs closet (that's not as much as it sounds- I've got enough for 2 more and a vest or possibly 3 sweaters after this one (that's adult sized) and one kid sweater quantity in the baby yarn bag.
So anyway, I decided that the white-and-gray yarn had such lovely stitch definition that I wanted to do more cables with it, but this time I went with a rather simpler design- it'll be a zipper-front cardigan, probably drop shoulder. We'll see how the yarn holds out- I'm reasonably sure I can get a complete sweater, but some of the finishing details are still up in the air. Here's the front of the sweater:
And here's a closer look at the front detail. This was the bit I changed my mind about, ripped and redid. I realized after I'd gotten the first repeat of the back panel done the the best idea for the front was to extract the central motif (suitably modified to make it narrower), and use that instead of the (clearly inferior) design I'd started with.
And here's the back panel. I've liked this from the first time I saw it in the stitch dictionary, so I'm delighted to be able to use it now.
Last but not least, the green afghan has gotten a bit of attention. I picked up a skein of green yarn (it's a bit brighter than it looks in this photo) and have now done the last border round on all the squares I had already made. Now I'm starting to crochet more (and get the last of this batch of pestiferous pastels out of my stash!).
In between making the rounds of my craft activities, today I've done laundry, walked, ridden the exercise bike, broke down a bunch of boxes in the cellar and put them in recycling, promptly used the space I'd freed up downstairs to glue and clamp a chair (which has been down there to be mended for a while) and built a nice fire in the woodstove. Coming up next, I'm going to do some reading, dishes and probably iron some of the fabric I washed earlier this week. Maybe start a new sewing project. It's not very often I get to enjoy a quiet weekend at home, I want to take advantage while I've got it!