So. As so often happens in the case of ambitious plans colliding with reality, the Webs sale plan kind of came apart. It wasn't the shopping ... astonishingly, I found
everything
on my list, and came home with nothing that wasn't on it. I got there on time, I shopped on fast forward, I reluctantly accepted there would not be any time to browse the local fleece vendors and dyers in the parking lot, I was in the checkout line--which I had observed was very long--twenty minutes before I needed to leave. The checkout line was not traveling in the same space-time continuum as the rest of the planet however. I waited in line for over an hour.
Had I not been on a schedule, it would have been fine- I stood in line, chatted with other knitters and worked on my sock. But. The alert among you may remember that I only had an hour blocked for the whole visit. I blew my deadline, made us all (my husband, I, and the friend carpooling with us) late for our meetup with other friends to the grumpiness of everyone. Late enough that I did actually consider apologetically dumping my basket in front of an employee and walking out empty-handed. But after all the arrangements I had made to get there, I couldn't quite bring myself to do it. If I ever go to one of these again, I'm going to have to drive myself--or carpool with knitters who also want to go to the sale. On the plus side, I now have enough yarn that that possibility is a couple of years off. At least.
So, you ask--what did I get? (I was really hoping you'd ask that question!) First off, there was yarn for sweaters. While I do have some sweater projects planned with yarn I already own, I also had sweaters that I wanted to knit for which I have no yarn.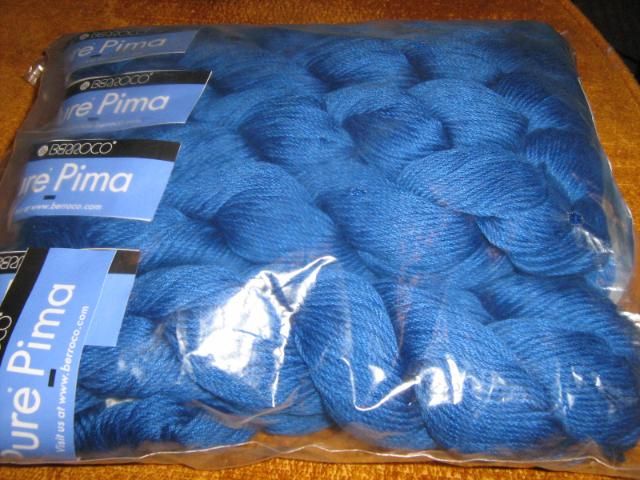 Berroco Pure Pima- This is for my sister Kate, who has conceived a passion for a
corset tank top
. It is probably going to be the next project up after the Celtic cable sweater as Kate is busy designing a brand new outfit to go with it. (It's a bit darker and more saturated than it looks in this photo.) I've got my fingers crossed- the pattern calls for worsted and this is DK, but the nominal gauge is a match, so I'm hoping I can make it work.
Ella Rae Country Tweed- wool/acrylic with some alpaca and viscose. This is bulky weight, and I'm picturing a nice plain heavy sweater out of it for my husband. He frequently layers sweaters in the winter, so there's clearly room in his wardrobe for something warmer.
Rustic Wook DK (Queensland Collection) - I really couldn't believe it when I spotted this--it's exactly the colorway I was visualizing for a friend of mine. She's very fair, so the flashes of gold in the yarn should go well with her hair. Sweater pattern is yet to be determined but I have a few ideas.
Plymouth Galway Paint- this is destined to be a plain sweater for me- a nice comfortable sweater, probably a top-down raglan. Casual enough to go with jeans, nice enough to wear to work on cold winter days.
Valley Yarns Northfield- This is a merino/alpaca/silk blend, and perfectly luscious. I'd left one slot in my list as open, to accommodate finding a yarn I liked and coming up with a plan for it on the spot. I looked at this and said, "Lace vest." Something else to jazz up my moribund work wardrobe.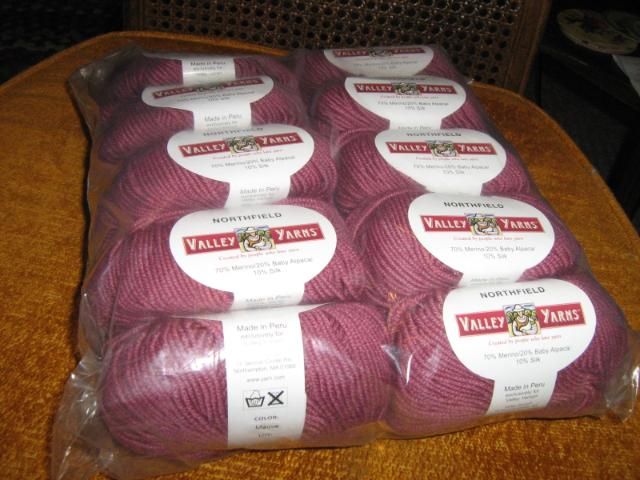 Sock yarn- I don't really need more sock yarn, but it's well-nigh irresistible for a project knitter- it comes with a project attached--socks! So I allowed for up to three skeins on my shopping list and came home with only one.
Plymouth Encore- and this was what started the whole thing- my sad lack of worsted weight yarn, particularly worsted in dark and bright colors suitable for kid mittens. While I will undoubtedly double up a lot of my current oversupply of sport weight for this purpose, knitting doubled yarn is a bit slower and fussier to work with. I do like to have some nice basic colors on hand that I can just grab and go. And this is a relatively inexpensive washable wool-acrylic blend. I've used it before and like it a lot, so seeing on sale was one of the reasons I originally wanted to get to the Webs sale.
This more than restocks my stash-- my plan this year had been to try and knit down a bunch of the current yarn and here I am with more than I started the year with! Clearly, my knititng output is going to heavily feature sweaters for the rest of this year (and probably part of next!). This is going to be fun!