Whenever I need knitting and either don't have time, reference material, or brainpower to figure out what the next project is, I cast on a hat. Or mittens, but I've got quite a bit of yarn that it suitable for hats at the moment. Take this one: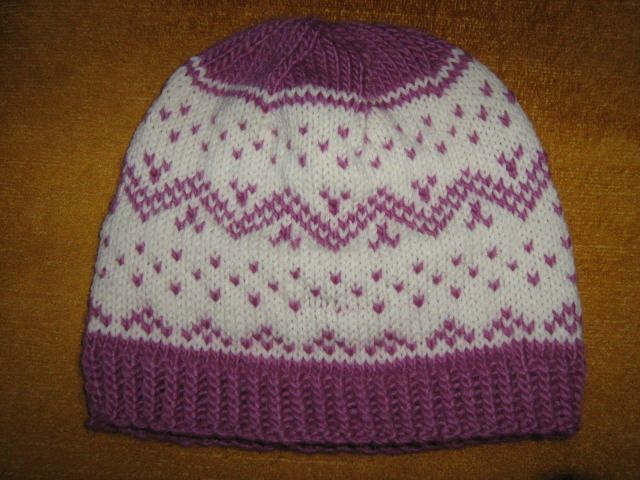 The purple is a gorgeous wool angora, single ply. Wouldn't stand up to the kind of wear that mittens get (at least in my world) and I prefer mittens to be machine washable. But it makes a perfectly charming hat. This one makes me think of black raspberry and vanilla ice cream.
And then the latest gray hat:
The yarn is too light (in color, not weight) for mittens. But fortunately this is the last gray hat. After two sweaters and three hats, I'm finally down to less than a skein left...if you see this yarn again, it will only be in company with a companion color. I take a certain satisfaction in using ALL the yarn!
It hasn't been all hats, all the time, however. There is a lurking sock.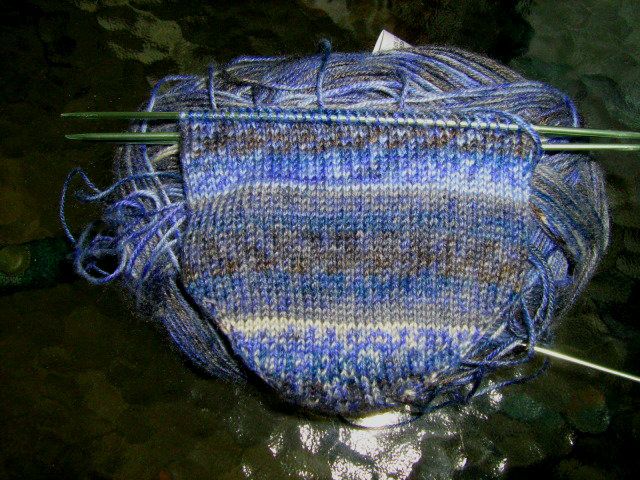 I'm really loving the way the colors are mixing in this. The yarn is Lang Jawoll Bambus, a wool/bamboo/nylon blend. It's silky-soft (and rather slippery) but I'm thinking it's going to make marvelous summer socks. I'm really torn between the idea of just making them regular sock length, or making them shorter and using the extra yarn with another partial skein of bamboo to make a second pair.
And then there's the ever-present question (after finishing something)--now what? For once it's morning, I got plenty of sleep (before being roused to save cats from Imminent Starvation), I've eaten and I'm not rushing off anywhere for at least an hour. Maybe that's enough time to grab a pattern for a kid sweater and see what I can do with the big cone of yarn in my sport yarn box.