One secret project done, and yesterday I industriously knit on the socks (I've turned the heel on the second one so the end is in sight.) But then I
had
to cast on something new since today was our charity Knit-a-thon kickoff. It works like this- since we all know it's coming, we set aside various hats, mittens, scarves and the like. Kickoff day, we all get together, eat snacks, swap yarn we're tired of, and pile up the completed donations, admiring each others' work. Then we spend the afternoon knitting more. In December, we'll have the closing party, where we all bring the things we've finished in the last few weeks, eat more snacks and there will be a drawing with various yarn-y prizes for the participants. Snacks, you note, are very important to this process.
So. I had to cast on something new and this is the time of year for bulky projects. Fortunately, I had a brand-new skein of cheery yellow and I cast on an
Unoriginal Hat
, as something nice and speedy. I didn't quite finish before the party broke up, but that's just as well since I had forgotten my camera. Cookie helped hold up the hat like a pro so I could take a picture. Heck, he could do it in his sleep.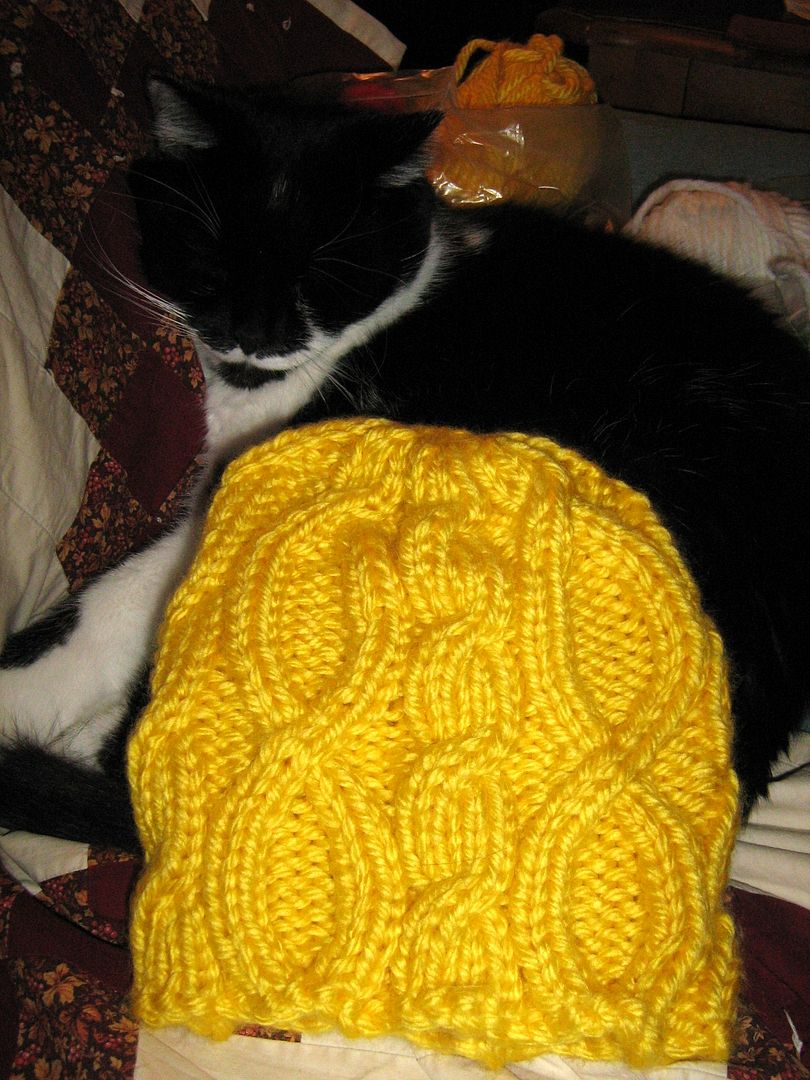 (Yes, it's really that bright.)
And then, having discovered that I had several more skeins of bulky weight lurking in the stash, I promptly cast on another hat. Biscuit somewhat reluctantly assisted me in photographing this one.
(I don't know what the look is for, he's keen enough to have his photo taken with knitting when it's his idea.)
Jake cunningly relocated out of sight until all this annoying flashy stuff was over. Don't worry, pal, you'll have a chance to help show off the knitting next time! After all, there's going to be quite a bit in the next few weeks!