June 26, 2014
The next morning we checked out of our hotel and boarded a train for the next stop on our journey. We alighted at Falkirk, and after a certain amount of navigation by dead reckoning and directions from a friendly passerby, we found the canal walking path we were looking for:
From there we found our way straight to our destination, the
Falkirk wheel
. The Falkirk wheel is a boat lift, raising boats from on canal to another, 79 feet higher in elevation. Due to the clever balancing, the wheel takes remarkably little power to operate.
There's a video here that shows how it operates.
They have a small visitor center and a 'water park', which we were amused to find was an area that demonstrated various types of hand-powered pumps filling miniature canals. While it may have been designed for children, we had to try it out while we were waiting to see the boat lift in operation.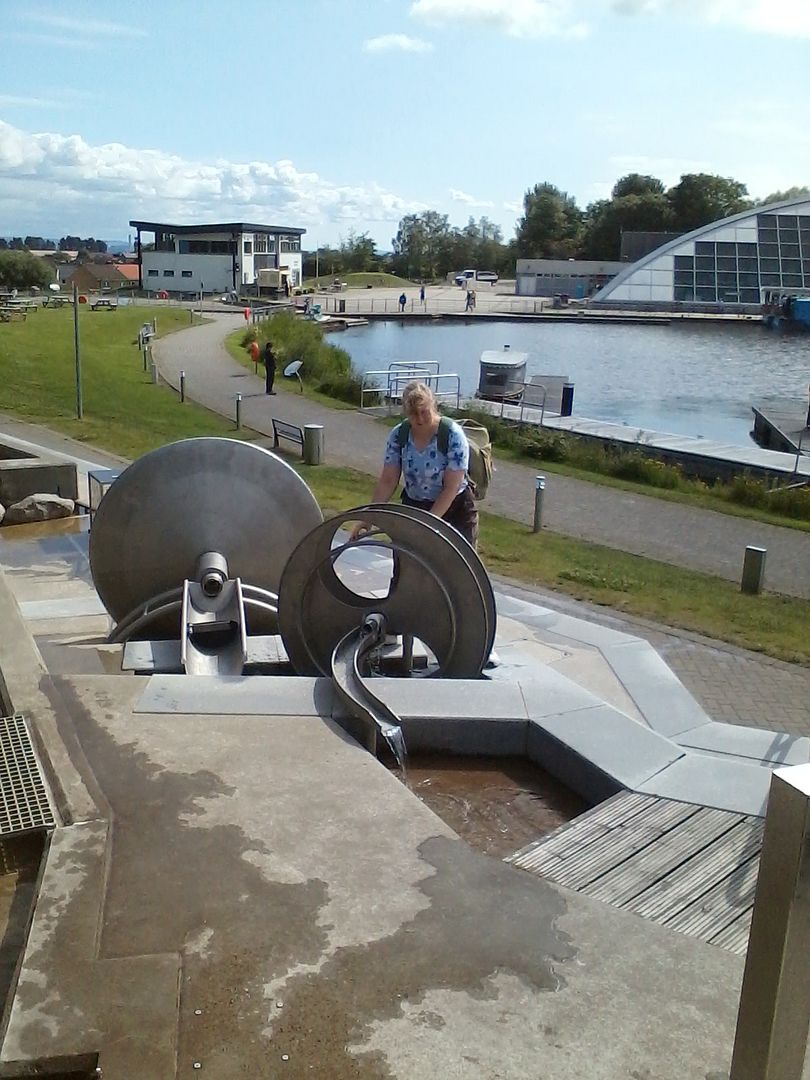 Engineers- not so different from children.
Finally they sailed a boat into the wheel and it started rotating. Amazing. The pictures just don't give you a good feel for how big it is.
After that, we strolled back down the canal towpath to the train station and proceeded to Stirling, home of Stirling Castle.
Looking out from the castle walls, we could see the landscape over which was fought the
battle of Bannockburn
(think Braveheart- though every single guide we met first mentioned it, and then told us that the movie was wildly inaccurate). As with many castles, it had fabulous views of the surrounding countryside.
And here's the view facing Bannockburn (a burn is a river) where the battle is believed to be fought. (Certainly where the historical reenactment was planned to occur.)
The interior was also spectacular- the Great Hall, which was added by a Scottish king to please his French wife (apparently the older parts of the castle were cold and drafty).
After seeing the castle we toured the 17th century townhouse of the Earls of Argyll.
After exploring Stirling, we hiked back down the hill to the train and finished out the day in Glasgow,
where we were checked into our hotel near the river Clyde.