Ahem. Although I felt very pleased over the holidays to finish my shopping well before the holidays, ship gifts and do baking, something had to fall off the radar. Sorry, friends. It was you.
It was a very busy year- house guests through the summer and fall, a major construction project and a long trip in September combined to make it all rush by. There was also a lot of employment related work that left me unwilling to spend time in front of the computer in the evenings. Particularly when it meant wrestling with Photobucket's latest so-called upgrade to try and make it do things that used to be a lot easier. However. While I still intend to get the rest of the travel photos up, I have decided that there is no excuse for depriving the world of my latest craft endeavors, not to mention the unbearable cuteness of my household. For example: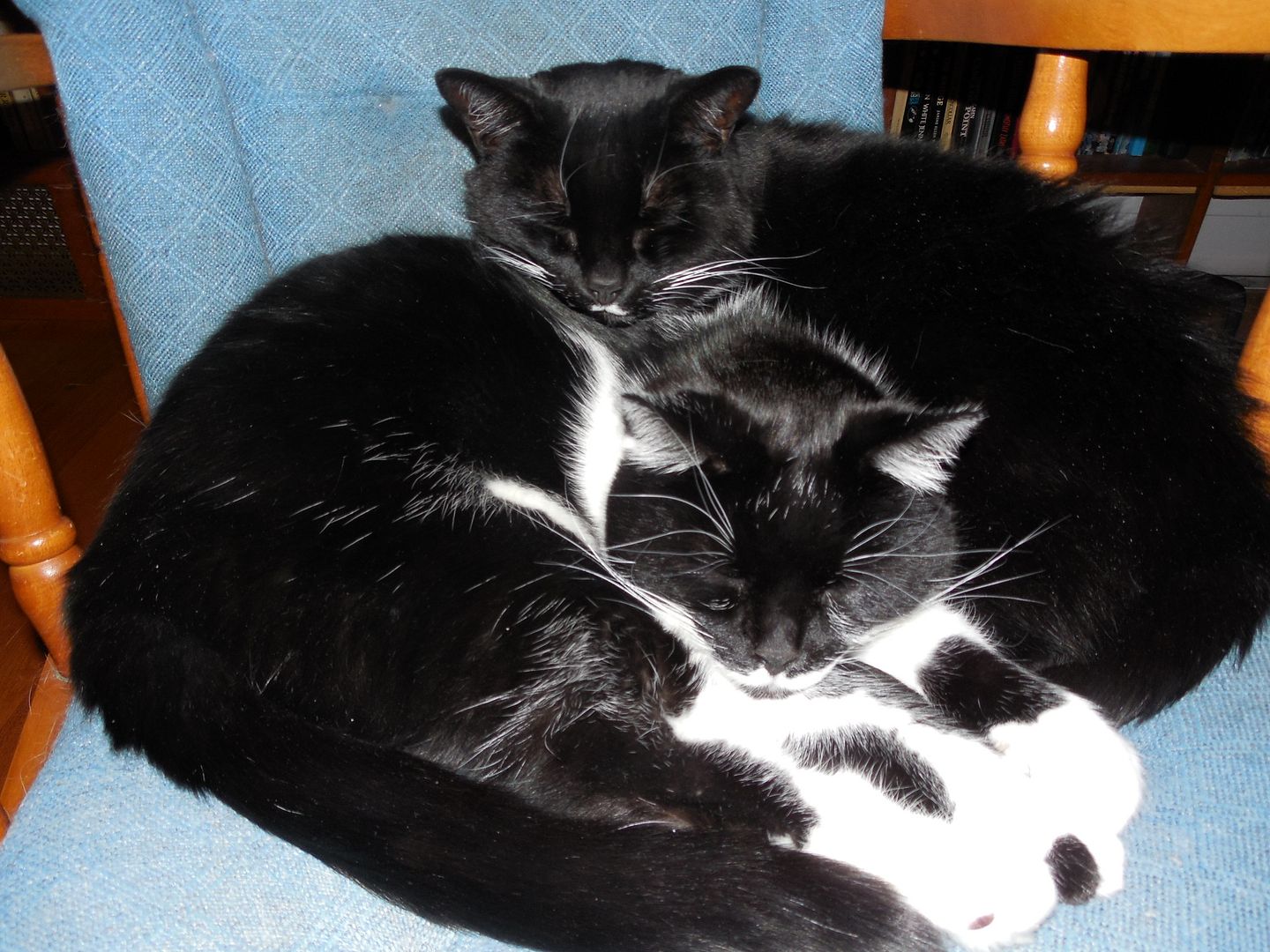 There has been a lot of seriously cuddlesome behavior happening since the weather turned colder. Jake and Cookie have decided that they are pals united in the desire to be warm. Biscuit is happy to cuddle with people, but I think he mostly doesn't really notice the chillier temperatures. It's the fluff.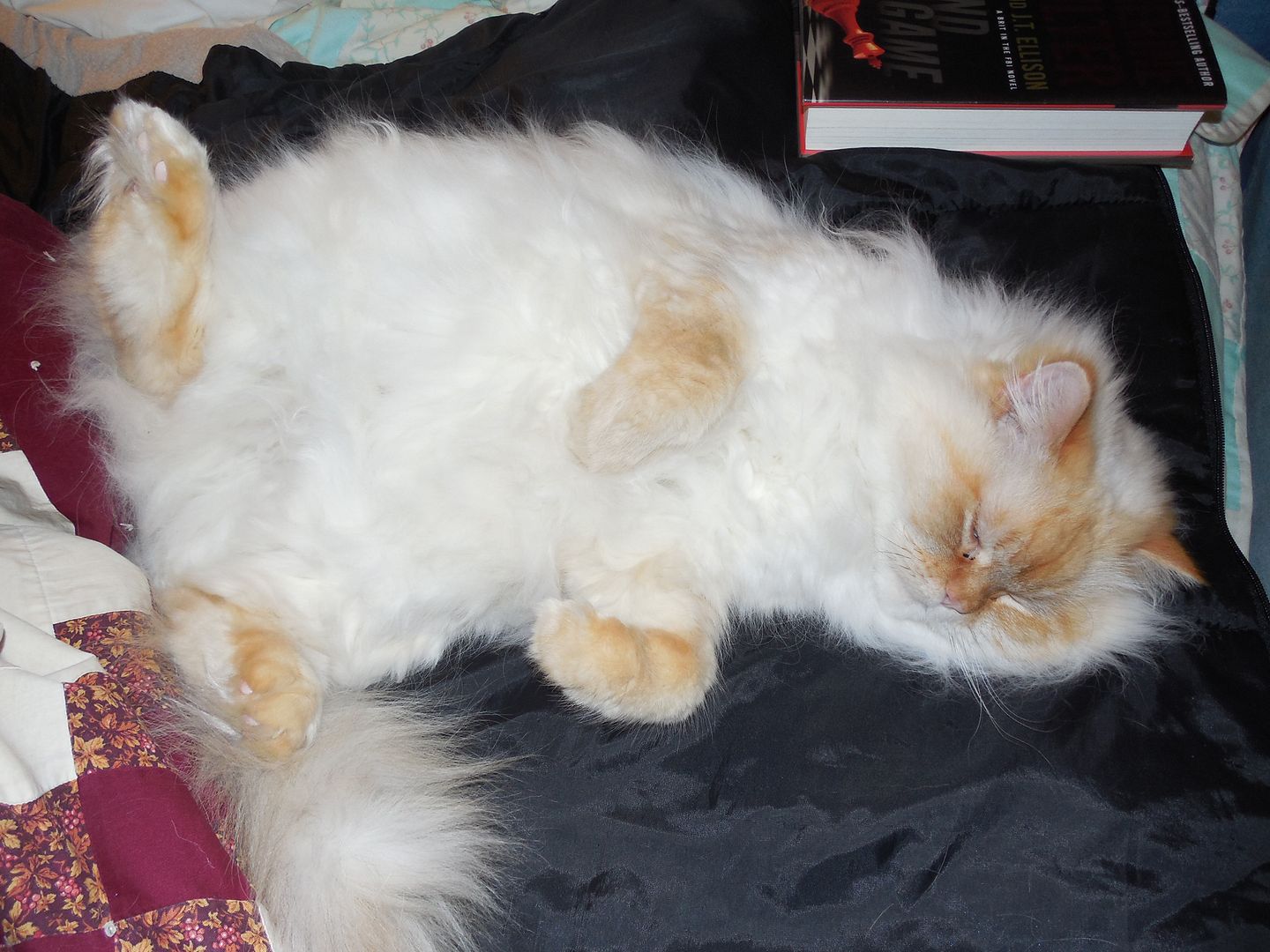 Though he has been known to seek a blanket now and again.
"Mine!"




And of course there has been crafting. You knew that, right? For example, before I mailed off the Oriel socks before Christmas, I finally got a picture that bears some resemblance to their actual color.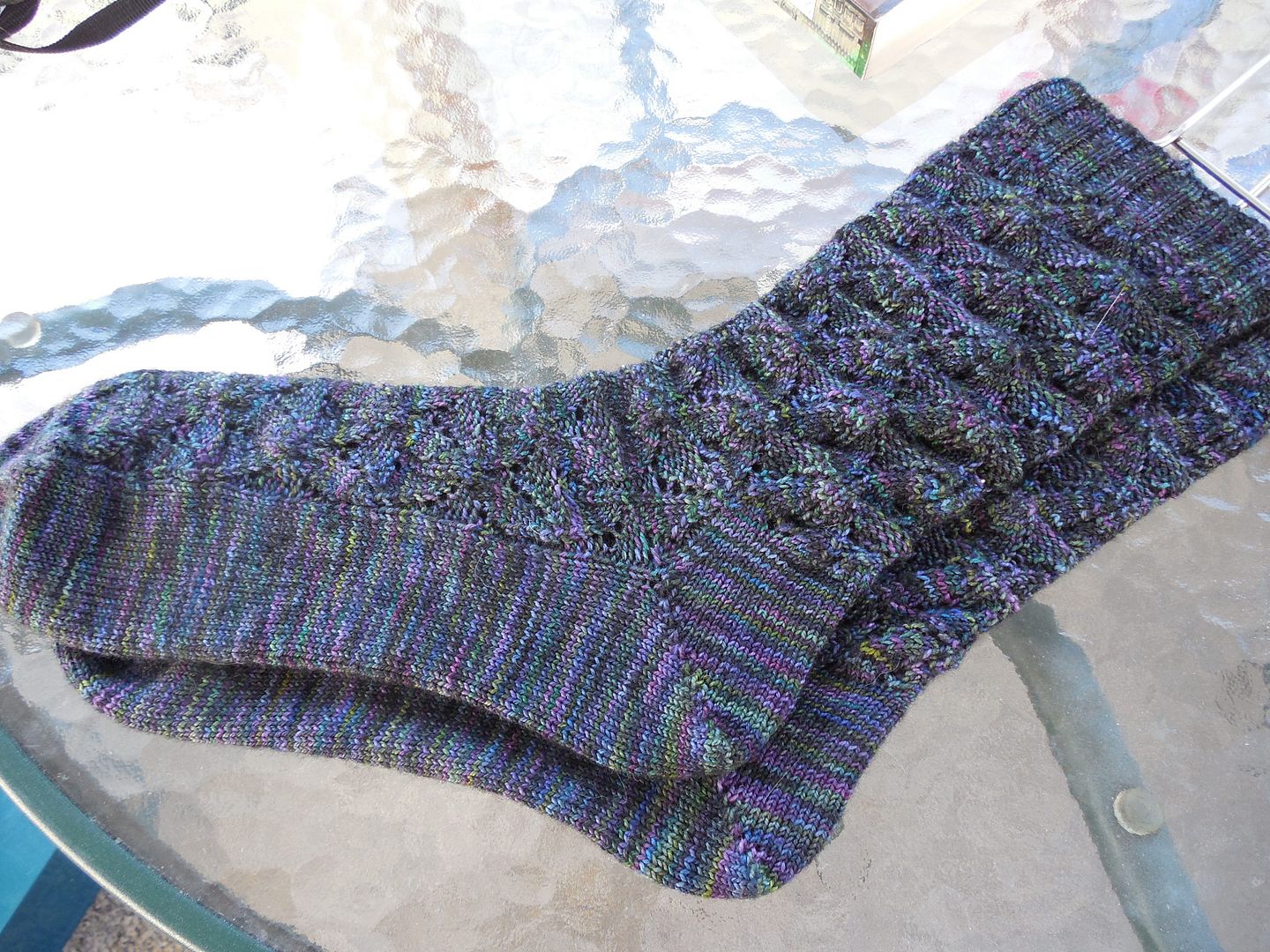 The recipient was very happy with them, which is always nice to hear.
Then just about one minute into Christmas morning, I wove in the last end and blocked the last knitted gift, socks for my sister. (Edit- pattern is yet another pair of
Sagittarius
socks.)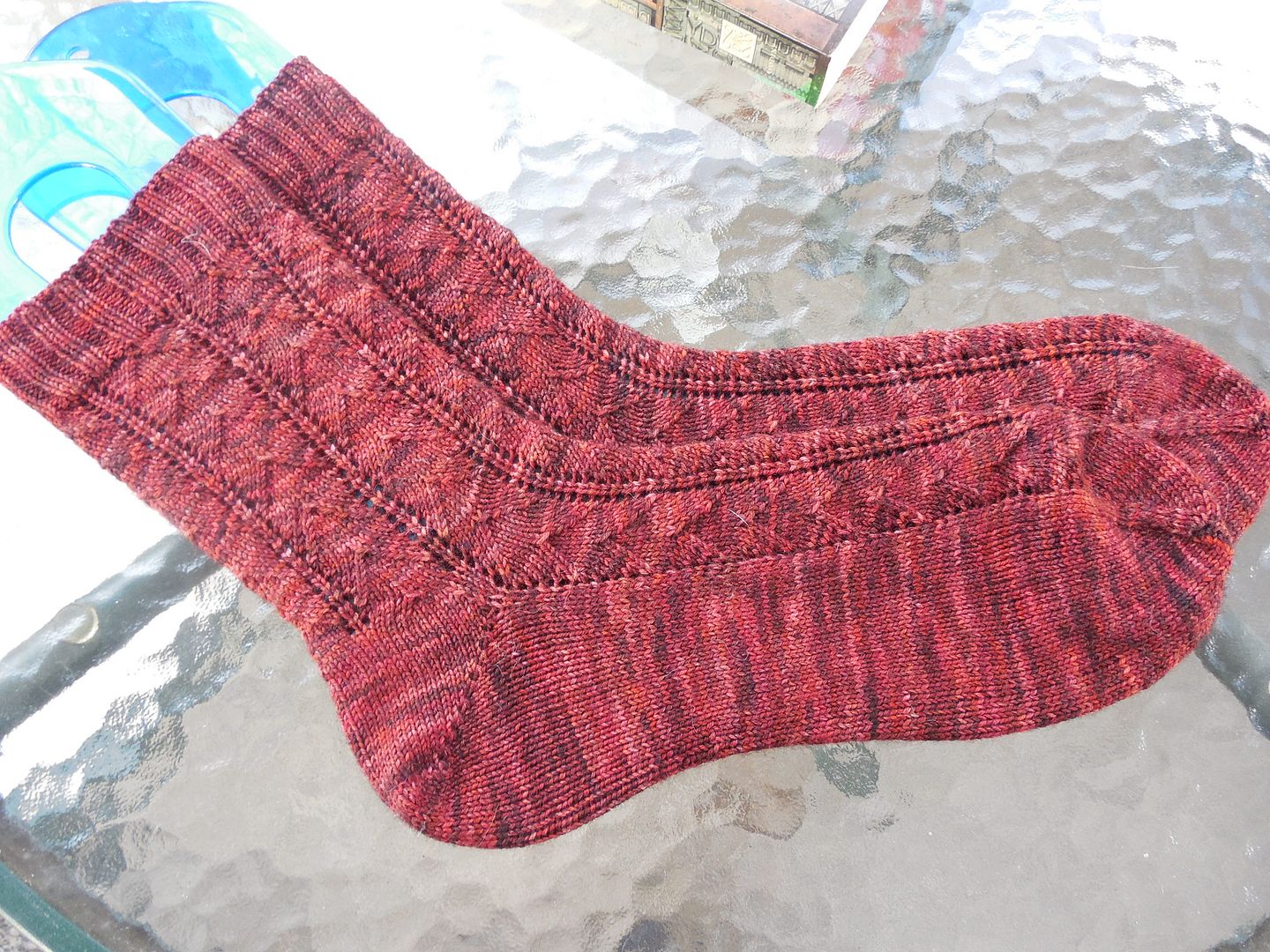 As soon as the holidays were over, I went nuts casting on new things. Because I'd spent the last few weeks trying to stay on target for the holidays, I was ready to cut loose. Which then took a back seat to preparing for our 4-day New Year's house party/board gaming extravaganza. Here, I'm doing a little baking, under the stern supervision of Biscuit. (He wanted to be a lot more paws-on about it, but I banished him to the pass through, where he could see but not touch.)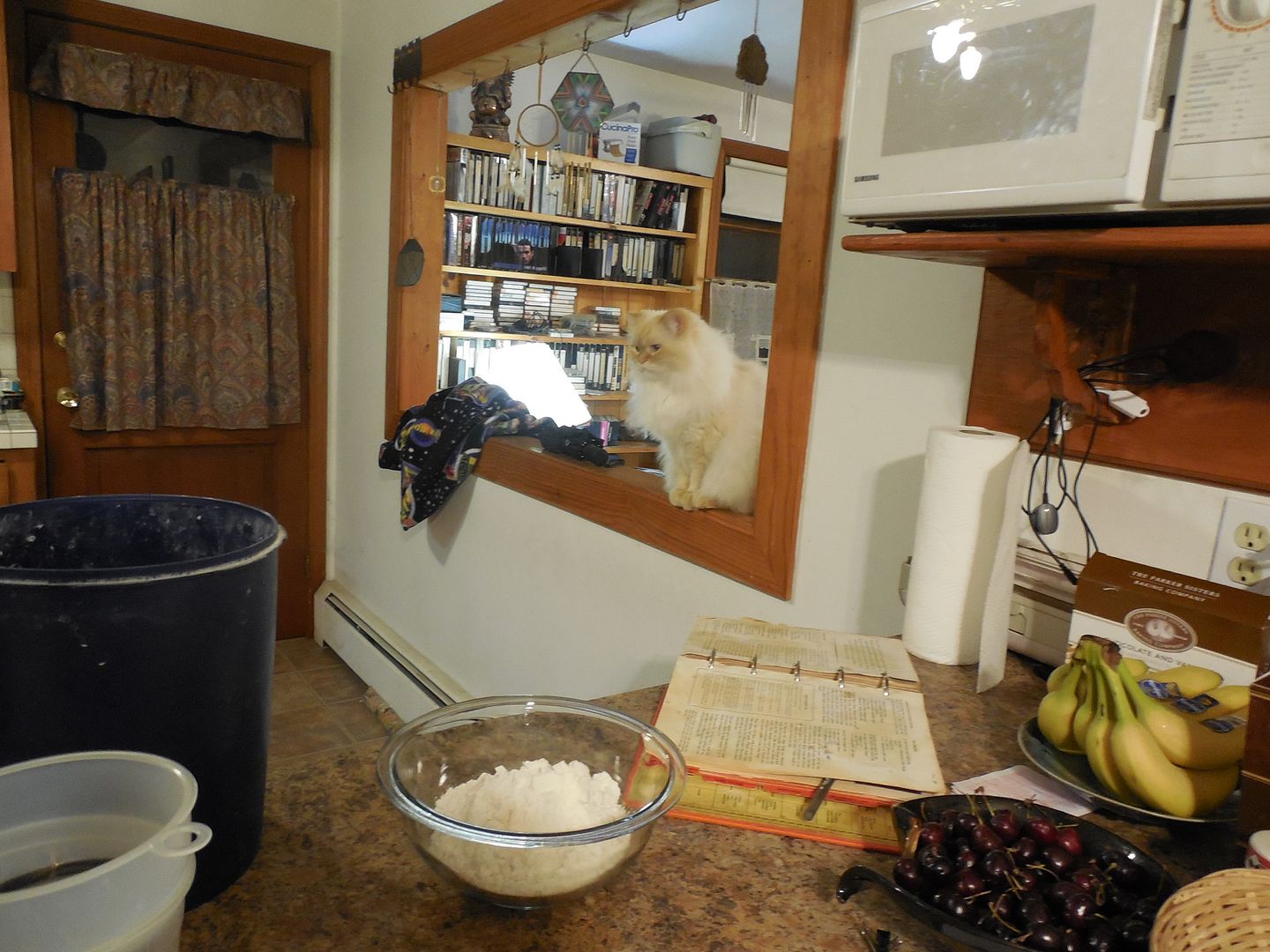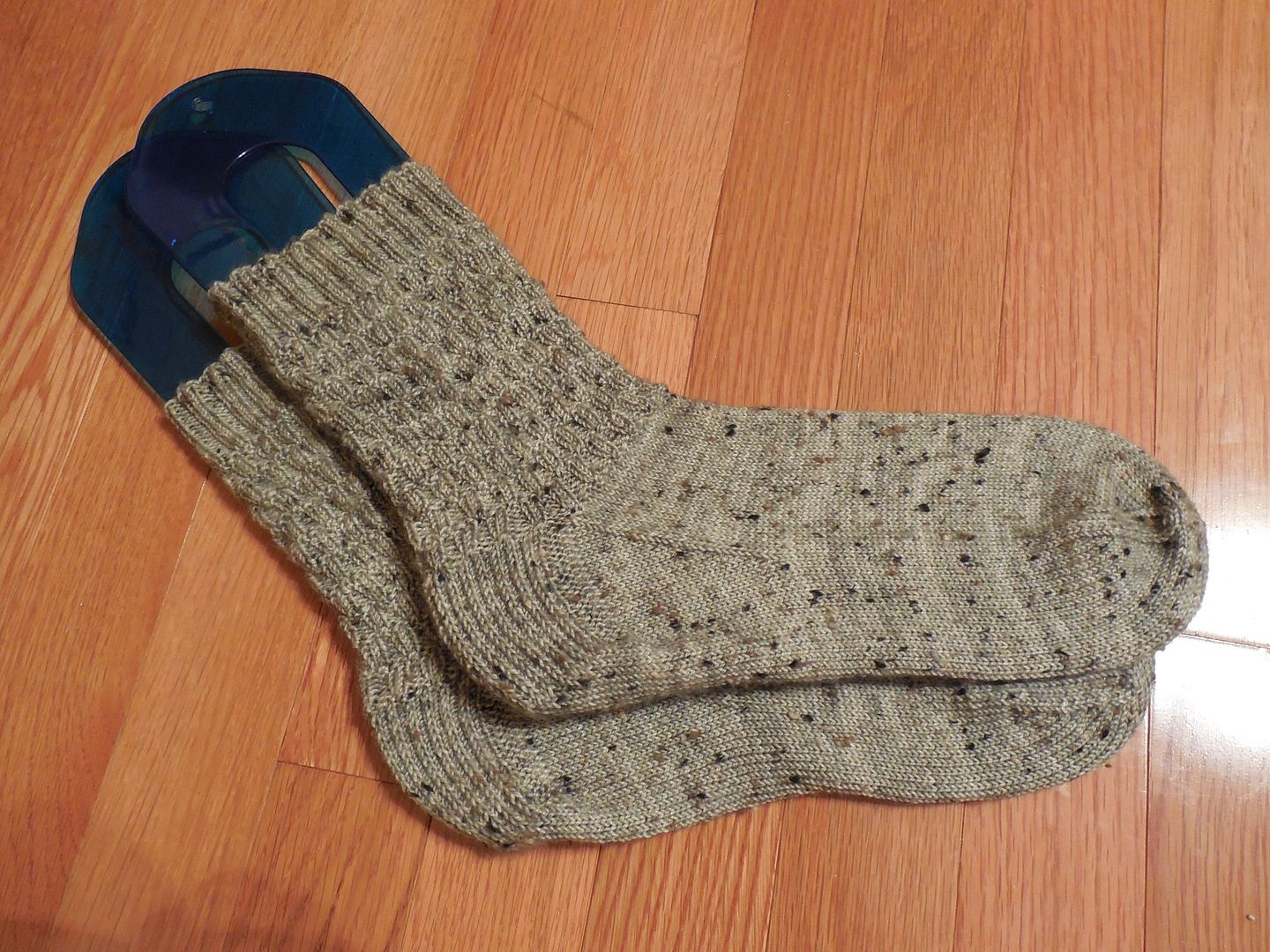 Then one snowy evening I stopped in to the bookstore to wait for the snowplows and sanders to catch up with the storm- when you can't brake (even very gently) without losing traction, it's time to wait for a sander! And what should I find but a group of knitters and crocheters crafting for charity. So when I got home, I searched out the various hats and things I had made. And I figured I really should finish the Mock Aran hat that I'd started back in the fall. Imagine my surprise when I pulled it out of a knitting bag and found that it was already finished.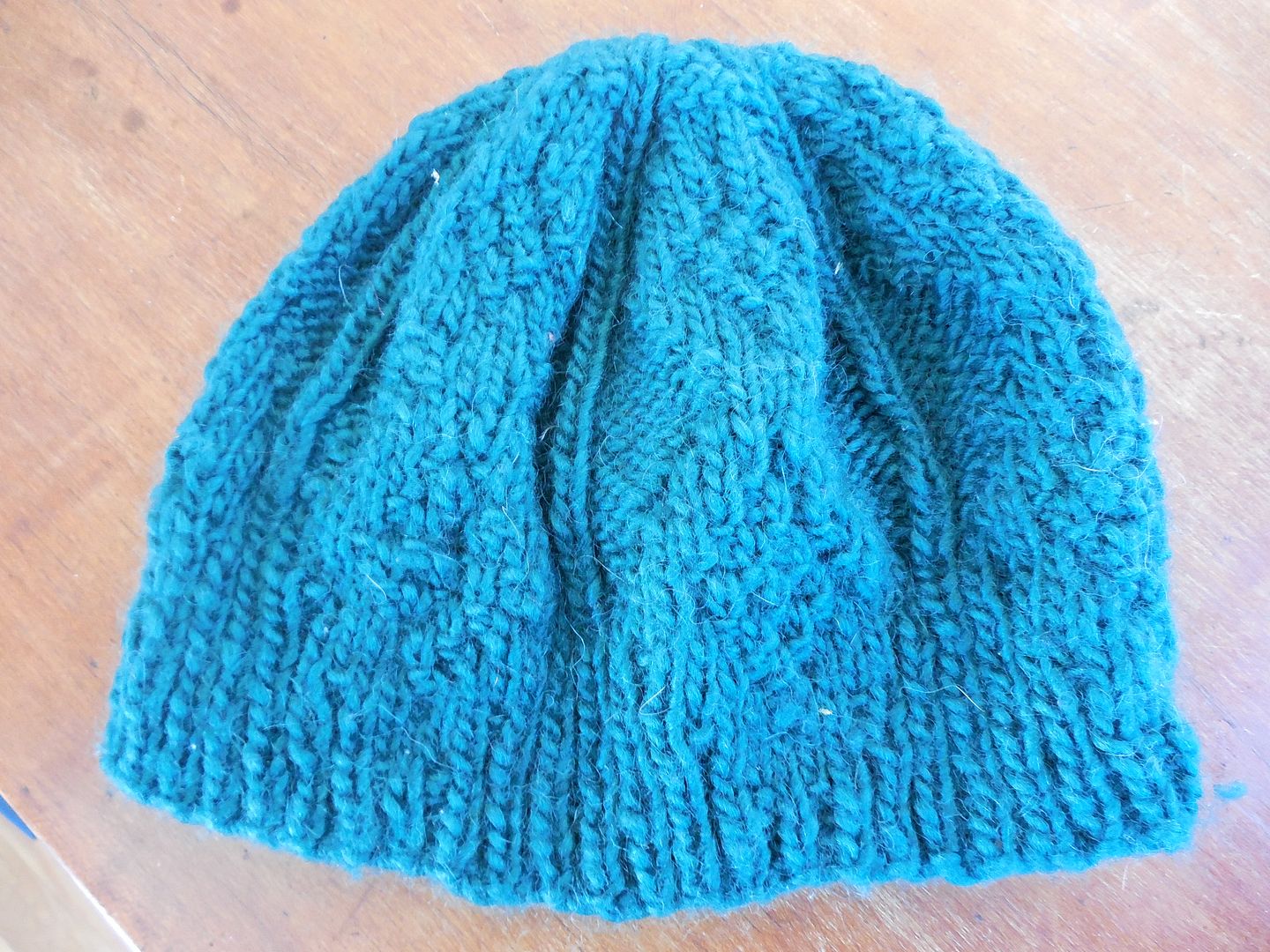 Naturally I went around and checked other bags to see if any other WIPs had finished themselves without me knowing it, but this appears to be the only one. If I figure out how it happened, I'll let you know. So I went back the next week and donated my hats, plus another bagful supplied by a friend at our weekly knitting group.
And then I happened by the local yarn store (yes, these things happen), and found that they were collecting red hats for preemies for a pediatric heart awareness event at the hospital. So I went right home and cast on.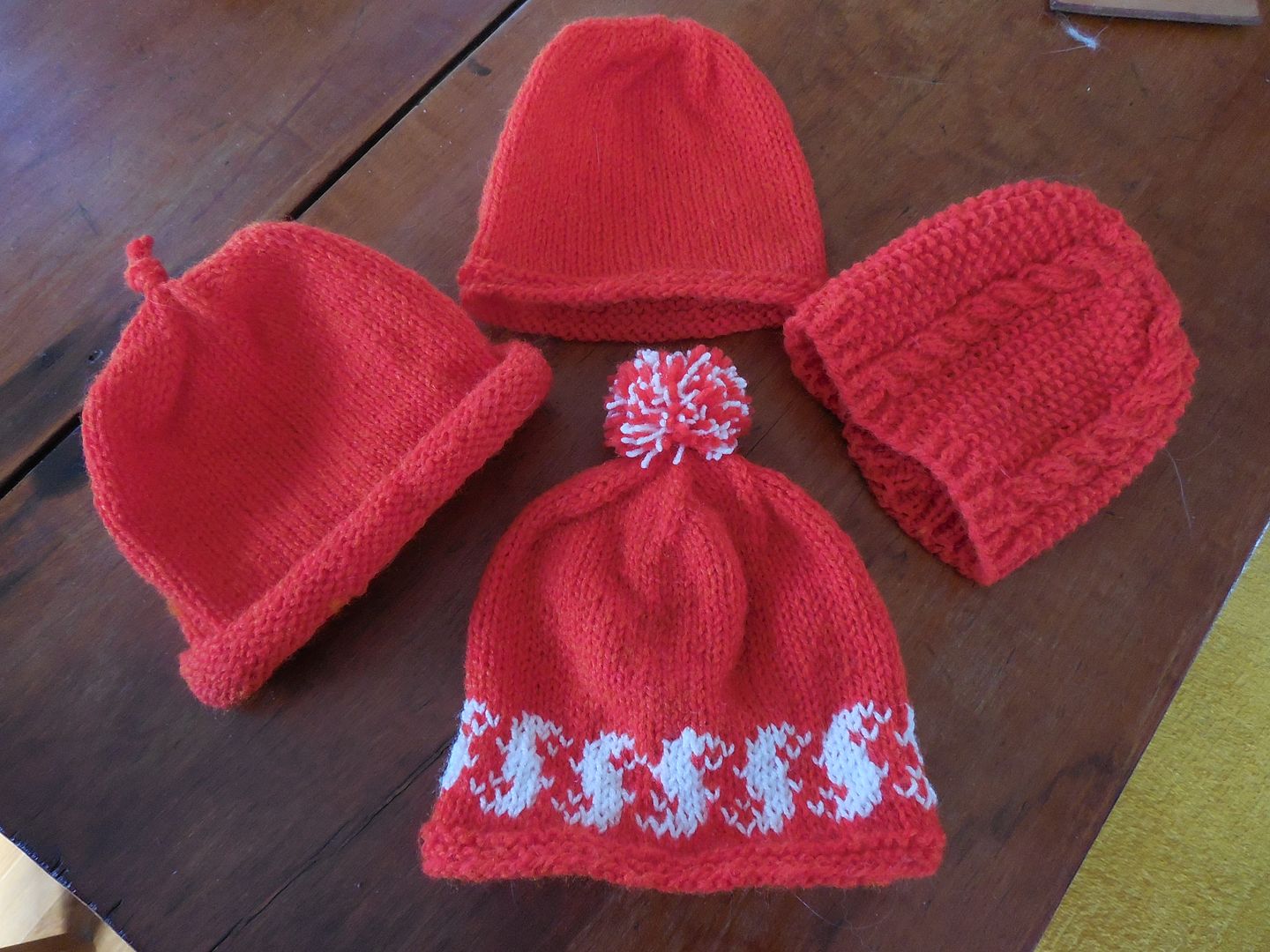 I did have to sternly remind myself of the size of my stash to get out without any new yarn. The baby hats used up one full skein, so on balance the stash is going down. Slowly.

And in the last couple of weeks, I've been alternating my attention between a scrappy baby blanket (no photo yet, but I've used up a whole whack of baby odd and ends in it), and a scarf for my aunt-in-law. Which I rushed to finish because I was seeing her yesterday. Once I blocked it, I had to put the blocking mats on top of a bookcase to dissuade my assistant from sitting on it.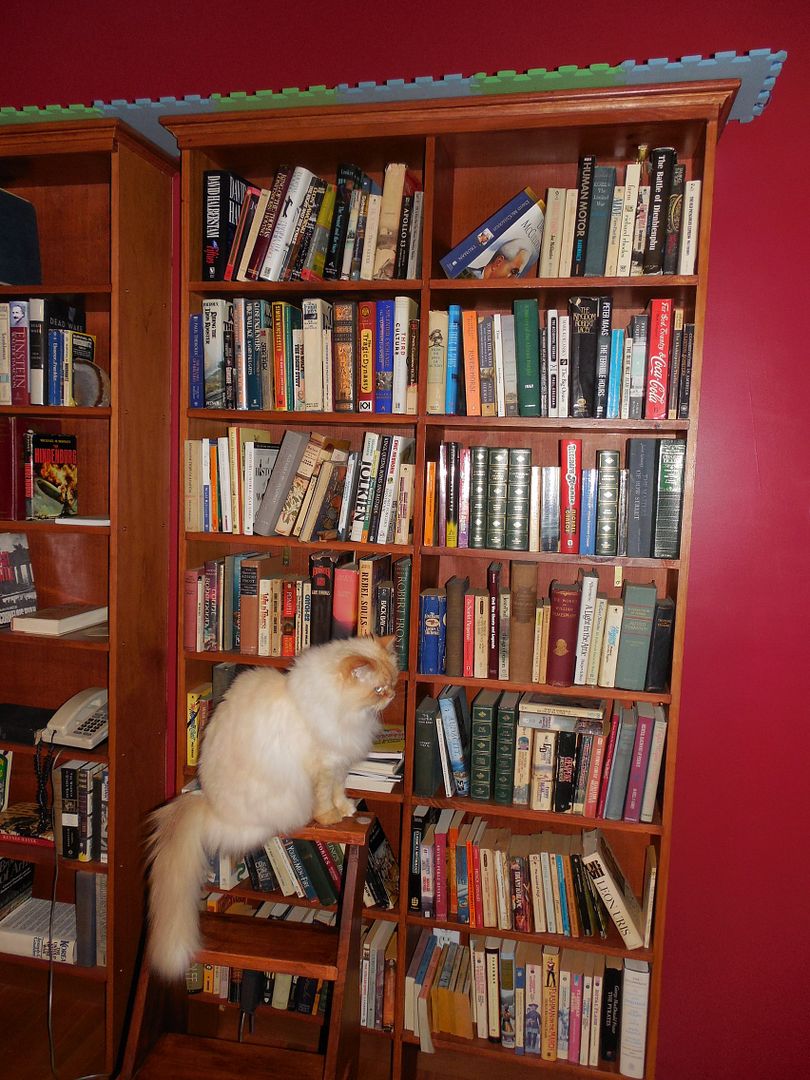 (He's not easily discouraged. He sat on the step-stool for quite some time, trying to figure out how to get himself up there.)
I had to gently finish drying the last hint of moisture with a hairdryer yesterday morning before we took off. But I was quite pleased with it. It's the last skein of yarn I bought from
Wandering Cat Yarns
,
a couple of years ago
. The yarn is Slinky Solo Cat in the colorway Blue Skies, a luscious silk/wool blend.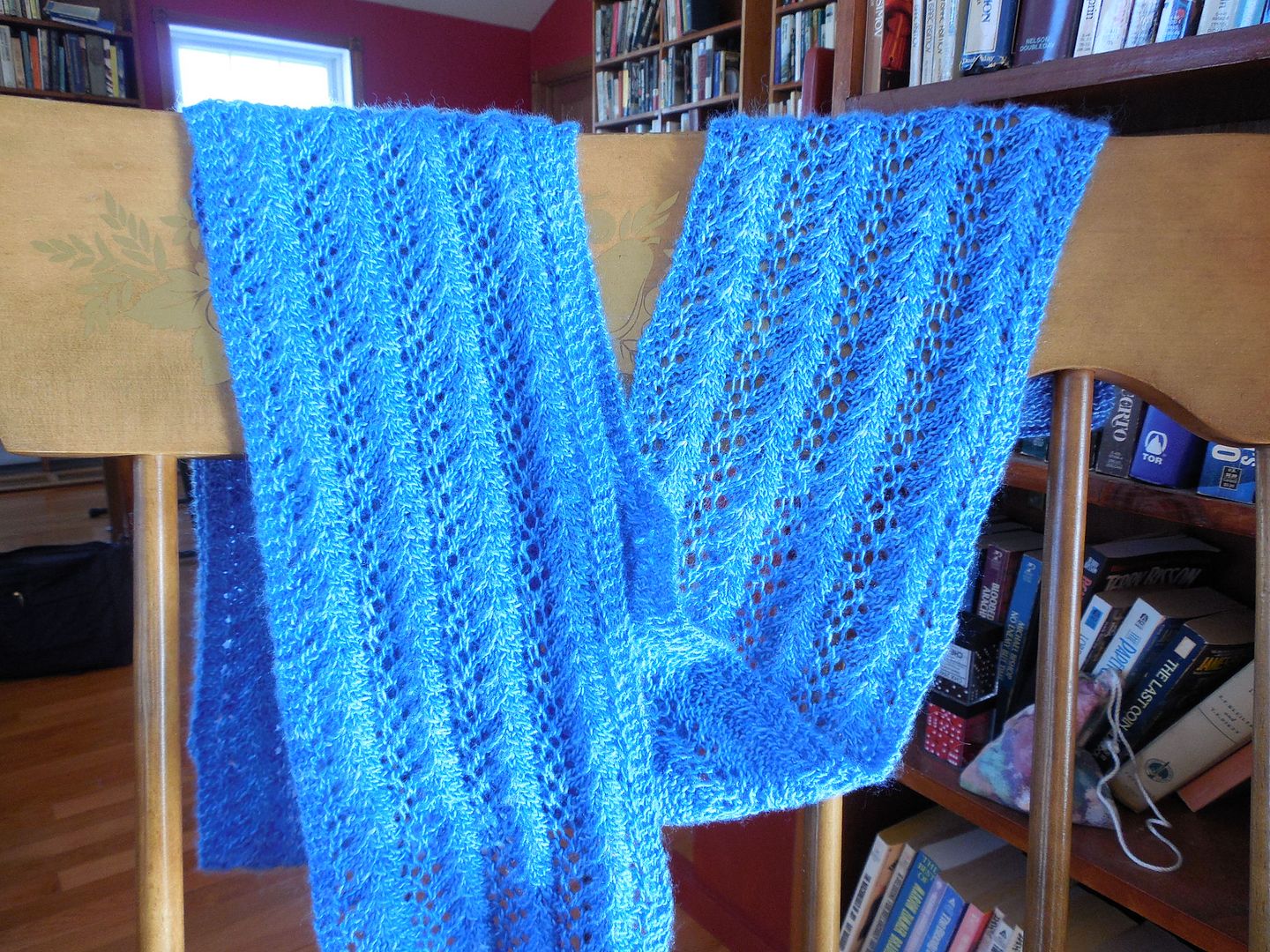 The pattern is the
Strangling Vine Lace Scarf
, which isn't a terribly appealing name, but I loved the pattern. Super easy four row repeat and I really liked the way it looks. Here's a closer look at the pattern. The way the pattern rows alternate makes it look at lot more complex than it is.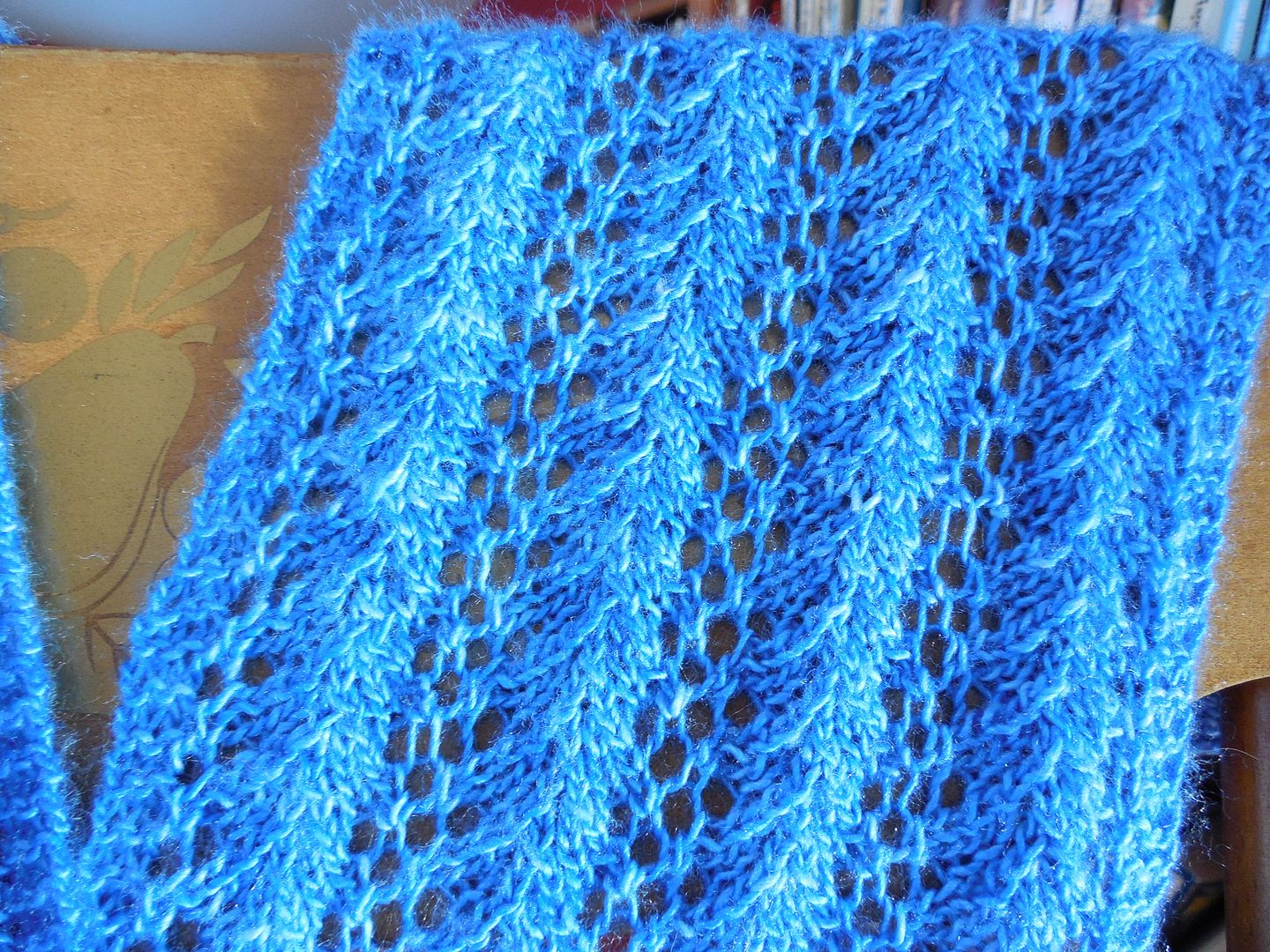 Anyway. That's what I've been up to. Hopefully (since you've made it this far), you're more impressed than Cookie and Jake.