Darkness had fallen while we were driving to our hotel in Springdale, Utah the night before, so we had no preconceptions when departed for the park in the morning. Sure we saw mountains around Springdale, but it wasn't the same as what greeted us along the Virgin River valley.
It was quite a cold morning, there was ice on the trail and I was wearing all the layers I'd brought, and feeling grateful that I'd included mittens and a knitted headband to supplement the hood on my jacket. It was early enough that the bottom of the canyon was in shadow, but as we walked along the riverside trail, the sun rose and illuminated the rocks and water. The colors changed and became more vivid as the landscape brightened around us.
The riverside trail ends at the Narrows, where in order to continue hiking you need specialized gear- waterproof hiking boots and dry suits to let you hike up the riverbed.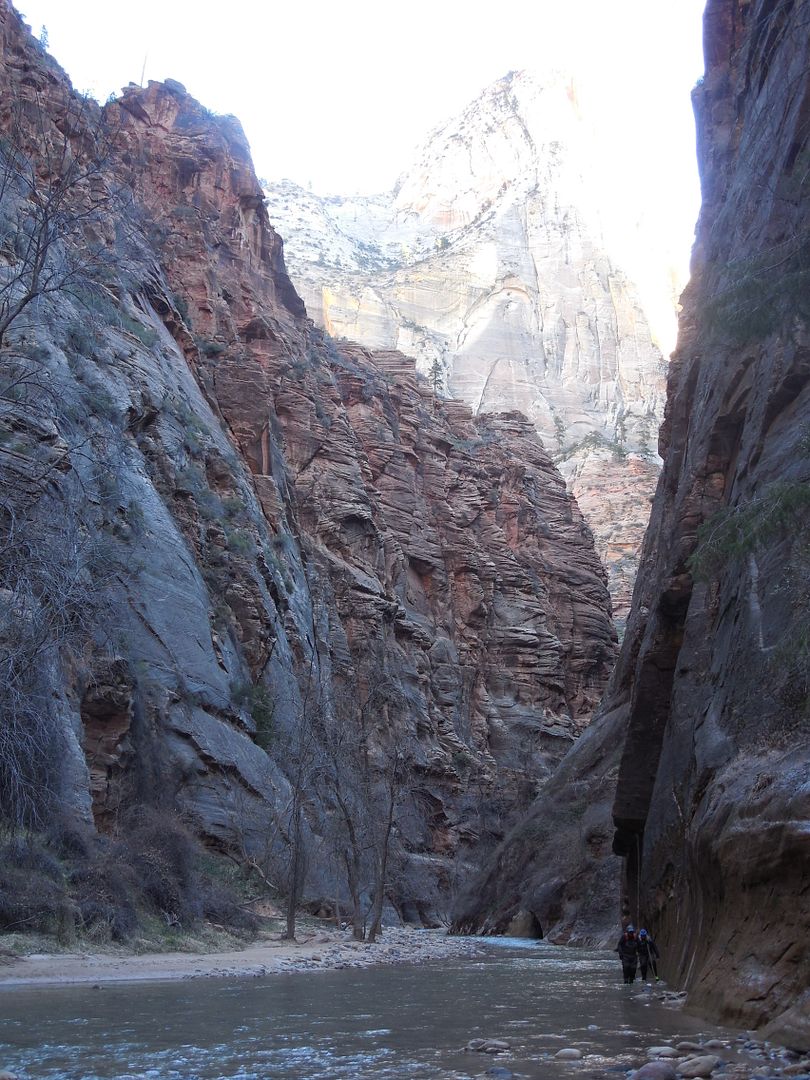 The Narrows
We'd decided that it was too chilly to make that attractive, and turned back to explore other parts of the valley. We set out to hike up to the Emerald Pools- by this time the sun was warming the valley substantially.
We attained the Upper Emerald Pool while it was still in deep shadow. The trickle of water that filled it landed on a bank of ice. As the sun crept across the pool, and lit the cliffs above, the water volume increased from a trickle to a steady stream.
The water was utterly clear, and without touching, you couldn't tell whether ripples in the bottom were modern sand or ancient seabed. In fact they were both.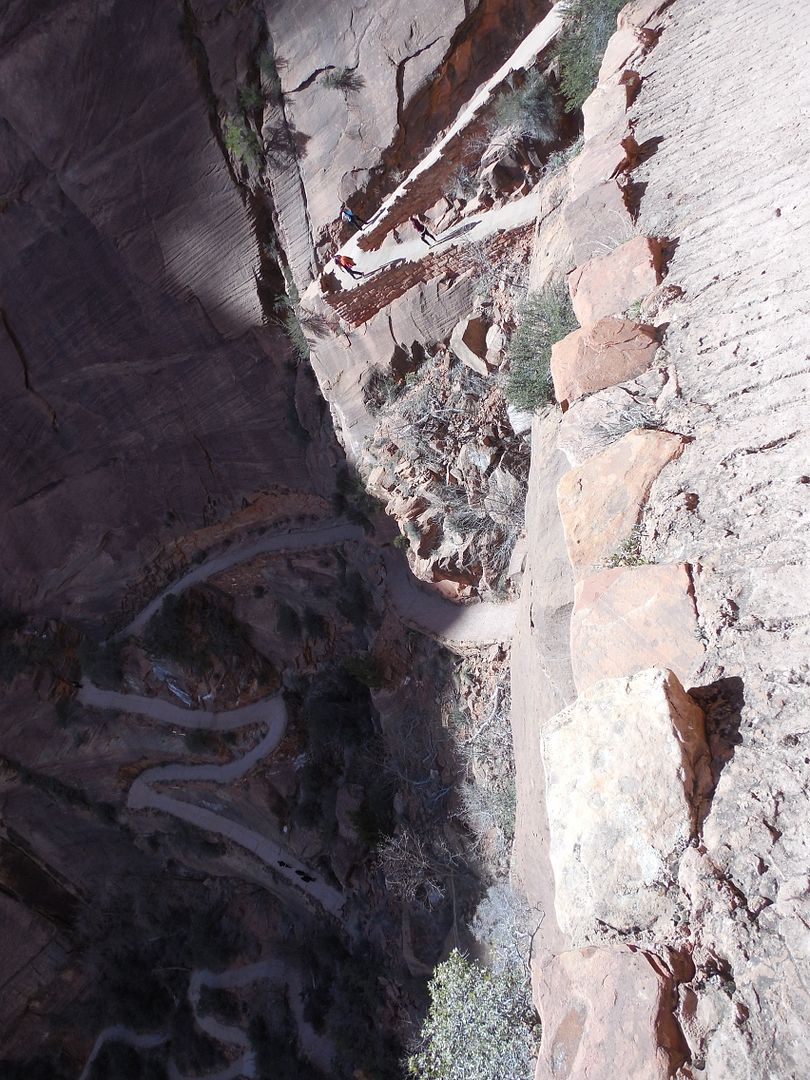 West Rim Trail
--the trail turned back out into a high canyon, and then led up a series of short steep switchbacks known as "Walter's Wiggles". They take their name from Walter Ruesch, the park's first superintendent, who had the trail to Angel's Landing constructed in 1926. Here we are looking down on them. Yes, that's another hiker starting up them on the first switchback.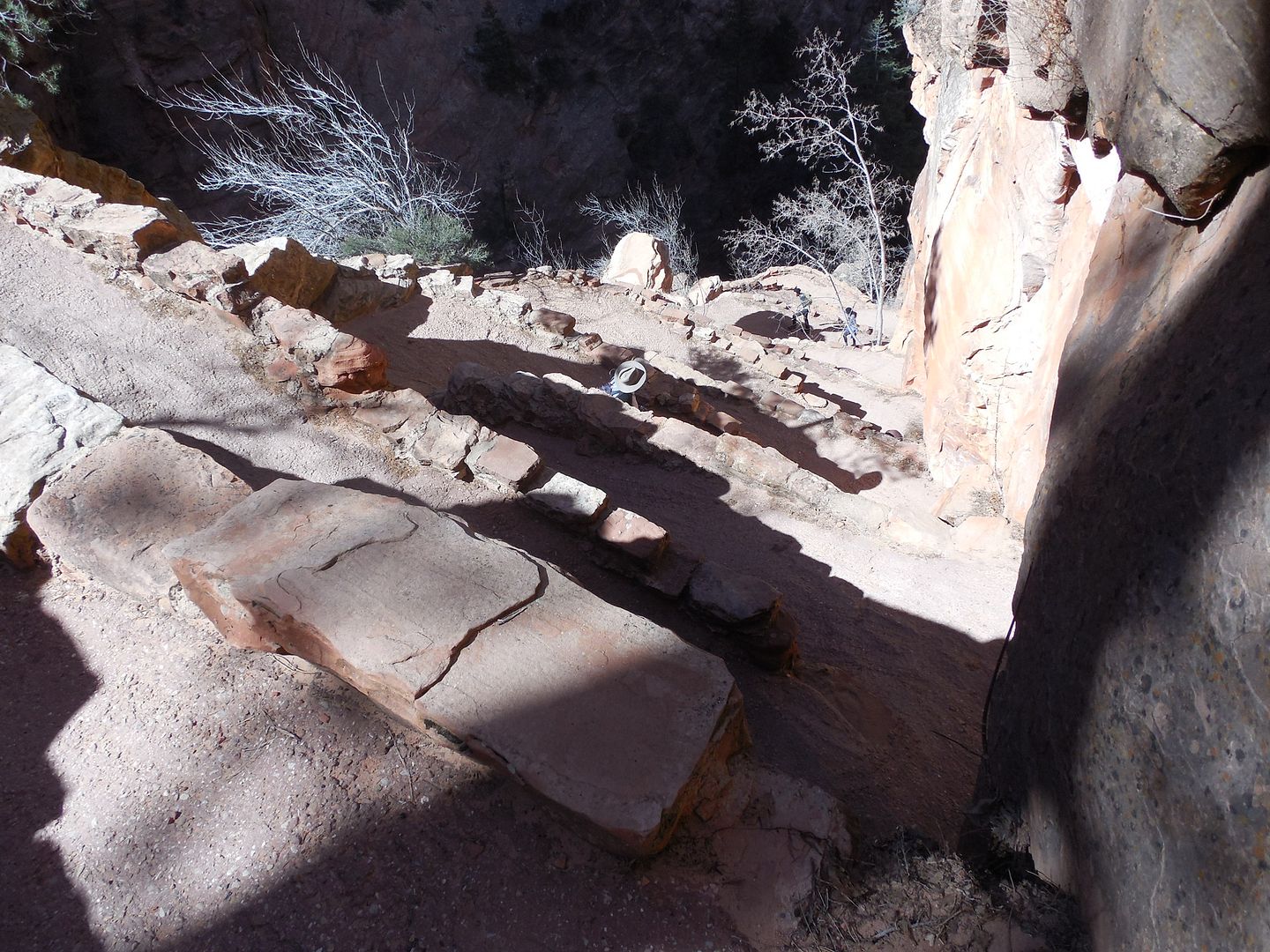 Looking down on Walter's Wiggles
I made it up as far as Scout Lookout, which was a saddle before the final ascent to Angel's Landing and gave fantastic views on both sides of the ridge.
"Beautiful for situation, the joy of the whole earth".
And if you haven't had enough, here's the whole slideshow: