As I expected, I needed to pull yarn from the first sock to finish the second and then rip back another inch and redo it in ribbing to get the socks the same length. They finished a tad shorter than I would have preferred, but I'd like to hold off on getting any more yarn until I have some feedback on the wearability. Initial reports say the first pair are in heavy rotation and holding up better than the commercial wool socks that were also new at Christmas.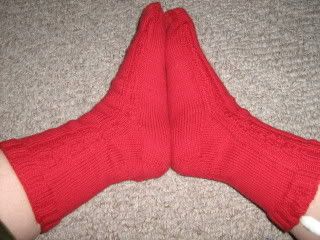 I'm also eager to see if there are any differences in the various constructions after wearing- in three pairs of socks, I have done three toes (kitchenered, and two toe-up configurations with nylon reinforcement) and three heels (top down with flap and heel stitch, short row heel and toe up with a heel flap, also with a heel stitch).
However, I don't see any way to improve on the yarn utilization. I came pretty close to using it all- this was what was left: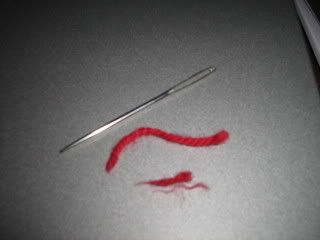 So now the question is, what next? I'm seriously tempted by the thought of more socks. I have two pairs left in queue- the fan lace socks I've already started, and the ball of sock yarn I got at Webs. However, I think I need to make some headway on the cardigan. That one has a deadline, after all. So- sweater at home and fan lace socks for a small project to take with me when I might need to wait somewhere.