So, after concluding what I *should* do is knit more on the cardigan, I discovered that one of the cable panels is reversed, a couple of repetitions back. So that's been set aside until I have an hour when my brain is not fried to drop the panel- all sixteen stitches- back thirty or so rows and fix it.
In the meantime, I've been playing with the fan lace socks. (Did that sound like an excuse? Because it totally is an excuse. I really wanted to knit the socks.)
I'm not so sure the pattern shows up well in the variegated yarn, but I like them anyway. (Besides, small mistakes? Impossible to see.)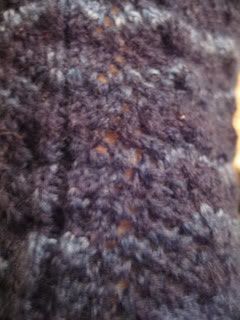 I've just reached the heel (the turning point, in fact).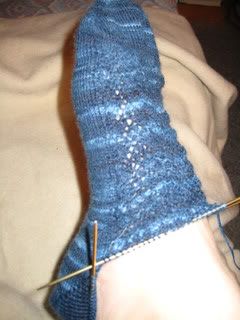 I really do like the look of the short-row heel. I find it fussier than a heel flap, but it suits this sock better, I think.
The yarn is
Trekking XXL colorway 186
, and the heel photo is closest to the actual color, though it's a bit darker than it looks here.
Now I haven't blown off *everything* for the socks- I'm accumulating a nice pile of finished drapes (they'd make a boring photo though), and am hopeful of finishing up that project before the end of the month.
And tomorrow and Saturday I'm off to a science fiction convention, which should offer a fair bit of knitting time while listening to things.