While I'm sure that any knitter who has knit cables has experienced the annoying discovery that something was mis-crossed or mis-counted many rows back, I feel that it takes real talent to reverse an entire repeat of a cable panel.
Clearly I have talent.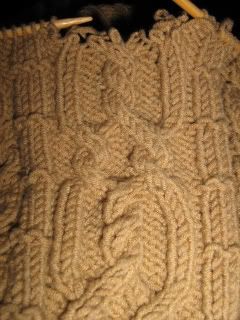 Do you see it? The top repeat twists are all opposite of the twists on the next one down.
Not being a masochist (I'm knitting this top-down, so I have the entire body of the sweater on one long circular at this point) I'm not going to tear out over 20 long, long rows to correct this. But due to the excessive thoroughness of the mistake, I did have to drop the entire panel.
And annoying as it was, I feel much better now. All my right hand cables twist neatly to the right, left hand cables obligingly twist left. Here are the two sides of the front, side by side for comparison.
And in other news, it is indeed cold enough today to justify hand-knit wool socks, and I'm wearing my new festival socks quite happily. (It has finally stopped raining, which also helps my mood.)
And I have started the second sleeve of the sweater, rather than frogging the first back to the shoulder- I'll have to do it later, but first I want to make sure I've finally got the decreases right on the other sleeve. This yarn does seem to get a little worn-looking with re-knitting, so I'd like to ensure that the next time I pull that sleeve out will be the last.
Okay, okay I'm really still dragging my feet because pulling out knitting is vexing. But I think my reasoning for doing it this way is still valid!