One more thing about the sweater- I noticed when I was positioning buttons that I was using a trick I can't recall having seen it written down anywhere. (So where did I pick it up? No idea!) But I find it useful to use safety pins to check the button locations. I use the safety pin as a toggle, put it in place, and then button the sweater using the toggle-safety pins: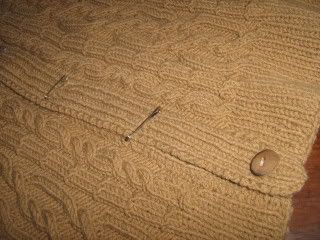 This lets me check the positioning side-to-side, make sure nothing was spaced unevenly, etc, before actually sewing the buttons on. Not too bad on this sweater because I could use the pattern to ensure consistent positioning, but it still provided a useful sanity check.
Back to socks and swatching the next sweater!