As I was knitting the same socks I've been knitting for a month now, my gaze has been increasingly drawn to a tube of beads that was sitting beside my chair. I picked it up some weeks ago with the thought that it would go with a ball of yarn that's been in stash for a while.
This is yarn with a story- it came to me with a past shrouded in mystery (yard sale box lot), and there was quite a lot of it. In retrospect, probably about 600 yards. Fine gauge, most likely wool. But I was knitting mostly mittens and hats at the time, so I had no idea what to do with it. Eventually I used it for my first pair of socks (of which thankfully no photographic evidence exists). It was terrible yarn for socks- it has almost no twist, and very little give. Also, I had a pattern sized for something else which I attempted to rework on the fly. There was endless ripping and re-knitting and it worked better than it had any right to, which is not actually very well. So I finished them, gave them away, and abandoned sock knitting for a couple more years until I discovered actual sock yarn and books and well, yeah, I'd been leading a sheltered life, knitting wise, up until then.
Anyway, I still had one ball of the stuff left, not enough for another pair of socks (heaven forbid *shudders*), but far too much to throw out. Fast forward a couple of years.
I started reading about lace knitting, and suddenly I knew what this yarn was intended for. So I started looking for patterns. And last week I ran across one I thought would work. The Optic Waves Shawl from
The Knitter's Book of Yarn
. Not enough yarn for a shawl but a scarf- that could work. So I swatched, to get a better look at the pattern and play with bead placement.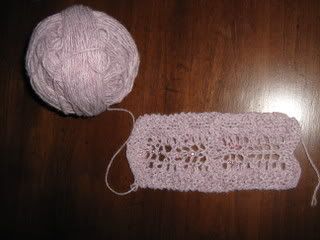 And then cast on:
I made a couple of changes from the shawl pattern- adjusted the edging to a two garter stitch border, and changed the K1,P1,psso for an SSK (mostly because I've been using them a lot in socks and I keep defaulting to it).
I'm not sure if I'd want to do a sweater sized project with beads, but the scarf is proving a fun and diverting knit. So much for solidarity with
Toni and her merry band of WIP-finishers
. (Sorry, Toni! It was the beads! They made me.)