Okay, so it's not actually a huge surprise. The New Year does follow Christmas, I've been writing 2009 on work documents for two weeks now (after scratching out 2008, then 1999, which for some reason has gotten stuck as the second default year in my brain after last year's...I'm not entirely sure I'm reconciled to the 21st Century).
And there was the big New Year's Day party, followed by the familial visitation. Between the two of these, we embarked on a major cleaning binge, in the middle of which (after having had the card table my computer was on stolen to play board games), I decided it was perfectly ridiculous to own a lovely desk and not use it. After a brief search, said desk was located in the bedroom (the location wasn't actually in doubt, but it was deeply buried in cruft dating back to construction hell) and moved upstairs to the sewing room. (There is going to be a resolution attached to this, but I'll get to it later in the post.) Anyway, after unburying the desk, not to mention my other computer, I now have a much nicer workspace: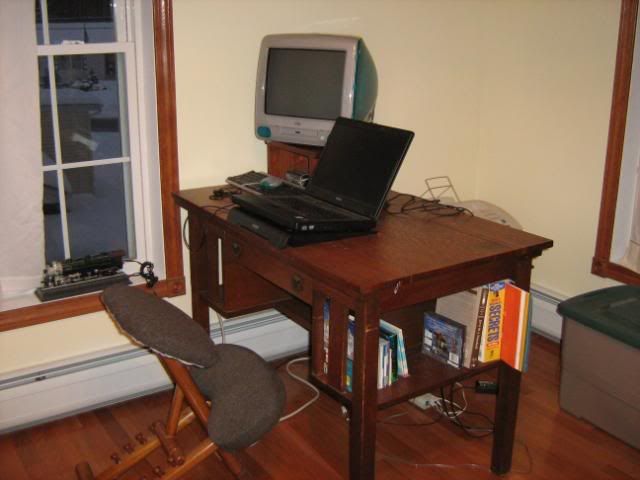 Now, I'm not a big maker of resolutions, recognizing that most aren't kept. But I do have a couple for this year.
1) Put things away when I'm done with them. This is probably the biggest source of clutter around the house, and while I'm not extremely anal about tidiness- stop laughing, Mom, you're about to fall off your chair- I do find that minimizing the clutter is restful.
And that leads me to:
2) Finish going through remaining the bags and boxes of crap, throwing out or organizing and finding places for things to live. The biggest bar to putting things away is not having a 'right place' for them to go. Not that I haven't done a lot of that over the last couple of years, but I think it's time to finish.
If I can accomplish these two things, I think it will open the way for a lot of other projects to happen- I won't think, "Gosh, I should do xxx, but first I'd have to clean up the workroom. Well, maybe after I knit a blanket or something." Knitting, you will perceive is one of my favorite forms of procrastination. For example- there's this hat.
This is part of my 'I'm bored with this yarn, how can I make it more interesting' campaign...also I've had this compulsion to do colorwork ever since the colorwork sweater that took over my brain in October. And despite not liking hats, I really need one for those cold days when the heat leaving your head makes a whooshing noise, and your ears start cracking. My current hat is kind of a mess. (This may have something to do with living on the floor of my car and being used to clean the windshield until I finally decluttered the car this fall...but maybe it's just kind of old. Yeah, that's it. Old and boring.) Anyway this was just a tad too small to fit me, but that's okay. It was fun, so I threw it into the random outerwear donation bag and started another one.
This one's not actually for me- I'm still going to knit myself one out of the dark blue, but it will let me check sizing, and besides, I couldn't knit two hats back to back out of the same colors, right?
Colorwork is kind of annoying to travel with, though (two or three skeins of yarn, needs a bag, stitches slip off the dpns), so I've been switching off with the Fudge Brownie Sundae socks when I needed a pocket-sized project. That hasn't moved especially fast, because it's only been getting a few rows here and there. But yesterday was the
Boston Celtic Music Festival
(fantastic little festival with local performers, lots of traditional music and dancing), so I had a lot of knitting time listening to music yesterday. And, I've finally started the second sock.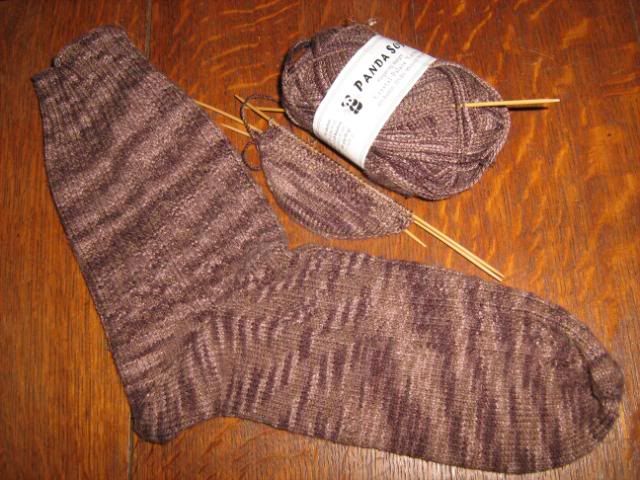 Before Christmas, the winter looked endless- weeks and weeks of snowy cold dark. Now? The days are getting longer, my calendar is filling up, deadlines are closer than they appear, and really- maple season is only a couple of short months away, and there's a lot to do. I'd better get cracking!
PS: And in the run up to the New Year's party, my charming spouse got a multimeter and together
we tackled the library lamp
. It took two engineers, disassembling the lamp twice more, and a total of three trips to the hardware store (he did all three, bless him!) but it's finally working again. Yay!