I want to say right up front that this was
not
planned. I didn't look at the repeat length at all, I wasn't paying attention to the colors. I didn't even
notice
until I was almost through.
Do you see it? Look more closely:
It was when I was holding up the second sock to see if the cuff was the right length that I spotted it. A perfect match. What are the odds, people?
It wasn't the only piece of good fortune that came my way this week. Saturday morning before heading off to western Massachusetts on a family visit, I decided to pull out all the yarn for the colorwork sweater and get an estimate of how much yarn I was using. I was reasonably sure I had enough, but I've got a second project queued in the same yarn and if there was extra, I could exchange a couple of the colorwork balls to use in the second sweater.
But when I laid it out, I discovered that contrary to my vague recollection, I had only gotten one ball of dark red. So instead of discovering this later in the week, when I would have had to stop the project and place a mail order, instead I found out in time to stop by
Webs
and get more. I did have two extra balls of the beige and brown. And so I was able to exchange two and buy only one ball. Which I did. And that's
all
I did. If you'd told me I could get out of Webs spending less than $5 I'd have giggled. (Okay, I do admit that I went in, did the exchange and then told my husband we had to get out of there before I started browsing. But still. There was willpower involved.)
It helped that it was a gorgeous day. From there, we went out to the
Arcadia Wildlife Sanctuary
on the Oxbow of the Connecticut River. The green of the forest is starting to fade a little with the first touch of autumn, and a few early adopters are starting to show some color, but it was still quite lovely, if not as showy as it will be in a few weeks: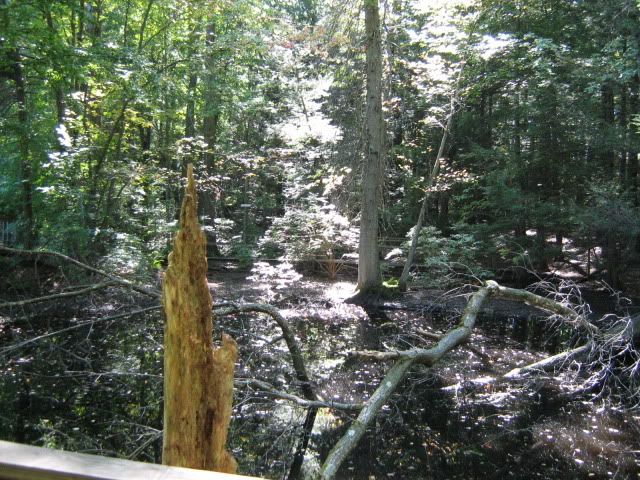 See more Arcadia photos.
Good knitting fortune, self-discipline in the yarn store, perfect weather on a weekend...like I said. Spooky.