It's not a record, but these were definitely faster socks than usual: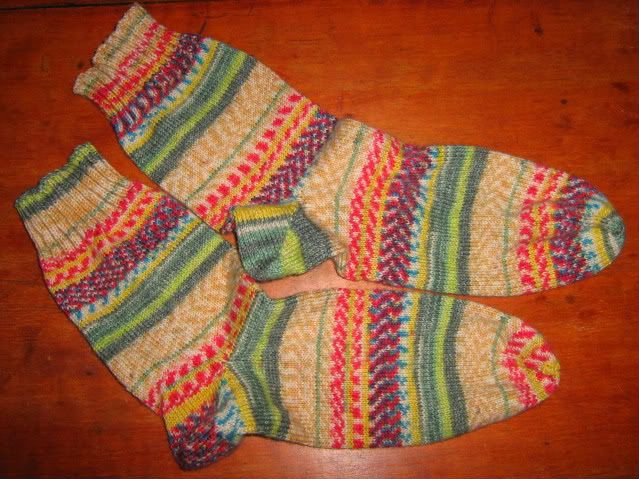 Yet another tribute to the enduring fascination of self-patterning yarn. I finished these Sunday on the drive to and from the train station. Why the train station, you wonder? Well. It's like this.
One of the challenges in our program of walking is finding long interesting routes to walk. We much prefer loops rather than going to somewhere and returning- it means new scenery all the way. So Sunday, we went down to beautiful Concord, Massachussetts and took the commuter rail into Boston. From the north side of Boston, we walked back north and picked up the Minuteman Bikeway, a long rail trail that leads fairly directly northwest. It was a beautiful day for walking, sunny and breezy. We stopped for lunch in Cambridge and cold drinks in Lexington and then continued on to Concord. In Concord, we actually had a choice of two routes back to the town center (and the train station parking lot where we'd left the car)- a smaller unpaved rail trail or the Battle Road trail, part of the Minuteman National Historic Park. We've walked Battle Road before (it's a lovely trail) but we hadn't done the rail trail, so we opted for the path not previously taken. Aside from a few muddy bits, it was excellent- it skirts a wildlife reserve, and is in general quite woodsy, a bit surprising in an area as built-up as the Boston suburbs. Altogether it was a very pleasant walk. All eighteen miles of it.
Yes, this was our plan. A REALLY long walk. We wanted to see a) how our getting-in-shape efforts stood up to a real endurance test and b) to judge whether we were getting close to our goal of being ready for a one-day 22 mile hike during our vacation this summer. Pleasantly, the answer is yes. We were somewhat footsore at the end of the walk, but could have gone further. We did pick up a few blisters, however we were much less stiff the next day than we were after shorter walks earlier in the season. We kept a pretty steady pace through the whole walk, averaging about 3 miles an hour. We are *not* going to do it again this coming weekend, though. It just takes too darned long. We'll probably go back to 10-12 mile hikes to keep up our conditioning and try for at least one more long hike before the 22 miler.
Of course the real problem is going to be -- once we've done the 22 miler, what will be our *next* goal?