As Toni noted in the comments to the last post, I've made good progress toward the May goal (I need 42 FOs year-to-date by the end of the month, currently I'm at 38). In fact, if I kept knitting mittens, no doubt I could have been ahead of schedule. ....that's okay. I can wait while you stop laughing.
Friday evening, my husband and I decided on impulse to go out and listen to music (a very talented young fingerstyle guitarist named Craig D'Andrea) at our local acoustic music venue instead of, say, getting organized for the weekend. So we got home latish, did the bare minimum of house stuff, and crashed. My backup plan had been to be up early and get organized in the morning. I awoke to pouring rain. Soothing peaceful pattering on the roof rain. I thought, 'So much for the outdoor portion of my to-do list', dozed off again and wound up sleeping rather later than I had intended. Which is how at the last minute, I wound up with a whole day of running around ahead of me and no time to match up odd bits of yarn into harmonious (or at least non-awful) color combinations for mittens. Instead I grabbed a set of size 0 dpns and a ball of sock yarn- fast, fun, and guaranteed enough knitting to get me through the day without running out.
So, Saturday morning we went to see Iron Man 2 with friends, which was amusing enough, though I liked the first one better. (Its biggest problem was that it tried to do a whole bunch of different subplots and wound up without enough time to develop any of them properly. The acting was good, but good actors can only do so much without a good script. Also, I was reminded that I may have to stop going to movies in theaters as they have gotten so loud it's often quite painful to listen to. And I really don't think I should have to wear earplugs in order to attend a movie.)
From there we headed out to western Massachusetts through an absolute downpour to visit friends. Since our friends are quite accustomed to me always having knitting in my hands, it occasioned no comment whatsoever that I knit socks through pretty much the rest of the day.
We got home quite late, slept late again and then pursued our campaign to get in better shape. The hike of the week was closer to home, since we'd done so much traveling already on the weekend. We went to a state park near Peterborough NH. Our planned route was twelve miles- the first six miles went over two small peaks, Pack Monadnock and North Pack Monadnock (Pack is believed to be an Indian word that meant 'little'- just plain Monadnock is the largest and very much climbed peak in the area-
I hiked up there a couple of years ago
), and we walked on back roads to loop back to our car.
It was a really great hike. The hill country is still a few weeks behind us in spring, so the forest canopy hasn't really filled out yet. A lot of sun filtered down to the trail, and the leaves were that lovely shade of intense light green you only see in spring. Tender young grasses and lilies of the valley competed with moss to cover little clearings, and ferns are still uncurling their leaves in slow graceful spirals. The trail along the upper slopes was lined with wild blueberry bushes, covered with their small bell-like white blossoms. It was quite windy and somewhat chilly despite the sunshine, but perfect for a brisk hike- too cool for bugs, and kept us (well, me) from overheating on the uphill bits. When we broke out of the trees, we had an outstanding view of the surrounding forest and mountains and it was clear enough to see all the way to the coast. (Yes, of course I forgot the camera. What was your first clue? Though truly, I'm not sure a picture could do it justice.)
Of course it was only the second really hilly walk of the season, and this particular trail has a lot of steep bits with hard scrambles. So, I'm a little stiff today. But the exercise *is* making a difference, I'm happy to say. It was a steeper climb than anything we did last month, and I still needed fewer stops to get my wind back. We made much better time, and despite the distance, I didn't blister at all. So- I feel like I'm getting a bit of my hiking mojo back, even if I'm still not in the kind of shape I used to be in.
Naturally there was no knitting while hiking (though I actually kind of wished I'd had it for the second bit of the hike, coming back on the road). But there was a fair bit of passenging going to and from hiking, so the socks progressed.
It's funny- I can look at a skein of sock yarn, look even at knitted swatches of the yarn. And it really doesn't tell me much. Self-patterning yarn especially. I quite often start knitting and as the pattern emerges, I say, 'well, darn, I don't think I much care for this'...and yet, somehow, as the socks go on, it seduces me into liking it. This for example-- I liked the colors in the skein, but the patterning initially didn't thrill me. And yet I'm liking it more and more as the socks go on: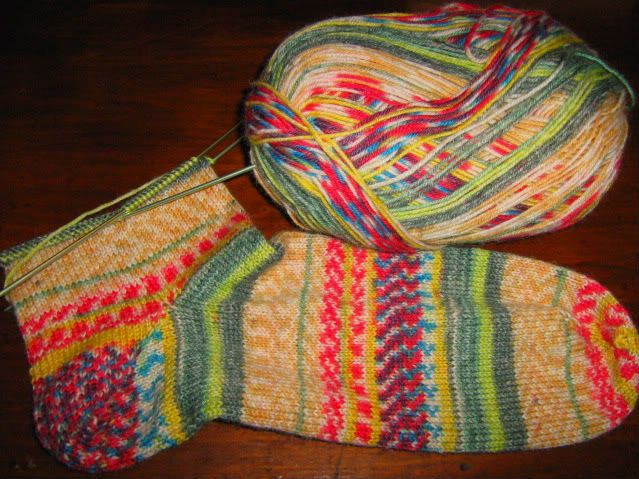 Plain toe-up socks in Opal 2104.
So. Best laid plans. I still haven't put together a couple of hours with functioning brain cells to sort out sweaters. I have a couple of other project plans that didn't move at all over the weekend. But we still have three weeks left in May, and I only need four more FOs to stay on schedule. I'm not crazy enough to make any predictions, but it at least looks possible!