So, after finishing the fingerless mitts on Monday, I was struck by inspiration. After all, mittens Sunday, mitts Monday. Suppose I could finish an item each day? That would get me back on track for the 100 projects challenge in just a couple of weeks.
Then I sat myself down and gave myself a talking-to. "Robin," I said, "That's nuts. Crazycakes. Off the deep end. If you aren't a fruit loop just for thinking of this, you certainly would be if you actually tried to do it. Why, this is the kind of idea that
Toni
would come up with!" (As the originator of the 100 projects challenge, I use her as sort of a measuring standard for insane crafting behavior.)
But the idea just wouldn't leave me, and as the week wore on...well, see for yourself:
Monday:
Mitts in the last post.
Tuesday:
I finished a crocheted beret.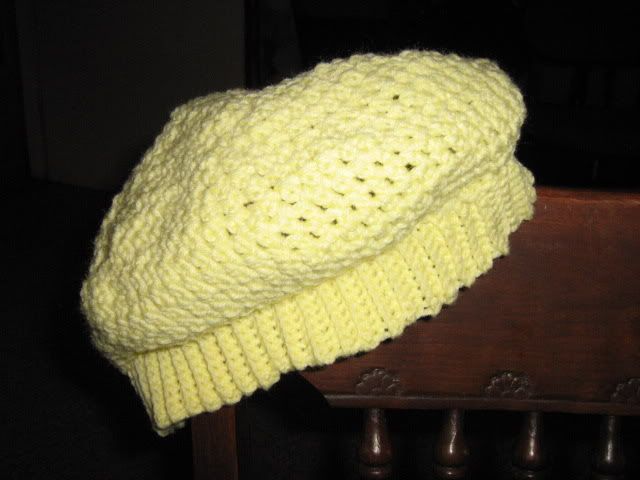 This was based on a pattern I made a few years back, which I've long since lost, and it was for bulkie yarn anyway, not the worsted I used here. Call it 'inspired by'.
Wednesday:
Wednesday was the day I figured I wouldn't have an FO, because I go straight from work to my karate workout. And karate is just not an activity you can combine with knitting. "Knit one, yarn over, ki-yah!"...no, I really don't see how it could work. But I was knitting very small mittens (4-year-old size) so I finished anyway (after I got home, I hasten to add).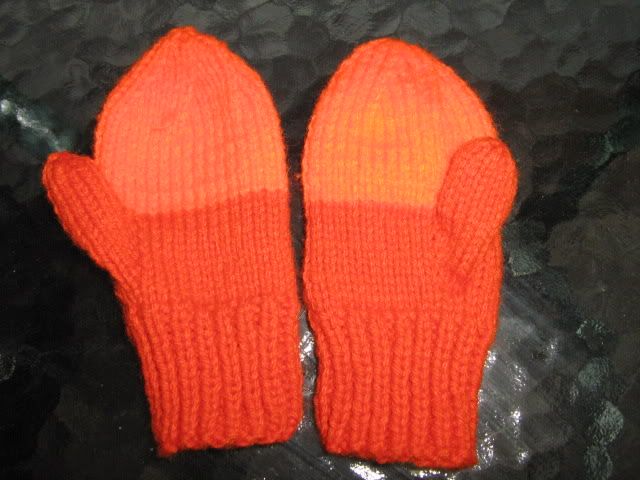 Thursday:
The yellow beret had been so much fun...and used up a color I was getting a little tired of...so I had immediately started one in pink, which I finished crocheting on Thursday (sewing and weaving in ends weren't completed until the next day, but I'm counting it for Thursday anyway).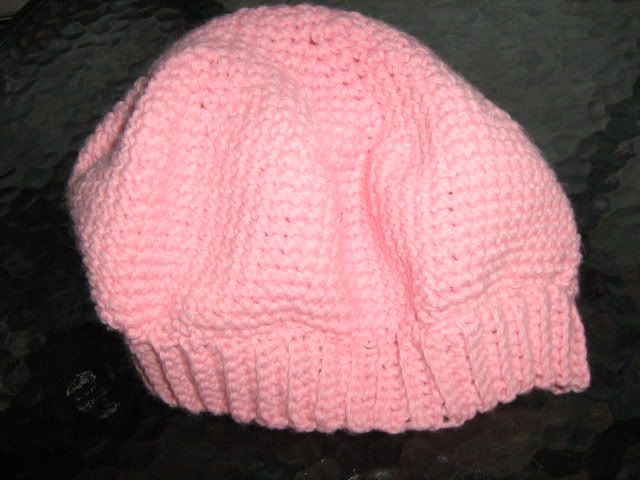 Friday:
I picked up a hat that had been in time out all week, ripped back to the cable band, changed needle sizes and picked a simple pattern for the body of the hat. This enabled me to achieve something that looked more like a winter hat and less like a hat for a road cone. If road cones wore pink acrylic.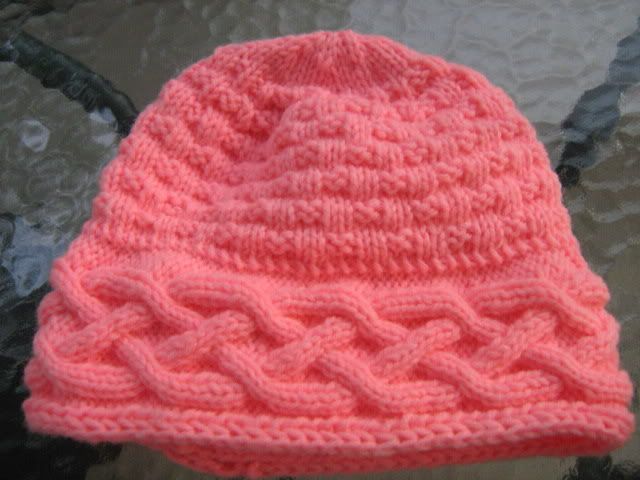 I had actually spotted this construction in another pattern and found it intriguing- you knit the band as a long strip, Kitchener it together, and then pick up stitches for the body. I immediately thought of trying this with circumferential cables. There were a few hiccups...I should have used a provisional cast on instead of doing a two-way cast-on (Judy's magic cast on in this case). The reason is, Judy's magic cast on leaves you with a row of knit loops on the stitch holder, so I had to go back and change them to the appropriate pattern stitches for the cable. And because the two-way cast on alternates, I have a half-stitch jog in the pattern that I couldn't eliminate (at least not without ripping a row in the wrong direction, which is really annoying). I decided I could live with a not-quite-invisible seam in the pattern. And last but not least, it only took me three tries to convince myself that no, I really did have to go up a needle size to get a compatible gauge. Why I resisted this knowledge, I'm not entirely sure. I think I expected that picking up a stitch for every two rows ought to give me the right gauge...but now that I consider it, that's probably only true for garter stitch, which has a different row gauge than stockinette in the same yarn on the same needles.
Saturday:
By Saturday, I was starting to run out of steam. Also, I was busy posting a bunch of junk from the basement on freecycle and getting rid of it (I've only been planning to do this for a couple of years). Someday this will lead to the basement actually being cleaned up and reorganized. But in between booting computers, writing posts, uploading photos, and boxing up odds and ends for incoming freecyclers, I turned some odds and ends of skeins into another pair of mittens.
Sunday:
So, by Saturday night, I realized that I really had done it--Sunday to Saturday, I'd finished an FO a day. But in the grip of insane ambition, I took my knitting down to the park Sunday for the local knitting group get-together, and made inroads on another mitten. I wove in the ends on its mate a few minutes ago.
You see, that brings me up to 58 FOs, the goal for July. With three full weeks left in August, I now have a reasonable shot at making the August goal.
But really, I'm not insane at all. At least not so long as I don't try to do it again this week.