I had a draft of a post written last week, but I wound up never finishing it because it lacked a snappy title. I'm a sucker for a snappy title. Fortunately I was rescued this week by my weekend activities. Sunday afternoon, my mom and I dyed that lot of cream-colored yarn. In the end I opted to dye it all, I've a plan that involves something vaguely Jerseyish in style, though I haven't yet decided on a pattern. Anyway that light ketchup-magnet cream is now all a rather nice blue: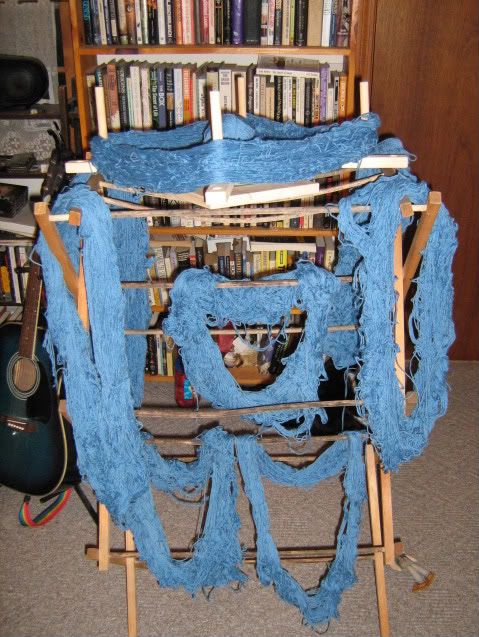 The color in the photo is pretty close to the actual color of the yarn- the dye color was called sky blue- I think this came out more the true color of the sky than the Crayola color. I learned a few things in the process.
1. I should probably have tied the skein in more places. These skeins came out looking kind of messy, but I slipped one onto the yarn swift and wound a bit from the beginning and it's not bad at all- it's not much tangled, it winds off smoothly enough. A few more ties and I think it would have stayed even neater.
2. My other big concern was not to felt it-- this is profoundly not machine washable yarn. But I handled it more or less the same way I do knitted garments in feltable wool, and it seemed to work fine.
3. If you take elaborate precautions, you might actually be able to dye yarn without covering the kitchen, your clothes and yourself with dye. In fact, my mom and I somehow managed not to splash ourselves at all that I can tell. Unless I dyed the back of my hair blue and everyone has been too polite to mention it.
Other than that, I've been working on a bunch of things, but not finishing that much. I'm on the second gray and white stranded mitten, and my mom gave me the rest of her skein of gray so I can be sure I'll have enough to finish. I'm still working on a pair of socks. I'm giving the green Aran some time to think about its sins before tackling it again.
There are a few things that have gotten done in the last couple of weeks--I finally shoveled out the pool filter and stored it, which was the last pool-closing task for the year. I keep trying different methods, and this year's wasn't too bad. The pool filter has over 200 lbs of wet sand in it, but I cleverly half emptied it before manhandling it out from under the deck. Though I still think that last year's method was the best- getting someone else to do it!
I finished another pink hat- this one child-sized. I had started it as a headband, but ran out of that particular pink when it was child sized. So I used a different shade for the body of the hat. One evening when I had been knitting on the hat for much of the evening, my husband suddenly frowned at it and said, "Wasn't that a headband the last time I saw it?"
"I ran out of yarn," I told him.
"And it got bigger?!" he replied. (He's getting more observant. I once knitted a whole sweater for him for Christmas without him noticing anything.)
"And I decided that a child of the age the headband would fit would be dressed by her parents. And parents would prefer that a young child wears a hat," I explained. "It's teens and adults like me who dislike hats that mainly wear headbands."
"Ah," mystery solved, Jonathan went back to his book.
So, here's the mutant pink hat:
Not a huge difference in shade, but enough to be noticeable without being separated by the design, I thought. The I-cord edging proved to be nearly as easy to pick up and knit from as the one-stitch garter edging.
And I did finally take a picture of the two latest pairs of children's mittens: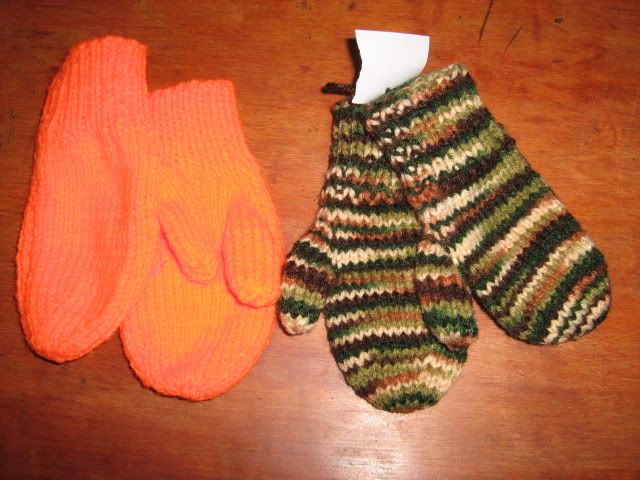 So. I feel like not much is getting done right now, but I do have a bunch of things in partially finished states- I'm hoping that will add up to a bunch more FOs before long.