One of the nice things about the 100-projects challenge is that it's motivating me to tackle some things I've been meaning to do for ages and haven't gotten around to. Take curtains. Way back in the mists of antiquity, I graduated from college, found a job and moved into my first apartment. It was in a converted Victorian house and it had enormous tall windows. This was just as well, since the windows faced north and the yard was very shady. As it was, I didn't see a lot of daylight. Nevertheless, modesty demanded that I either hang curtains, embrace exhibitionism or figure out how to change in the closet. I opted for curtains.
Following longstanding family tradition, I made the curtains from sheets. (Buying sheets on sale is one of the cheapest ways to get large durable pieces of fabric, if you aren't overly fussy. And they often come in a wide range of prints these days. And have many options for recycling...I still own a couple of pairs of pajamas and a robe made from the sheets/curtains that hung in the house I grew up in. (Mom, you didn't read that.)
Why are we visiting the mists of antiquity, you ask? Well. Those self-same curtains I made for my first apartment, I also used in my second. And then shortened them for my third. And then retrimmed some of them with a blue ribbon for my fourth. Along the way, several of them were rendered redundant (by fewer windows in the later apartments) and recycled into petticoats for a long dress, an undershirt for laced costume tunic, and various other odds and ends. The last few of these venerable articles continued hanging in my house until this week, over two decades later, still valiantly protecting passers-by from being flashed by my middle-aged flab. Specifically- in the bathroom and dining room. See:
However, the time has come to retire them. I also targeted for disposal with extreme prejudice, the dingy torn ruffled curtains in the kitchen, that came with the house. They weren't really my style to begin with, and their condition has deteriorated from pathetic to downright embarrassing.

So, whilst meandering through my mother's fabric stash last week, admiring her latest quilts, she pointed out some fabric she had no use for, and asked if I'd like some. I looked. I saw curtains. Free curtains, my favorite sort. Curtains that would not look out of place in the dining room. See:

However the bathroom was a little more problematical, thanks to a long-departed builder who chose country pink fixturing and tile. I don't actually like pink that much, but since I'm stuck with it, I want the curtains to not clash horribly. Do you know how many colors clash horribly with country pink? Lots and lots and lots... but my mom miraculously had some fabric (more sheets) which she'd used for her own bathroom curtains. With enough pink in it to look reasonable, but some other colors to tone down the overwhelming pink-ness of the room. And so:

And for the kitchen which has kind of off-white and beige counter tile and darker floor tile, the same fabric as the dining room was a good match. (The flash washes it out a bit- the color is kind of a warm brown.)
Cookie helped sew, by which I mean he walked on the fabric, attacked it when I moved it, and dove underneath it to ensure there was nothing hiding under there. Then sat down on it to have a good wash.
I don't know how I ever managed to sew without his help!
And, lest you think I've forsaken knitting this week, I assure you that I have not. Of course it's not the numerous mittens I'd planned, largely due to wanting something ultra-portable for various activities and then never quite getting a round tuit when I was home, but they are indisputably an FO- more plain socks in one of the self-patterning Trekking yarns.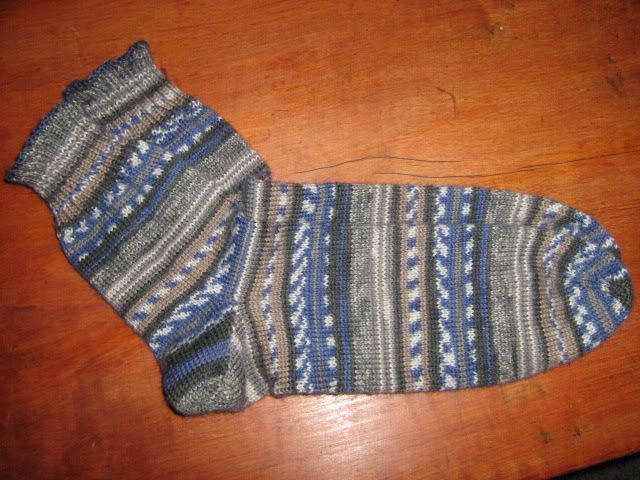 Notice that I have for not the first time-- and completely by accident!--managed to break the yarn in the right place to get a matched pair. I swear I have no idea how I keep doing this. I was four inches into the second sock before I realized.
And that was actually the second pair of socks finished in the last week or so- I'll show you the first pair presently, but they need better light to photograph them.
All in all, a good start for November on the FO front. Now I just need to keep up my momentum!