It was another driving weekend, so a lot of knitting happened. On the way out to western MA, I cast on some new socks, because I wanted a project that would fit in my pocket. Also I wanted something in plain stockinette, so I could knit without more than the occasional glance. This proved quite useful, as I not only knit in the car, but while strolling around the train show: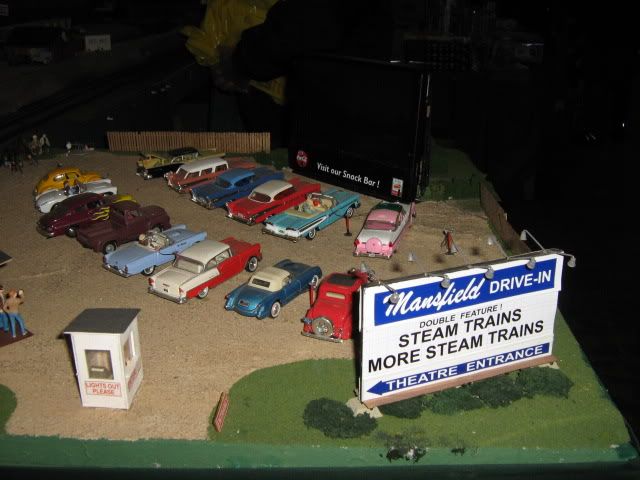 This was my favorite scene- you can't see it in the photo, but the 'movie screen' was showing train videos. "I'd go see that double feature," Jonathan said seriously. More photos from the show here.
The train show was even larger than last year, which is quite a trick since it already covered an area the size of about four large Home Depots. We were almost glad we weren't shopping for anything this year--it took us over three hours just to see all the layouts, and skim the booths. If we'd been seriously looking for things for our own layout, we'd have been there at least twice as long. (We're getting ready to build the next large section of the layout, and we already have quite a backlog of kits and things to build, as well as details to put on the existing more-complete section. It'll be some time before we need additional supplies that can't be obtained at the hardware store or local hobby shop.)
I continued knitting at dinner, after dinner, at my mother-in-law's house, while visiting a friend, at brunch, on the drive back, at knit group (where I only made a brief appearance due to having returned late, and needing to return books and DVDs to the library), at home and while watching Midsomer Murders on library DVD. (We're finding them mildly enjoyable, though we like Inspector Morse better. But we're almost through all the ones the library has of those, and we're also nearing the end of Foyle's War *sniff*.)
Anyway, as of today, the first sock is progressing rapidly. The yarn is
Wildfoote
in
Geranium
, which I had never heard of before, but which is proving quite charming. It's a four-ply but a bit lighter than Trekking, which I'm using for the toe and heel. I have three skeins which I received as a gift, and I'm hoping that by mixing it with black, I might be able to get two pairs of socks from it.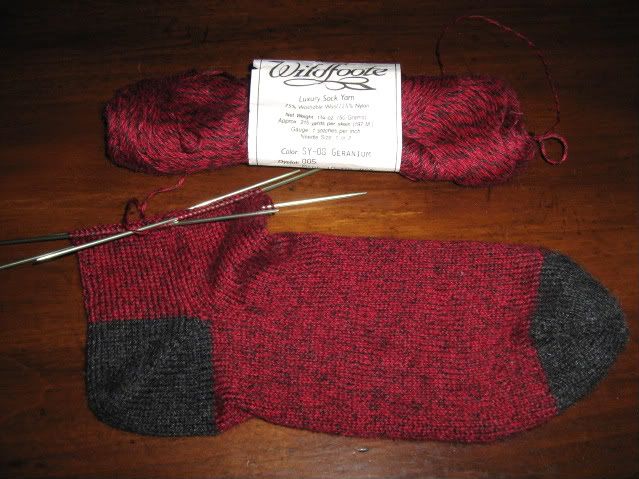 I've also started a cowl for my sister. I got it cast on on Saturday and then thought it looked funny, so I didn't go any further. And sure enough, when I got home and checked Ravelry, I've been using size 8 needles for this yarn and not size 6. So- saved by project notes! I've been making a serious effort to note yarn/gauge/needle size in Ravelry, and it's really paid off for me. Whenever I use a yarn I've already had experience with, I'm able to save time in swatching.
Nor have I neglected the tulip scarf (much) which is up to about four feet of tulips. And on the mitred square blanket, I've finished the fourth round of little squares and started the fifth. It's up to about 16 X 16 inches.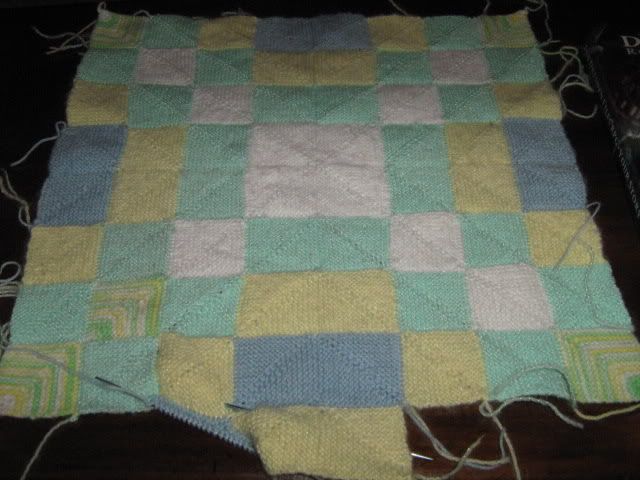 And speaking of the mitred square blanket, while I was working on it over the weekend, I felt something pointy in the ball of yarn. I squished it and felt around and pulled out a darning needle. I had to smile, because I've misplaced needles that way myself- you stick them in the ball of yarn, they get pushed below the surface, and that's it until you use the yarn up and find it again. So this evening, I was working on the mitred square blanket again, and what did I find? Another needle. Same ball of yarn. I started laughing, albeit sympathetically. I could just picture another poor knitter, looking everywhere for a needle, any needle.
My husband asked what was so funny. So I told him I'd found a needle. He gave me a Look, the sort that says, 'she's probably harmless but not too tightly wrapped'. "But wait," I tried to explain. "It was the
second
one!" That got me the Look that says, 'but maybe I should back away slowly just in case'. Which of course made me laugh harder. I don't know, maybe you just had to be there.