I've been lusting for a set of KnitPicks Options interchangeable needles for a couple of years now. It's actually a good deal- if you tried to buy each size of circular needle in several lengths of cable you'd very quickly exceed the cost of the set. But of course you don't actually ever
need
a set all at the same time, so I kept picking up inexpensive bamboo circulars as I needed them, generally in the longest cable length I could find for maximum flexibility. But with the set, I don't have to put up with that. I can just use a shorter cable. So I finally bit the bullet, unlimbered my credit card and placed the order. They arrived this week, just in time for me to try them out on the cowl:
I originally cast this on the wooden circulars, but found both that the long cable was unwieldy and the wood has more friction with the yarn than I like. I tried switching them for DPNs, which solved the cable problems, but my long DPNs are all wood as well, and the yarn is really quite sticky. But on the new needles with a shorter cable, it worked perfectly. I was quite tempted by the wooden Options needles- they're awfully pretty- but on consideration I went for the metal tips. I have a decided preference for metal, the smoother and slipperier the better. And these worked very well. The cable joins are very smooth and don't catch the yarn at all (one of my biggest complaints with circulars). And I bought extra tips to fill in the large sizes I don't own in any type of needle, which will give me more options (no pun intended) when working in bulky weight yarns. They did (as I'd read in reviews) eventually start to come unscrewed with use, but not so often it was a problem.
I finished up the cowl yesterday, and this afternoon my sister called to say she was in the neighborhood. So there was no delay at all in getting her new cowl to her.
She was hoping to finally meet Biscuit, now that he's a little calmer, but he still isn't calm about potentially cat-eating strangers- he disappeared under the bed as soon as he heard her at the door. Still, he's hanging out in the living room and relaxing more now that he's settled in. (Sorry, Kate- maybe someday you'll actually get to meet him as opposed to just peering at him under the bed. Until then...cat pix!)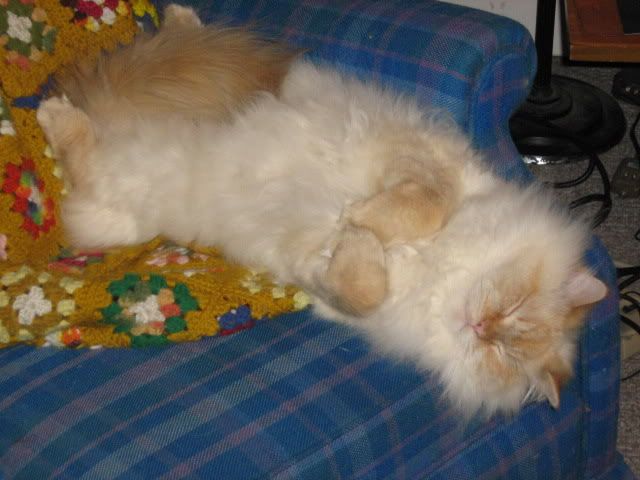 Fortunately, Cookie was there to meet and greet. Also sniff her possessions thoroughly- Kate has three cats and a dog, so there was a lot to sniff.
So this isn't all I've been knitting, but I'll save talking about the other project until I have some idea how it's going. (If it turns out that I end up stomping up and down on it shouting swear words, I'm probably going to spare you some of the gory details.)