In the back of my mind, I've got five or six sweaters queued up- yarn sitting tidily in the closet of the sewing room, patterns at least vaguely imagined. So this week, I cast on for what I'd decided the next project would be.
But I had barely cast on before I started having doubts. I'd pictured something with a stiff-ish feel- this was more drapey. I could have gone down a couple of needle sizes, but then it occurred to me that I am marginal on having enough yarn for this project. I'd sort of thought about going with three-quarter length sleeves if I was running short of yarn...or- I checked and found- the yarn is readily available. I could have picked up an extra skein or two easily enough if I needed to. But I am trying to use what I have, not buy more. So I cast on for a pullover instead of a cardigan, because I didn't think my original design would look right with three-quarter length sleeves. But if I was going to do
that
, then I might want to rethink the pattern I'd planned for the body....
It was about there that I realized I was hitting decision paralysis. Some design changes happen organically- the colorwork sweater got a placket neck because the neck was a little tight. But when the sweater's been redesigned multiple times before I even get out of the ribbing? That's a sign of a project that is at risk of becoming a WIP. After thinking some more, I realized that I already have a sweater in this color family and I tend not to wear acrylic as much (the three inch spark I got today touching a door handle just about made my fingernails smoke, and wool is better for not building up such a charge). So. Farewell, unknit sweater. I'm glad I didn't have to frog more of you.
But that left me with ten skeins of this yarn and no plan. I like having plans for my yarn. After not very much thought at all, I realized that a) I rarely have enough of any one color to make 'sets' of anything, but with this, I could make some hat/mitten/scarf sets in different sizes. And likewise b) I haven't knit that much for the charity bag yet this year. And c) I'm always complaining about not having enough dark/bright colors for mittens and hats. (Picture trying to find a white mitten in a snowbank for a moment...very difficult. Also light colors tend to attract dirt approximately 2.3 seconds after being given to a juvenile recipient.) And finally d) I've got some light colors in the stash that would go well with red, thus finding a use for them.
So. I have cast on for yet another scarf. (I'm beginning to think 2011 may be a 'scarf' year. I have plans/yarn to knit several more this year.) Biscuit approves.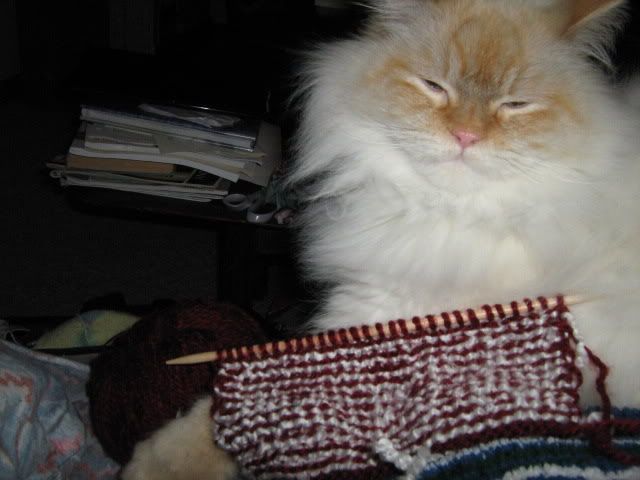 He's been showing rather a lot of enthusiasm for 'helping knit' lately. Since his idea of help involves sitting on the ball of yarn and chewing on the strand going to the knitting, I can foresee some knitting challenges ahead.
And here's the yarn one movie on DVD later. (We've been watching episodes of Columbo. They're very engaging.)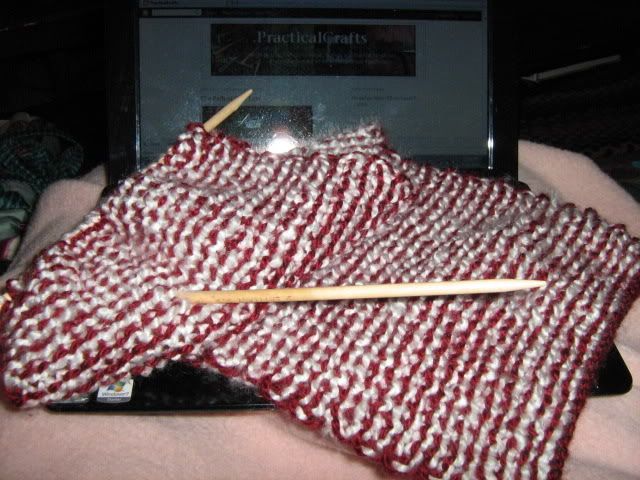 I'll do a hat and mittens to go along with this. And my sweater plan has been re-assigned to a different lot of yarn. Which may or may not work- I'll have to start swatching and see if the texture is more what I was thinking.
I do like it when a plan comes together, but sometimes it's satisfying to be flexible, too.