Oh, yes, knitting Thorpe hats. The last couple of weeks have been exceedingly busy on the employment front (in a good way, I hasten to add, but it has kept me hopping). And in the evenings I have come home to sink into the couch with a cat and a pile of yarn, and very little inclination to stare into a computer, hence the lack of blogging.
However, there are crafting highlights- when I left you, I thought I felt another Thorpe hat coming on, and so I did: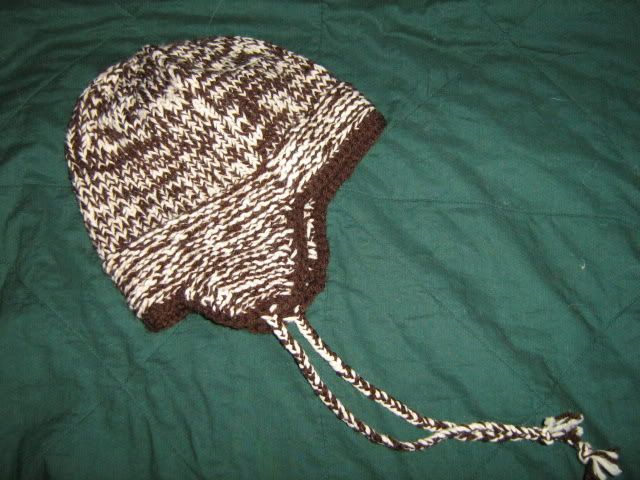 The crucial breakthrough was remembering that I could substitute doubled worsted weight for bulky yarn. Also that pairing a strand of white and another color gives one that attractive tweedy effect.
After that, my non-work involved brain cells dwindled to the point where a garter stitch scarf seemed like a good idea::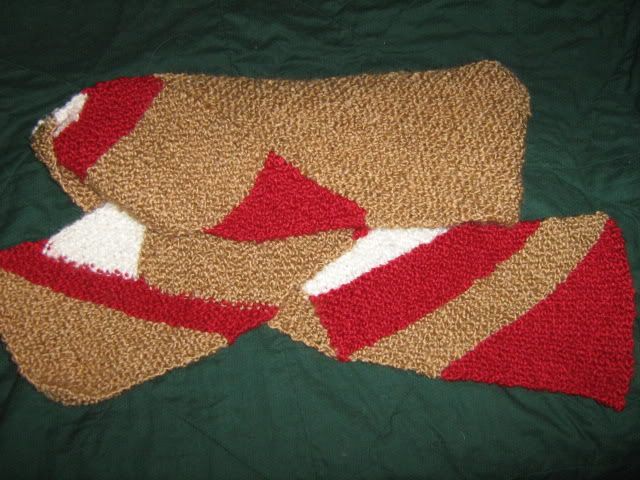 I'd been wanting to try a short-row scarf for a while, and it seemed like a fun way to jazz up some of my odd partial skeins of bulky weight. Wait, you're thinking. Wasn't I just saying I didn't have enough bulky weight? Well. This is a bulky weight bouclé, and while it's very soft and appealing, the nubbly texture tends to swallow up shaping or even stripes. So I've been doing mostly either plain hats or berets, or scarves with it. I quite like the slanted effect- I may well do another one.
And last but not least, I've returned to colorwork. I was having withdrawal symptoms. You'll understand, I'm sure. Just a little hat to take the edge off. (The fact that I cast on another colorwork hat straight after it shows that it might not have taken the edge off enough.)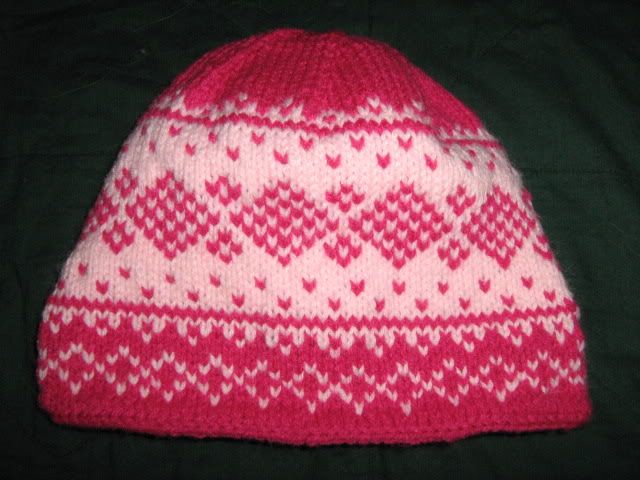 And lest you think that I haven't moved from the couch...we have been trying to get our feet in shape for the summer walking season. Two weeks ago we went nine miles (and got rather wet, due to a sudden shower), last week was a more modest six miles for lack of time, and today we went thirteen miles on the local bike path. It's a lovely path, leading out through woods and fields. There are some gorgeous wetlands, and for quite a distance it follows the Nashua River.
Despite the warmer weather, you have to look quite closely for signs of spring. Most of the trees are still bare, and the woods are still lying quiescent. But there are small signs appearing; an occasional bush with a hint of green, reeds and water plants in the low-lying areas. And at home there are flowering bushes starting to bud, my forsythia has just barely started to bloom and the rhubarb is uncrumpling its first leaves. Spring. Coming to a neighborhood near me. Real Soon Now.