Wednesday, August 31, 2011
Saturday- May 28
Saturday dawned misty and cool. But we had a plan, and we're nothing if not goal-oriented, so we set off back up the headland north of Dover and out along the
white cliffs
. The chalk looks just like its pictures- so bright and white it doesn't quite seem real.
The sun valiantly tried to break through, and while the day brightened, it didn't quite clear.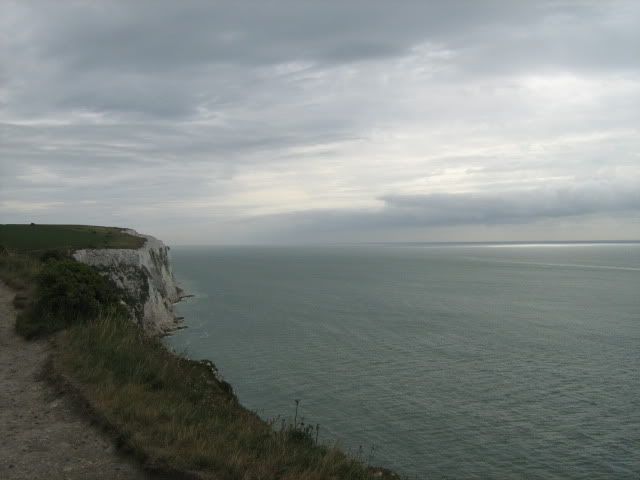 Much of the area above the cliffs is a wildlife conservation area, and we read informative plaques as we went along. We were fascinated to find that the chalk grassland ecology cannot simply be left alone, but in fact depends on the land being used for grazing, as it has been for thousands of years. In the steepest bits, they use hill ponies, who can handle the difficult terrain.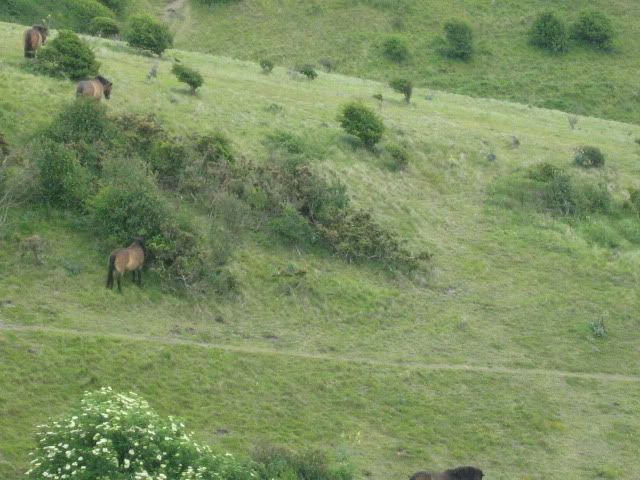 I couldn't stop taking pictures.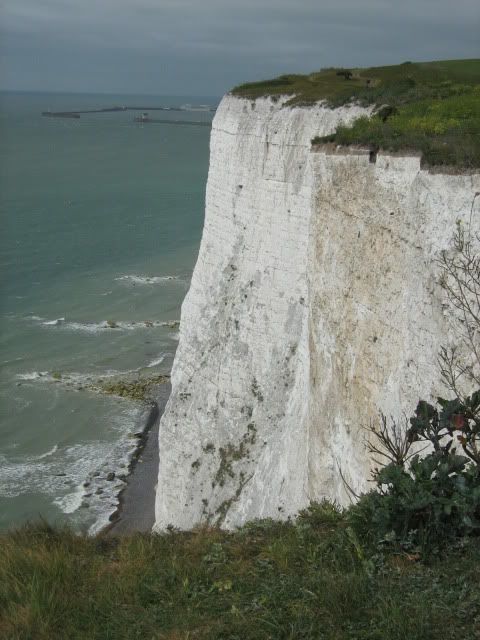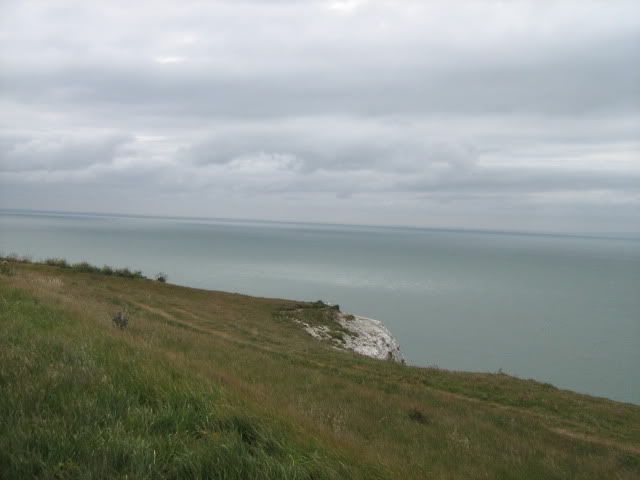 We also found out that the reason the white cliffs stay white is constant erosion. Without it, they would quickly be covered in vegetation. The coastline moves by up to 2 inches a year, steadily withdrawing from France.
As the morning grew lighter, the wind grew stronger, becoming colder and more gusty. A sailboat in the channel was heeled sharply over under very little sail. As I followed the trail through a sheltered spot and emerged into its full force, I found myself abruptly stopped, one foot raised, by the force of the air. I had to lean into it to keep moving. By this time the visitor center was open and we went in, rather chilled and windblown, to read more plaques and get a snack before heading back into town.
From there we went to see the
Roman painted house
. It was built around AD 200, and formed part of an official hotel for travelers. The state of preservation is quite remarkable, and you can see the various painted panels. It seems like it was probably a pretty jolly place, as it was painted with scenes relating to Bacchus (Roman god of wine). It was quite interesting, but sadly underfunded. Apparently there are considerably more ruins under an adjoining parking lot which they'd like to display if they could afford to roof it over. A shame, as even a modest investment of time and graphic design would show off the really remarkable ruins to much better advantage.
By this time, we were starting to think keenly covetous thoughts about lunch, and given the local state of restaurantage, we decide to take the train to Canterbury. We'd actually planned to go to Canterbury the next day, but looking over the extensive collection of tourist swill at our hotel, were afraid that there was more there than we could cover in one day.
This turned out to be an excellent decision. The path from the train station into the city center goes along part of the old city walls: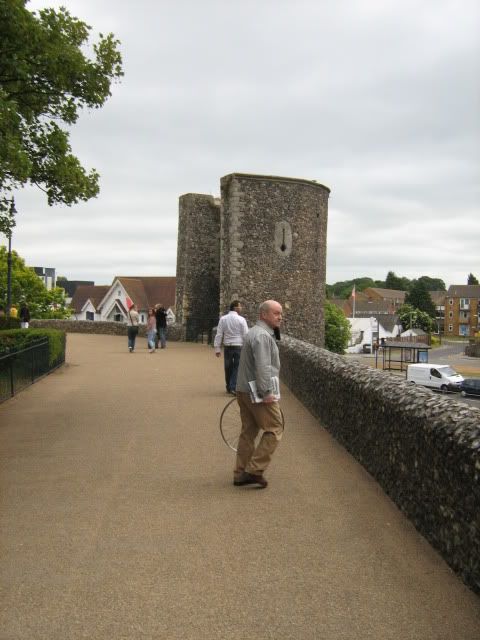 And by a picturesque canal: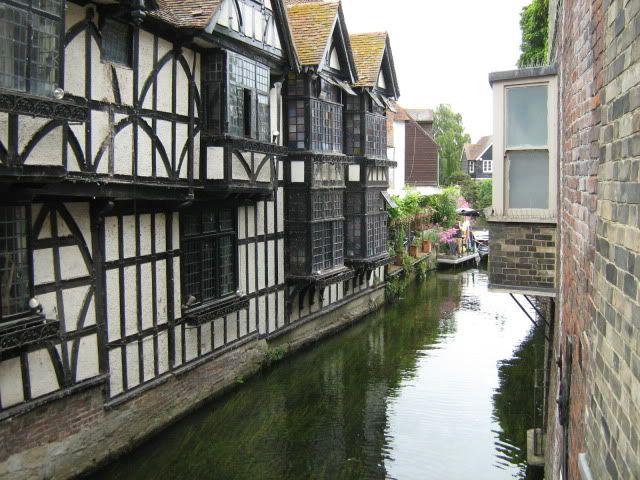 As we entered the downtown area, our decision was more than justified by a gigantic street fair filled with people selling…well, everything, but crucially, lunch. While JT was visiting an ATM, I followed my nose to a delicious-smelling booth. I returned to JT. "How about a roast pork sandwich?" So lured, he came back with me to the booth where a man was carving an enormous joint of roast pork from his own local farm, and a woman assembled them into sandwiches, I took mine with a generous topping of homemade applesauce—yum.
An elderly gentleman hovered at my elbow, waiting for his own juicy sandwich while his wife said to him in some exasperation, "I thought we were going a restaurant, where we could sit down!" Apparently the lure of the roast pork was just too strong.
Lunch enthusiastically eaten, we got up and wandered around some more. I looked at one old building, which was leaning considerably and remarked, "I'd hate to have to hang a door in that place." Then we rounded the corner and saw the actual door:
I bet the person who actually hung the door didn't enjoy it either.
We finally reached the cathedral:
What can I say? Canterbury Cathedral is justly famous- magnificent and highly ornamented. We wandered around inside for a bit.
As cathedrals go, it pretty much has everything. Terrific fan vaulting:
A cloister:
And gardens: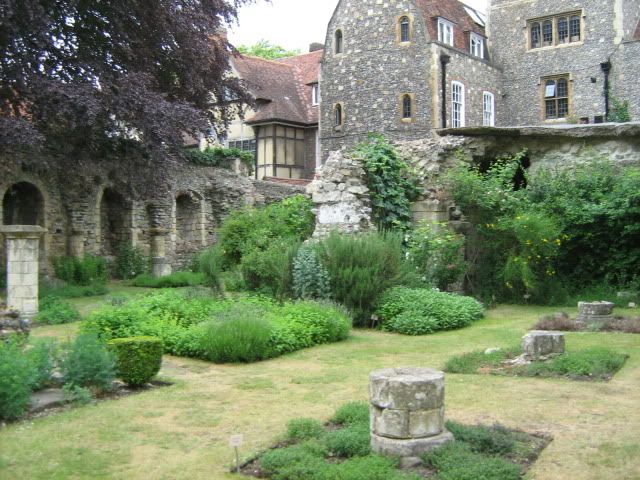 I think we wandered through some areas that aren't normally open to the public, as there was a wedding party milling around and we trouped casually after them through some lovely gardens.
From there we found that we had just enough time to see the
Canterbury Heritage Museum
, which traced the history of Canterbury from prehistoric through Roman and Anglo-Saxon times, and up until the present. It finished with exhibitions of the works of several children's authors from Canterbury. I didn't encounter Bagpuss or Rupert the Bear as a child, but it was easy to see the kind of nostalgia they might evoke in people who had.
By then we were ready to eat again, and after a comprehensive survey of available options, we settled on some excellent fish and chips. The sun was still high in the sky-we love that about England in the summer-so we strolled out a footpath that took us along the river Stour.
I did not take a photo of the party of young people that included one young man clad only in dripping underwear, as he had evidently just jumped or been tossed into the river. They were laughing, so I suspect that alcohol may have been involved.
I did take more photos of English scenery, though.
I couldn't seem to help it.
We eventually turned back, found the train station, and took the train back to Dover, the while discussing plans for the next day—the climactic day of our trip.