I now completely understand why there are so many crocheted afghans in the world.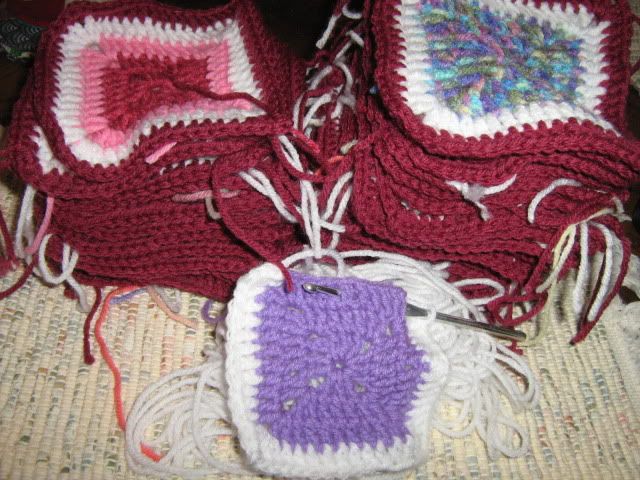 I can't stop. Okay, I don't really want to stop, because I'm only on square 42 and I need at least 108 to make a small afghan. But for a while it looked like I was going to have to, because I blew through my whole backlog of light colors (the ones I wanted to use up) in under a week.
But my mother came to the rescue, agreeing to give up some of her stash to support the cause. Actually she said, "Hallalujah! There is a patron saint of pastel yarn!" because she knits kid mittens for charity and light colored mittens attract dirt approximately 0.1 seconds after being handed over to the child recipient. And boy did she come through....this is either going to be a
large
afghan--or else at least two smaller ones. Take a look:
As you can see, it didn't even make it home before it started getting turned into squares. And Biscuit is very interested. I have a feeling I'm going to be grateful for my large zippered yarn storage bags, because the yarn wasn't in the house ten minutes before its cat toy potential was being explored.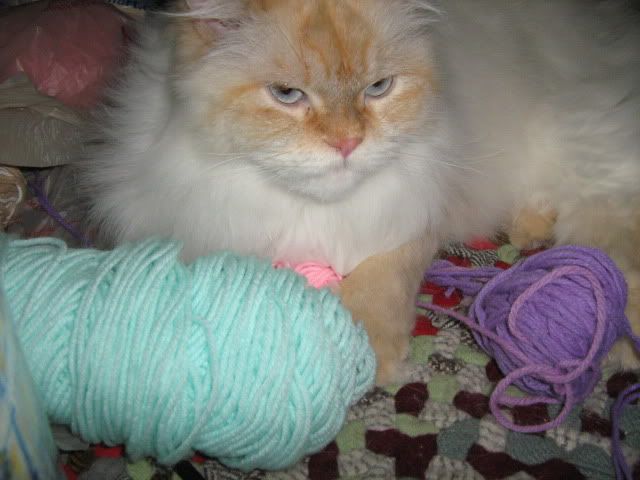 I barely had taken my eyes off it and Biscuit had started scooping the smaller balls out of the bag and batting them experimentally across the floor. I had to wrestle them away from him. I'm so mean that way.
Now I need to excuse myself. Must.crochet.squares.now....