..just how many
other
things one can find to do when one has a long list of chores?
For example, instead of diving into that cleaning Saturday, I was suddenly consumed with the need to start ironing the quilt fabric my mom gave me, which I've been gradually washing over the last few weeks. Here's a small portion of it,as I start to sort it into color families: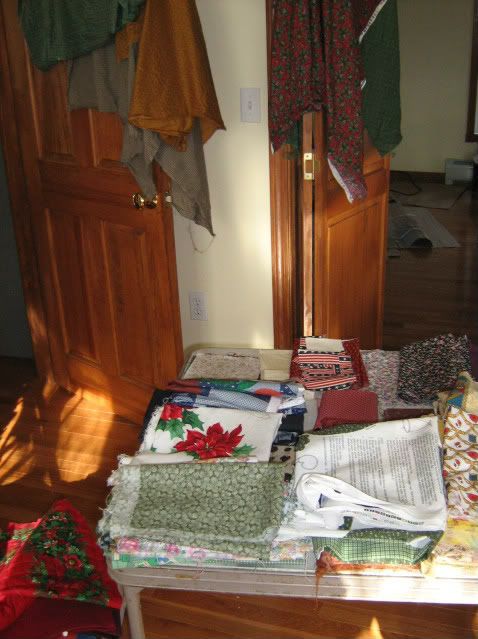 Biscuit helped- he pounced on the iron cord, knocked things off the sewing machine, sat on the fabric, and finally settled back to supervise. The little cat snores are the sign of a supervisor hard at work, I'm told.
Moderate amounts of cleaning did eventually get done, just in time for my parents to come by. Biscuit was very brave, and actually came out to see them. My mom even got to pat him- a first, as he's usually too skittish. They also picked up a bagful of charity knits to take to the collection point for me.
And later that afternoon, I headed down to a charity knit-a-thon sponsored by a couple of local knitters. Last year was their first year, and it was very last-minute, but they still managed to collect a bunch of knitwear. This year, the local knitters knew it was coming and were all ready. They had a long folding table and it was absolutely
heaped
with knitwear. Lots of kids are going to have warm hats and mittens this winter!
I dropped off the rest of my bag full of charity knits, leaving me lighter by a goodly amount of yarn. I think the sudden absence of knits made me a little giddy. I'd brought yarn and cast on some mittens to work on during the knit-a-thon, but when I finished them (later that day), I just had to cast on another pair. And another. And another. And a hat.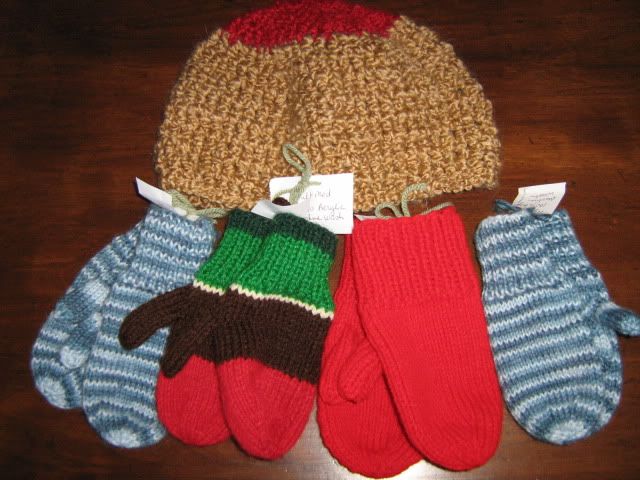 Of course part of the reason for the sudden spate of FOs is that I took Wednesday off, and have been having a pretty much perfectly lazy holiday what with sleeping late, reading, and playing with yarn. I've actually had enough rest that I was starting to get ambitious about that list of chores again...and then Cookie settled in for a nice long comfy snooze on my lap. Fortunately I've got the book I'm currently reading and lots of yarn within reach. Because after all, how can I do chores if it would mean disturbing the cat? Like I said. Amazing.