I feel like I've gotten nothing done, which in one sense is the truth, but there has been progress made on many fronts.

1. The new bookcases are installed and books have been arranged on them.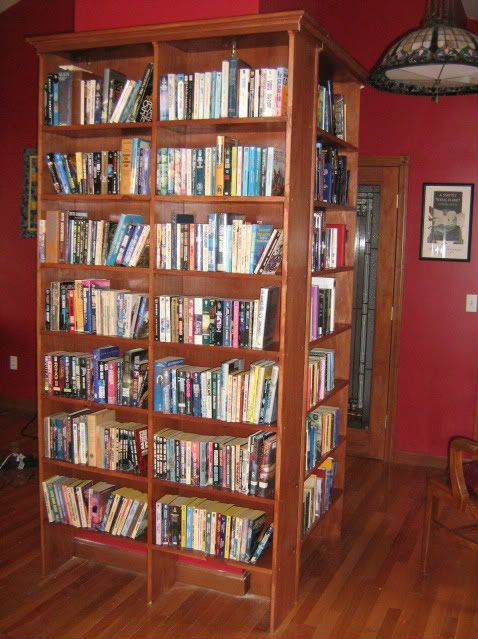 I know, you're thinking, "Bookcases? What bookcases?" Strictly speaking, this has been my husband's project- while I've been doing deck and pool things this fall, he's been carpenting. (Okay it's not a real word, but what do you call making things out of wood?) My few contributions involved putting the final coat of polyurethane on, and helping to hoist them into position to be installed.

This has allowed us to spread out the SF and fantasy section of our library, which had books stacked horizontally on the shelves for lack of space. However, when spread out, SF and fantasy has taken up all the new space, so history is still jammed to overflowing. We're going to need to finish two more bookcases (and do some rearranging) before we've got that finally sorted out. Not that I'm complaining. It's lovely being able to shelve books properly upright in order. (If you're new around here, you might be thinking, 'how the devil many books do they have, anyway?' The answer is that there are currently 4640 books in the permanent collection, and several hundred more in the To Be Read pile. When Jonathan and I got married, we built a second story so we'd have room for a large library. We love to sit in the library and read, surrounded by books. It gives us a warm happy feeling. Here's my favorite reading spot:)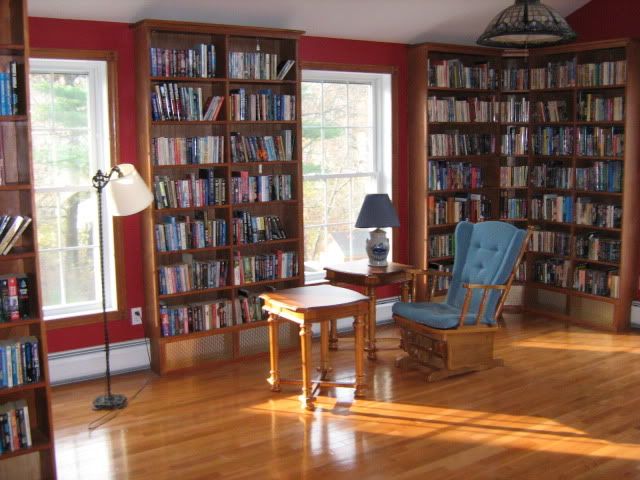 2. All of the deadfall brought down by the storm has been turned into a modest woodpile. Augmented by donations from my neighbors, it's quite a respectable woodpile- easily enough for a year, at the rate we burn it. I've actually resolved to try and burn more wood this winter, because we had rather a surplus even before the storm.

3. The pool closing is almost complete. Thankfully, I had the cover on before the leaves started coming down in earnest. Most of the stuff is put away- I just need to empty and store the filter.

4. I've managed to whack a few of the routine chores every day this week, so I'm starting the weekend with just the endless house project list.

But, what of crafting, you're wondering?

5. I've finished the Charlemont scarf, but need to block it.

6. I finished the mittens I cast on for simple knitting during the power outage.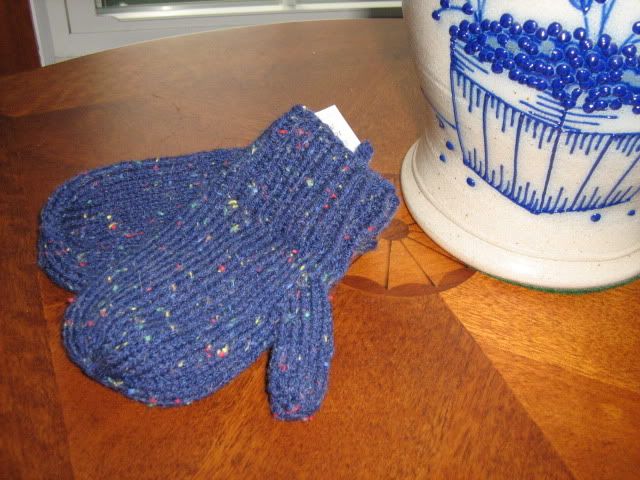 7. I'm past the halfway point on one of the secret projects.

8. I'm past the halfway point on the red cabled scarf.

9. The pink afghan has gained a couple more rows of squares.

10. The intarsia hat is still in time-out, contemplating its sins.

I do have a lot of crafting time planned for this weekend, however, so hopefully I'll be in a position to show off some FOs next week.